Frequently Asked Questions About Dogs

Need answers to questions about dogs or puppies? Our FAQs page will help you to resolve your problems - fast!
Whether you're looking for help with Cocker Spaniel puppy care or training, general dog health care, or you need advice about dog behaviour problems, you're sure to find the right answers here.

Please Note: I am not a vet or a dog behavioural analyst - I am simply an experienced dog lover who is passionate about Cocker Spaniels.

If you have any urgent questions about dogs or your have concerns about your pet's behaviour or health, please don't wait for your question to be answered in this forum - contact your vet immediately.
Questions About Dogs
As a new cocker spaniel owner (or even a seasoned dog lover) you may have many questions about your Cocker Spaniel that you need answers to.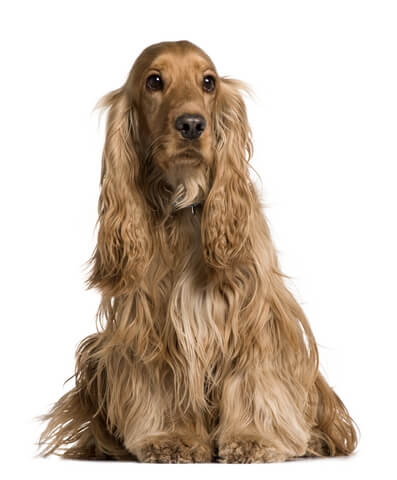 Questions about dogs? Ask them here!
Every day I receive many questions about dogs from anxious pet owners, such as,
"Why has my Cocker has suddenly turned aggressive?"...
"Why does my Spaniel sniff so much?"...
"Why does my dog smell bad, even after he's been bathed?"...
"How can I stop my Cocker from chasing the cat?...
"I'm having problems potty training my puppy..."
"I think my Cocker Spaniel is overweight, how can I help him to lose these extra pounds?..."
"Why is my dog rolling in poop?"
So, I thought it would be helpful to list the most frequently asked questions about dogs and their answers here to help future visitors. 
Questions About Dogs and Housetraining
Many of our questions about dogs are centred around housetraining puppies, so this next section covers toilet training, however, if you'd like to see all our visitors questions about dogs, just follow this link.

Housetraining Puppies and Dogs
If it's a simple case of potty training your puppy...that's easy, just follow this link to learn how to toilet train your puppy in no time at all. 
If your Cocker is already house-trained but has suddenly began to 'go potty' in any corner of the house that takes his fancy, it's not funny and of course, it needs to be addressed.

If your dog has been locked indoors for too long and hasn't been able to hold it, then the occasional accident is understandable, but if this is happening on a regular basis, it's a very definite 'no-no'.
Here are some of our visitor's questions about dogs and their lapsed toilet training habits, together with suggested answers. 
I hope they help!
Potty Training Problems
Peeing On Our Bed
Help! My 10 year old female cocker spaniel has suddenly started urinating on the bed, OUR bed!  She's done it twice tonight...
Accident Prone Cocker Spaniel
'Accident' prone Cocker Spaniel...my Zoey has started having little accidents while I'm out of the house...
My Cocker Spaniel is No Longer Housetrained!
I need help. My cocker spaniel is no longer housetrained. He has suddenly began peeing and pooping in my home...! 
Cocker Spaniel Peeing At Night
Hello my Cocker (Pepper) has been potty trained. She is very good at holding it all day while my fiancé and I are at work. Her only problems occur...
Cocker Peeing in the House
One of our visitors has a cocker spaniel peeing in the house. This is out of character for her dog and has just started. She's asking for help. Let's see what we can do for her, shall we...? 

Is My Dog Peeing Too Much?
Hello! my dog pees a lot and I'm worried. I have a 21 month-old, male cocker spaniel and he needs to go out every 3 hours, or sometimes more often...! 
My Cocker Pees A Lot!
Help! My cocker pees a lot. He urinates all over when he gets happy or excited, especially when some-one greets him or when we try to play with him.
Peeing Cocker Spaniel - Why?
My American Cocker Mix has always had urinating issues in our home. He's an eager dog and has been from the get go. He's very attached to my husband …
Potty Training An Indoor 3-Year Old Cocker Spaniel
We adopted a 3-year old female cocker spaniel from the cocker rescue in Austin, Texas. The original owners returned the dog as an owner surrender because...
Too Many Pee Breaks?
Hello! My 21 month-old male cocker spaniel needs to go out every 3 hours or sometimes, more often. He drinks a lot of water - we're in Bangalore, India…
Why Is She Still Weeing Indoors? 
My cocker spaniel is just over a year old - she took a while to potty train but we got there in the end. However recently she has had a couple of wees…
My Cocker Has Suddenly Become 'Un-housebroken' 
We adopted a 3 year old male almost 6 months ago, after the passing of our 11 year old. The cocker rescue location was hesitant to adopt him out because…
Adult Cocker Pooping Overnight
I have a 4 year old cocker spaniel who has begun to poop overnight. During the summer she is walked lots and we have no house-training issues, but…
My Dog Is Constipated!
Help, my cocker spaniel dog is constipated! She has a hard time going #2 sometimes but it becomes a major problem when she gets so bound up that she gets physically ill...
My Cocker Spaniel Is Messing In My Kitchen 
Please, I have a few questions about dogs and I need your help! I have a three year old cocker spaniel who is constantly urinating and pooing on my kitchen floor! I have tried all the…
More Puppy Potty Training Problems
If you're having problems potty training your puppy, you're sure to find some help on this page where we try to answer as many questions about dogs as we can!

Puppy Weeing Indoors
I have a cocker spaniel puppy weeing indoors despite having been previously toilet-trained. I just don't understand it...
Cocker Spaniel Poop Machine!
Hi, I have a couple of burning questions about dogs. I'm Sophie's aunt and I'm caring for her while her parents are away. Sophie the cocker spaniel was born on June 11 and is active...
How Often Do Puppies Poop?
I'd like to know, how many times should my puppy poop? He's 10 weeks old and we feed him 4 times a day, but he poops about 6 times a day. Is it normal or are we overfeeding him..?
Trouble Potty Training
I don't know why I'm having problems potty training. My cocker spaniel is pooping too much, at least 8 or 9 times every day. Is this normal? He's eight months old and I feed him on dry food.
My Spaniel's Not Sleeping At Night!

My 6 month old working cocker spaniel bitch has recently started to wake up very early in the mornings, around 5am. What can I do to help her sleep longer?
Unfortunately, I now receive too many questions about dogs and simply cannot answer them all. I do try to answer as many as I can, and many loyal visitors often step in and offer their experience and advice.
If you post your question on my Facebook page I will try my very best to answer it, if not, I'm sure one of our loyal visitors will. 
Photo Credit for Questions About Dogs:
1. Isselee at http://www.dreamstime.com/american-cocker-spaniel-10-months-old-image17953088

More FAQs: Questions About Dogs
Click below to see all our visitor's questions about dogs:
Your Questions About Dogs
If you have a question about your dog that you'd like to have answered, why not pose it here?

Please give plenty of detail about your question to help our visitors give you a clear answer.

If your question doesn't give enough detail, you may not receive an answer.
Frequently Asked Questions About Dogs
Click below to see more questions and answers from our visitors.