Blisters On My Dog's Skin
by Ashaan
(Dubai, UAE)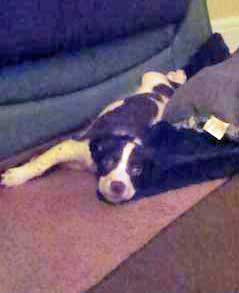 My Cocker Spaniel Has Blisters!
Hi there,

I live in Dubai, United Arab Emirates. My American Cocker spaniel Scott is 13 years old. He has developed fluid-filled blisters under his skin and when they rupture, it smells unbearably bad.

I must mention here that in the summer of 2011 he had escaped through the garden fence and was found by a good neighbor, loitering in the heat for approximately 7 hours. Although he had a smelly skin condition any way, the blisters developed after this ordeal.

It has become increasingly unbearable and difficult to coexist, as he lives indoors with us under 24 x 7 air conditioned comfort.

Please give me an urgent solution.

Thank you in advance,

Ashaan

Reply from Pauline (Web Owner)

Hello Ashaan,

There are many things that can go wrong with your dog's skin and Cockers have a tendency to develop skin problems such as seborrhea.

If your dog has smelly skin, or the liquid inside the 'blisters' smells as you have indicated, it could be the sign of a yeast infection, which could be causing the blisters.

If this is the case you will almost certainly need a course of antibiotics from the vet, who may also prescribe a gentle, medicated shampoo.

It could also be impetigo, which is a bacterial infection usually found on the underbelly of the dog, where there is the least hair. It causes blisters that usually break and crust over, but can be easily treated with an over-the-counter solution that is dabbed onto the sores.

Alternatively, your cocker spaniel could have an allergy, which is causing him to scratch and for lumps to develop.

Or, it could simply be that the heat of the sun has caused his blisters.

But rather than have me guessing what the problem is, I recommend you take your dog to see his vet who will be able to give a professional diagnosis of your Cocker's condition and prescribe the correct treatment.

I hope he's much better soon!

Kind regards,
Pauline
Enjoyed this page? Click 'Like'!

If you enjoyed this page, please click on the 'Like' button below and tell your friends about us. Thank you.