How To Stop My Puppy Howling And Crying?
by Becca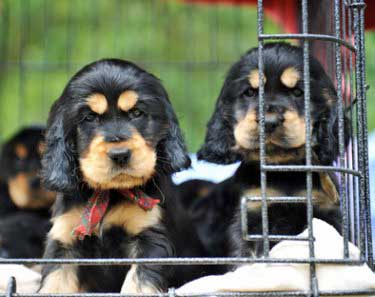 Crate Training A Puppy Is A Kind Thing To Do
I love your website! I have a question - Do you have any advice to stop our puppy from whining, howling, and barking at night or when left in a room alone?

We do not crate train and never wish to. We've had 3 dogs before and have never had this problem - she constantly cries whenever left alone.

We've only had her a week but want to break this before it can't be stopped or it gets too much.

Any advice is appreciated, thanks.

Reply from Pauline (Web Owner)

Hi Becca,

I'm so happy you like my site (thanks!) and so very sorry to hear you're having problems this early on with your new puppy.

Assuming your puppy is fed, watered, not in pain, and is comfortable, it sounds like she may be crying because she's suffering from separation anxiety.

You can read more about separation anxiety in dogs here and you can learn how to reduce/remedy her anxiety here.

Because you've only had your puppy for one week, she's probably also missing her mother and her litter mates. My recommendation would be to give her lots of cuddles and attention (did I really say that? I'm sure you're already smothering her with affection!)

If she has a blanket with the smell of her mother and siblings, keep her wrapped in it, or at least in her bed to comfort her.

I understand you're not planning on crating her, but I would truly recommend that you at least consider it - this is not a cruel practice, I promise you.

Dog crates can offer a puppy a small haven of their own; somewhere where they can get peace and quiet and somewhere to go to help them feel safe and secure.

Our Cocker, Max, has a crate and we rarely lock him in it now, but he still likes to lie in there with the door open and he often sleeps in it instead of his bed (or sometimes, ours) – it's his den!

Please take a look at our articles on crate training. They will explain why crate training a puppy isn't cruel, as well as outlining the benefits.

If you do decide to crate your puppy, follow the link to learn how to successfully crate train your puppy.

You will need to teach your puppy to be alone from time to time and this must be done gradually.

If you read the above articles, you'll find everything you need to successfully crate train your puppy and stop the separation anxiety.

One word of warning – don't go to your puppy and pick her up when she cries, particularly at night. If you do, she will only learn that crying gets her what she wants and she will learn to do that for just about anything – and that will drive you nuts!

If she simply won't stop crying at night, bring her crate into your bedroom and leave it by the side of your bed. If she cries during the night, you can comfort here with the sound of your voice or a gentle stroke, but leave her where she is.

When she drops off to sleep, if you're not too sleepy yourself, you could take her crate back to its normal place.

Good luck, and let us know how you both get on.