Why Do Cocker Spaniels Nip People?
by Des Van Niekerk
(South Africa)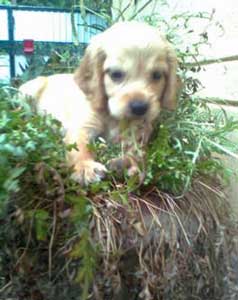 It's Not Just Cocker Spaniel Puppies That Bite!
I got a cocker spaniel 2 months ago and she's now 8 months old. The previous owners left her in their flat in a room every day from 7:00 in the morning until 8:00 at night.

She's very lively and full of energy, but I can't handle her nipping me and chewing me. I am full of bruises and she bites sore.

When she gets boisterous and runs past me she sinks her teeth into me. I have tried to get her not to jump up against me, but to no avail

Help!

Reply from Pauline (Web Owner)

Hello Des,

Don't worry, you're not alone. All puppies nip and bite - it's a perfectly normal canine behavior. However, it's up to us as responsible owners to teach our puppies not to bite - sometimes easier said than done! ;-)

I would recommend you try the following:

The next time your puppy bites you, yelp loudly, and say 'No' in a firm, disapproving tone.

Stop all play and turn away from her - completely ignore her for about a minute or so, and then begin to play with her again.

If she tries to bite you again, yelp again and give her a chew toy to bite on. You're trying to get the message across to her that she's not to bite you but she can bite her chew toys.

If she doesn't want to chew the toy you give her, and continues to try and bite you, just keep yelping, telling her 'No' and then ignoring her.

If she continues, try leaving the room for a few minutes (as long as she's safe). If you crate your puppy, you could try leaving her in her crate for a few minutes of 'time-out'.

Your puppy should very quickly learn that biting you is unwanted behavior and that all play will stop if she does bite.

I recommend you read more about puppy biting and how to stop it by following this link.

If you follow this advice, are patient and consistent, you'll eventually get there - I promise.

It also sounds like your puppy needs a little more exercise and play to tire her out - a tired puppy is a well-behaved puppy!

As for her jumping up at you, every time she jumps up, either turn away from her and ignore her or step back so that when she does jump, she's jumping up into thin air.

Don't pet her until all four paws are on the ground. She'll soon get the message.

Good luck!