Puppy Exercise
by Ali
(England)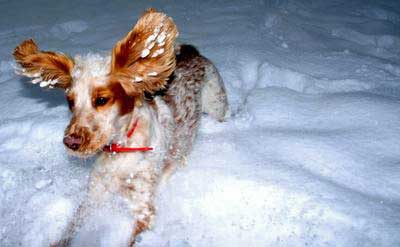 Cocker Spaniel Puppy Exercising In The Snow
I cannot find any information on how to exercise a puppy before inoculations, then how long after?

Reply From Pauline - Web Owner

Hi Ali, Just like adult dogs, Cocker puppies need exercise too, but it's best if exercise is kept to a minimum for young puppies whilst their bones are still soft and developing.

We need to be careful not to over-walk our puppies so I recommend that you gradually work up to taking him for longer walks.

Until your puppy has been fully inoculated, it's important not to put him down on the ground where other (unvaccinated) dogs have been. Play it safe and keep him at home until your vet gives you the OK to go outside.

Puppies that haven't yet been vaccinated will usually get enough exercise during play, play, socialization, and training - indoors and in your own garden or yard.

When you get the green light from your vet, a gentle, 10-minute walk, twice each day should be enough to keep your puppy exercised.

Don't forget to continue with the training and play sessions.

When your puppy reaches about 5 months old, you should be able to increase his walks to 15 minutes daily (or twice each day) - add a couple of minutes onto the walk each week until your puppy can easily handle 60 minutes.

Don't forget to teach him to fetch so that you can throw a ball or a Frisbee - this will give him all the aerobic exercise he needs!

For healthy adult Cocker Spaniels, I'd recommend at least a one hour walk each day - come rain or shine! More if he wants it (and you're up for it!).

Alternatively, if you can only spare one hour each day, it would be much better if you could split that into two half-hours - one in the morning and one in the afternoon or a little later.

I hope this has answered your question and I wish you lots of long and happy walks with your Cocker Spaniel puppy!