Should I sleep with my dog?
Should I Sleep With My Dog?
I sleep with my dog. There, I've said it, but is it really bad? I'm asked this question frequently so I thought I'd try and get a discussion going here. It's proving quite a controversial question, as you will see.
Sleeping Dogs On Human Beds: Good or Bad?
By: Marla Piginton 
From: Canada
Hi, I sleep with my dog. I've been letting my cocker spaniel sleep in the bed with me for about 3 years and have never had any issues.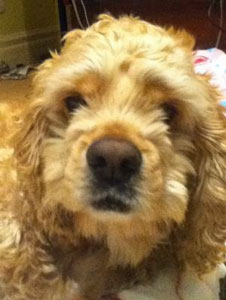 I sleep with my Mummy!
My dog is definitely not the alpha male and has never tried to claim my bed as his own or growl at others who try to approach him. 

He comes into bed after I do and both he and I are very heavy sleepers. He has never woken me up in the night. He curls into a little ball at the corner of my bed and stays there the whole night. 

As I said before, I have been following this routine for the past 3 years and do not see any reason to change it. 

So, is sleeping with my dog really that bad?  If so, please let me know so I can change our routine as soon as possible. 

Pauline's Reply to "I Sleep With My Dog"
I Sleep With My Dog
By: Pauline (Website Owner)

Hello Marla,

I'm assuming you've just read our article entitled, 'Let Sleeping Dogs Lie...But Not On Your Bed?' (This is proving to be a really controversial topic as you will see here!)

Unfortunately, there are some owners who don't have such a good relationship with their dogs, or their dogs have had a troubled past, which has resulted in nervous, fearful, or challenging behaviours from their pets.

However, it sounds like you and your Cocker Spaniel have a wonderful relationship and make good 'bed fellows'!

Fortunately, there are many Cocker Spaniels that would never, ever, behave aggressively towards their owners, but we shouldn't overlook the fact that there are others that do behave aggressively.

As dog owners, I recommend we use our own judgement about our dogs and decide what's best for us in our own individual circumstances.

If you're happy Marla, don't change a thing! :-)

Cute cocker spaniel by the way!

Comments for: "I Sleep With My Dog, Is That Bad?"
Thank You! 
By: Marla Piginton 
Thanks for the great reply. I now feel better about sleeping with my dog.
Comments for: "I Sleep With My Dog, Is That Bad?"
I Don't Think It's Wrong... 
By: Jacqueline 
I feel it is a dog owners preference as to whether you let your dog sleep in your bed. I know some dog owners that don't let their dogs up stairs never mind in their bed.

My Sprocker sleeps with us every night, she goes under the covers and sleeps at our feet. Normally I wake up in the morning and she's in her own bed on the floor, I'm assuming because she gets too hot.

It's not harming anybody and I'm sure your dog loves the safeness and comfort :-).
Comments for: "I Sleep With My Dog, Is That Bad?"
Sleeping With Cocker Spaniels 
by: Anonymous 

My cocker spaniel also sleeps at the bottom of my bed but sometimes he tries to sneak up and lie on my pillow!

This usually wakes me up and I chase him back down to the bottom of the bed. 

I'm not too comfortable with him being on my pillow for a couple of reasons, cleanliness being one of them.

But, more importantly, I've often wondered what would happen if he was sleeping on my pillow, muzzle to face, and he was having a dream where he was chasing prey and I accidently woke him. Would he bite me? I'm not really sure of that answer. 

I'm certain he wouldn't bite me deliberately because he's a very gentle cocker spaniel and he loves me, but who's to say that he wouldn't bite me between dreaming and waking?

That's just my opinion and my concerns. I know of many dog owners who sleep with their cocker spaniels without incident.

I believe it's a very personal decision.