Bad Odor
by Deb
(Denver, CO)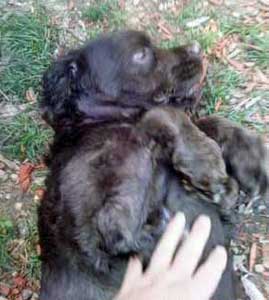 Teddy Loves Belly-Rubs
My chocolate cocker spaniel, Teddy, has a bad odor. He is 3 1/2 years old and is groomed regularly. His skin looks healthy, he eats well, and he poops GREAT.

Lately he has yelped for no apparent reason and sometimes acts like he cannot jump up on the sofa (then later jumps up like all is well).

Is it possible that his anal glands are full even though he poops regularly? Teddy's adoptive brother, Simon, doesn't have a smell. They both eat the same all-natural dog food, Rachel Ray's Nutrish.

Reply from Pauline (Web Owner)

Hi Deb, Sorry to hear Teddy's having problems. I'm not a vet, so I'm not qualified to diagnose Teddy's symptoms, however I can offer you a personal opinion base on many years of dog ownership.

You don't say where the smell is coming from, but as you mentioned anal glands, I'm assuming you believe the smell is from that end of your dog, rather than the other end (although I would check his ears first as this could be the source of the smell).

If he has a bad ear infection you would have noticed him scratching at them and there may be a dark, smelly, waxy substance in them. They may also be tender and sensitive when touched.

If it's an ear infection, I recommend Teddy sees his vet, but you can read more on infections here.

If the smell is not coming from the ears, it could be coming from the mouth, or to be more precise, the folds in the sides of the lips. This is usually more common in dogs that eat 'wet' food as opposed to kibble, but kibble eaters get it too. Bacteria can breed quite easily in warm, moist conditions and unless we keep this area clean and dry, it can get really bad - and the smell is something else!

Now, if the smell is definitely coming from the other end, it could, as you've said, be his anal glands. Although if he's pooping well, I'm not sure this would be the cause. If your dog's poop is firm it should be doing it's job - ie pressing against to anal gland to release a little fluid each time he poops which stops the glands from filling up and becoming impacted or infected and painful - Teddy shouldn't be having any problems.

It sounds like a visit to the vet is necessary - these vet bills sure mount up don't they?

Good luck Deb I hope it's nothing serious (or too expensive) and please let us know how Teddy gets on.

PS: Hugs to both Teddy and Simon please.