Cocker Spaniel Information
Your Introduction To The Spaniel Breed,

Including Their History, Temperament, Characteristics, And Health Concerns



You can find reliable Cocker Spaniel information dotted all around the web, here however, as a new or prospective puppy owner, you can find all you need to know about this adorable breed, all in the one place!
These puppies are so cute and, whether you're choosing a puppy or choosing an adult dog, it can be so easy to allow your heart to rule your head and choose your pet just on looks alone!
Looking at all those beautiful little puppies, who could resist?
However, before you choose yours it's best to learn all you can about the breed, and learn what to look for, to ensure you choose a healthy puppy with the correct temperament for you and your family.
And, if you're not yet convinced that this is the right breed for you, (I find that very hard to believe) I hope to persuade you otherwise!
The topics listed below are covered in outline only on this page. As you read, I recommend you follow the relevant links to the pages with more in-depth information on each subject.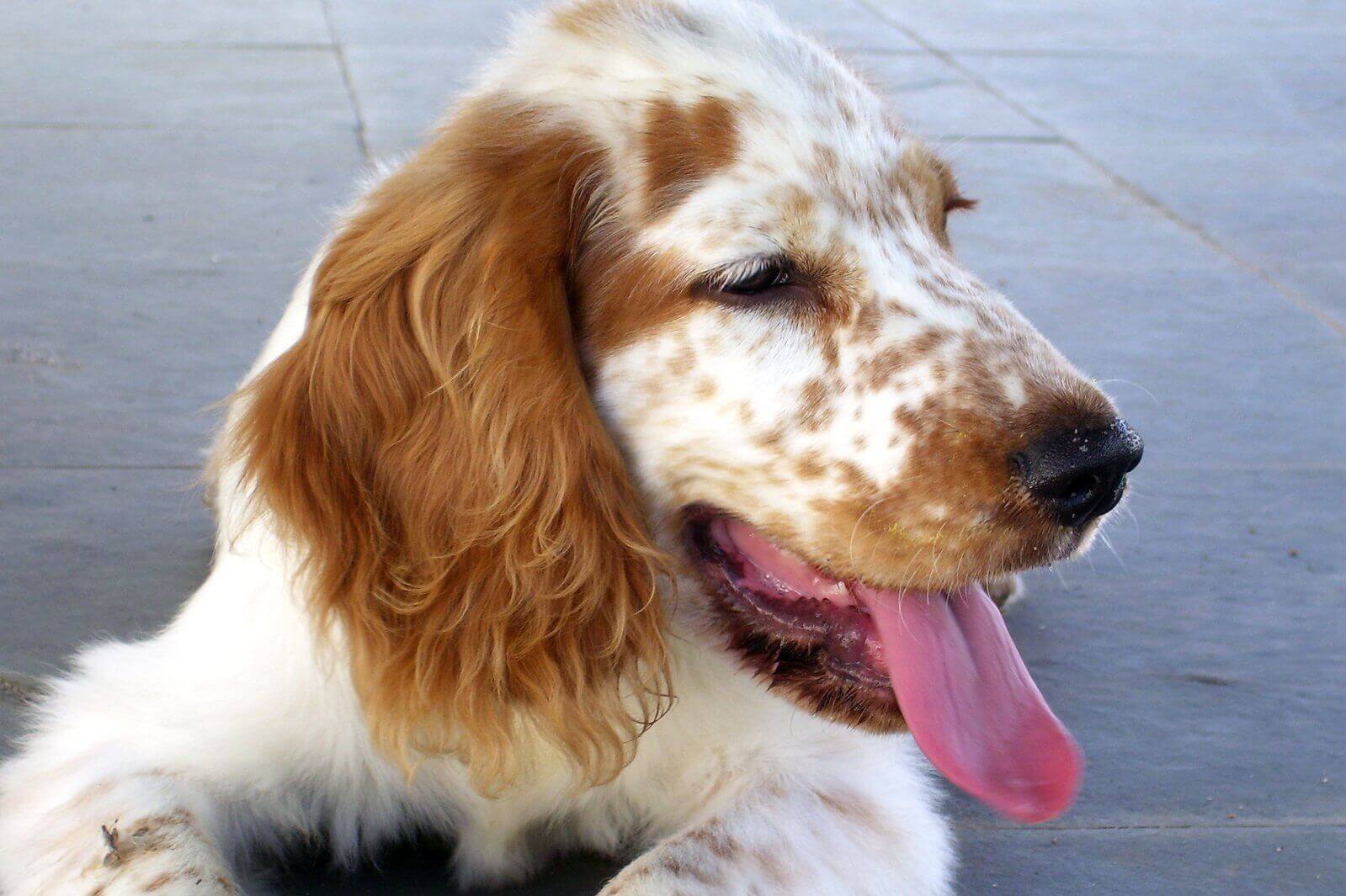 The Origins and History of Cocker Spaniels

This breed has been with us for many years, either as willing gun-dogs, faithful companions, or as loving family pets.
If you're planning to buy a Spaniel puppy, or even if you already own one, how much do you really know about their background?
Where did the breed originate?
How were they used in hunting?
To help answer these questions, an outline of the history of Cocker Spaniels is given here.
Cocker Spaniel Information - Characteristics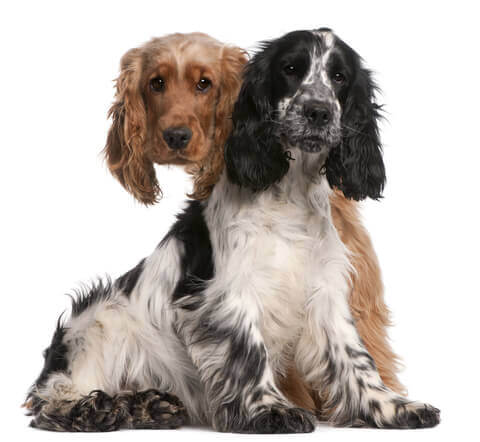 As you can see, they are very handsome dogs, with their luxuriously glossy, silky coat and typically long, floppy ears.
When they look up at you with their beautifully soulful eyes, who could possibly resist them?
Their little tails, or long tails for those who've not had theirs docked, are constantly wagging - they wag so enthusiastically that their bottom wiggles from side to side too!
Their characteristics are so very appealing, but one word of caution - they can sometimes be a little (dare I say it!?) 'greedy' and will eat almost anything it's offered - ours certainly does! He (accidentally) munched his way through an entire box of doggie bones only last week!

They can also put on weight as they grow older so it's advisable to manage their diet carefully. If you'd like to learn more about their weight, simply follow the link.
Cocker Spaniel Information - Temperament

Their temperament is very gentle and loving, and once you've owned one, you won't want to own any other breed of dog!
They're exceptional - equally happy as working gun-dogs, as affectionate companions, and as they're especially good with children of all ages, they make good family pets.
They're inquisitive and very intelligent, but they're also very willing to please - all of which makes them so easy to train.
If you'd like to learn more about their wonderful temperament, simply follow the link.
Cocker Spaniel Information - Coat Colours

Their coats can be seen in lots of beautiful solid colours such as, golden, chocolate (liver), or black, and parti-colours for example, black and white.
I think coats with roan markings, such as the one in the photograph at the top of this page, are particularly beautiful!
Learn more about their gorgeous coat colours here.
Cocker Spaniel Information - Health Matters

Where Cocker Spaniel health is concerned, there are some conditions which are hereditary and others that are simply ailments common to most breeds of dog.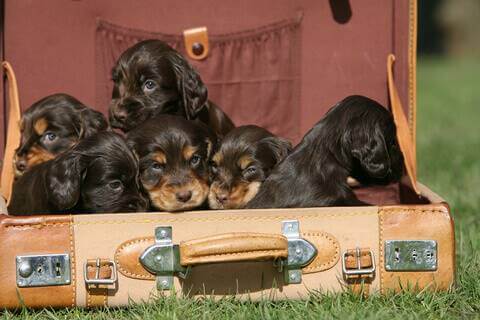 Whilst most of the hereditary health problems are gradually being bred out by responsible breeders, there are still some health problems that do exist - as with all types of dog.

If you own, or are planning to own this wonderful breed, I'm sure you'll want to understand more about canine health in general, as well as their specific health problems.
You'll find all you need to know about health concerns in the Spaniel by following this link.
Other Spaniel Breeds
There are many other Spaniel breeds to learn about, including the American Cocker, the Clumber Spaniel, the Irish Water Spaniel, the Field Cocker, and so on.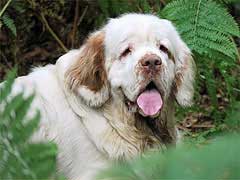 Some are some more pleasing on the eye than others, and some more suited to a certain terrain, and a few make better hunting dogs than household pets.
The photo to the right shows a Clumber Spaniel. It's quite a 'chunky' dog and often has a very 'sorrowful' look. It's the heaviest of the breeds, but I have to say, I think they look wonderful! We had a Clumber living near us when we lived in the UK (his name was Rocks!) - he was such a lovely looking, good natured dog - he was such a character too!

Although some of these breeds look very different from what we've come to love as the more 'typical' Spaniel, all have a very special place in my heart.
Follow the links for a brief description and photograph of a range of Spaniel breeds 1, 2, and 3.
Other Types Of Dog Breed

After reading our Cocker Spaniel information pages you're still not convinced that this is the right breed for you (and I really do find that hard to believe!) why not take a look at this dog breeds page.
You'll find a brief insight into many other types of dog breeds, and links to more specialist sites on particular dog breeds, from the Australian Shepherd to the Yorkshire Terrier - an A to Z of dog breeds!
More General Cocker Spaniel Information

I hope you've enjoyed browsing my these pages and that they've given you a better understanding of this wonderful breed.
Once you've made a decision on which type of dog your going to choose, the exciting part is just around the corner - choosing your puppy.
There's lots to understand about buying a puppy. This article is packed full of helpful tips about what to look for when buying puppies.

Did you know that there are puppy tests that you can do to help understand how the pup is going to turn out? And, did you know that if you've never owned a dog before, it's best to choose a less dominant puppy - plump for a slightly subservient pup and you'll have a much easier time all round.
You'll be surprised at just how much there is to take into account when picking a puppy!
Once you know what to look for when choosing a puppy, where do you find a good breeder, and how will you know that you've found a reliable breeder and not one just in it for the money?
Don't know where to begin?
I can help you there too - this comprehensive directory of Cocker Spaniel breeders to help you find a breeder local to you.
I wish you lots of luck and success in finding the perfect puppy for you!
---
---
Photo Credits - In order of viewing:
1. Lela1971 at http://www.sxc.hu/photo/791429
2. Isselee at http://www.dreamstime.com/stock-photo-two-english-cocker-spaniels-2-years-old-image18673630
3. Juliane Meyer at http://www.dreamstime.com/six-english-cocker-spaniel-puppies-in-a-suitcase-image8171274
4. Thandi at Flickr.com
5. Finoco at Flickr.com
6. Photographer unknown