More Pictures of Cocker Spaniels
More Pictures of Cocker Spaniels
You wanted more pictures of Cocker Spaniels, so here they are! Take a look at some of these gorgeous Cocker Spaniel photos sent to us by our visitors.
If you'd like to show your beloved pet(s) on this website, you'll find a form at the bottom of the page giving you details of how you can do this. In the meanwhile, enjoy these gorgeous pictures of Cocker Spaniels!
Our Visitors' Pictures of Cocker Spaniels
My Gorgeous Archie
By Elizabeth
Northern Ireland
This is Archie, my golden cocker spaniel. He's 8 years old, and he is my love, and he totally loves me back.
I love him so much. I don't know what I'd do without him now!


Comments for My Gorgeous Archie
By: Pauline
website Owner
Hi Elizabeth,
Thanks for this lovely picture of your Cocker Spaniel.
Archie is simply gorgeous. I just want to give him a big hug!
Beautiful Archie
My Beautiful Bruno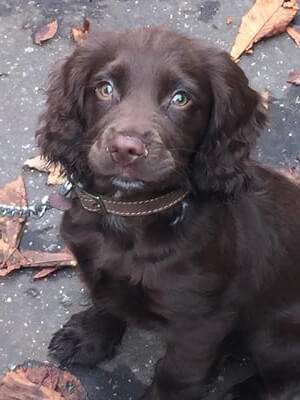 My Gorgeous Bruno!
By Jeanette
Wisbech St Marys
Bruno is now 6 months old, and he's extremely smart.
We're finding it very easy to train him; it only took him two weeks to become fully house-trained!
He's responding well to his puppy obedience classes but loves to run wild.


Visitor Comments:
Lovely!
By: Anonymous
I just had to write to say that I love your Cocker Spaniel, Bruno!
He's gorgeous!

Our Perfect Cocker Spaniel
By Chris
Berlin, Germany
Lila is 9 months old and simply the best dog any owner could ask for!
She's extremely smart, caring and very friendly with everyone.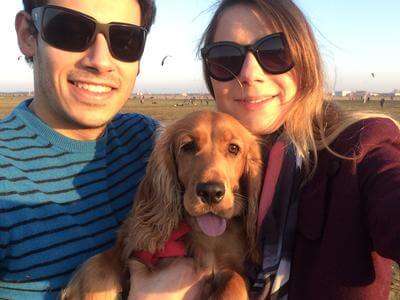 Our perfect cocker spaniel!
Lila learns a new trick very quickly, and as a reward, she loves long naps, and I mean long.
The downside is that this breed will love you and your family so much that it takes a little while to get them happy to be on their own. (Still working on that :), but totally manageable.


Visitor Comments:
Lila is Just Perfect!
by: Katy
What a perfect-looking (and sounding) cocker spaniel.
It took us a long time for our spaniel to get used to being alone; he doesn't like it, but he tolerates it up to a point.
I don't think I've ever met a cocker spaniel that liked being alone. All the dogs I've ever known just love being with their 'family'.
Keep scrolling down if you're up for more gorgeous pictures of cocker spaniels!

Susie, My Sweet California Girl
By Kathy
Los Angeles, Ca, USA
This is Susie, my sweet Californian girl, who always looks adorable!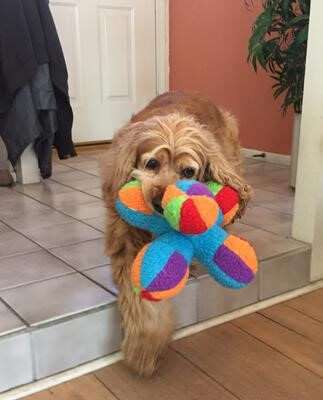 This poor toy lasted about 15 minutes!
Susie was a rescue Cocker I adopted when she was about a year and a half old. Apparently, she was thrown out of a moving car in the desert!
She is now about eight years old and is very active but has hip dysplasia and calcified vertebrae. She takes a pain reliever and anti-inflammatory every day.
I've just learned here that she is an English golden Cocker Spaniel rather than an American, right?
She's a little sad right now because we just lost her sister, a golden retriever.
She's also a little heavy because she loves to eat, and I have a hard time denying her anything.
Just chillin' Mum!
Comments by Pauline
Website Owner
Hello Kathy, and thank you so much for these beautiful pictures of cocker spaniels; Susie is absolutely adorable!
How anyone can abandon such a beautiful creature is beyond me, and how she was abandoned is unthinkable.
I'm so pleased that you rescued her.
She's now got a very loving family.
There are some heartless people in this world, and it warms my heart to know that there are people out there, like you, who have a kind heart.
Susie is so lucky to have you.
This is my favourite ball!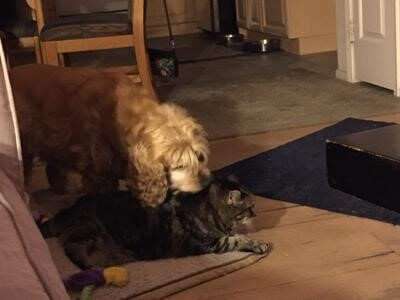 Mmmm, dinner! Only kidding!
Want to add some pictures of cocker spaniels of your own? You can do so here. Just click on the link and complete the form.
If you'd like to see more wonderful pictures of cocker spaniels, simply follow this link. 
My Lovely Lady!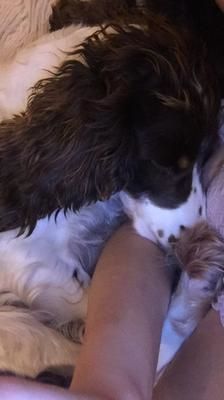 Rest In Peace, Lady!
By Bethan
Essex
So, we re-homed this beautiful cocker spaniel called Lady. She was so lovely, so tiny, and so delicate.
She clearly wasn't loved properly in her last home, so she was instantly loved and adored when she came to us.
Sadly on Sunday, a tragic accident happened. She ran into the road and passed away.
My heart is literally broken.
I loved her so much, I couldn't fault her.
| | |
| --- | --- |
| Lady, taking a well-earned nap! | Lady and her owner, Bethan, snuggling up together |
She was my best friend, even though we only had her for 2 months. I adored her so much; I wish she was snuggled up with me right now.
My heart aches daily, knowing she isn't there when I wake up. She was taken too soon.
Lady, I love you and hope we meet again, my little pup!
Rest well! I hope you are in doggy heaven with Molly; I love you and miss you so much.

| | |
| --- | --- |
| Snuggles! | More snuggles! |
Lovely Lady
By: Pauline (Website Owner)
Hello Bethan,
Thank you so much for sharing your beautiful photos of Lady with me.
Life is often cruel, but I'm sure you'll cherish your memories of Lady and the wonderful times you had with her.
Thank you so much for sharing these gorgeous pictures of Cocker Spaniels; I love them.
My thoughts are with you, take care.
Visitor Comments for 'My Lovely Lady'
I know.....
By: Anonymous
I'm so sorry for your loss. I understand how you must be feeling as I lost my Emma at 12 yrs old.

I love you too mum!
She was blind. She had her eyes removed because of a disease common to cocker spaniels.
At any rate, she never let that get her down or prevent her love of life. I never treated her differently than my other dogs; she didn't want it that way.
She was lovely and greeted everyone as they came up the walk.
The night she died, I took her outside for a potty break. She walked over to one of her favourite spots and then just collapsed.
What I will never forget, and think is so amazing, is even though she was blind, before she took her last breath, she raised her head and turned around to look at me.
I was standing about 3 feet behind her, and then she passed away.
I will never forget my lovely Emma.
Sleepy Lady...
Heart-warming
By: Mike from Canada
I love dogs and know how hard it is to lose your buddy.
We had to put Guinness, our American Cocker, to rest a few months ago, and we are still heartbroken.
Our furry friends are not around long enough.... let's love them all!
Pictures of Cocker Spaniels
I hope you've enjoyed this selection of our visitors' pictures of cocker spaniels.
If you'd like to send us some of your favourite photos of your Cocker Spaniels (good quality, please), we'd love to add them to our website.
You can do this by completing this form and uploading your photos. It's straightforward to do!
Related Articles:
If you're still eager for more beautiful dog pictures, just follow the links below: