Our Visitors' Cocker Spaniel Photos
Please browse these lovely Cocker Spaniel Photos sent to us by our visitors. If you'd like to show your beloved pet(s) on this website, you'll find a form at the bottom of the page giving you details of how you can do this.
In the meanwhile, enjoy these gorgeous photos of Cocker Spaniels!
Precious Posing for a Picture
We bought Precious when she was just weaned at 6 weeks old from a Cocker Spaniel breeder in Harleton, Texas.

She got her name because the minute I saw her and bent down to pick her up, I said, "Oh, how precious." And that's been her name ever since. We love her to pieces.
In this picture, I took her photo as she looked at my husband while she was all stretched and posed in the grass. We always take her and Taffy (our Shih Tzu) on vacation with us.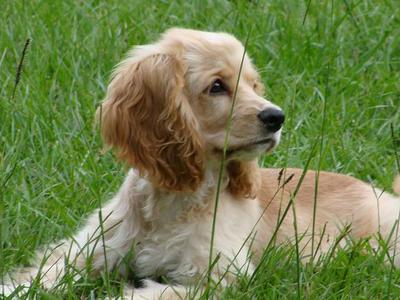 Hello, I'm precious!
Precious's most favourite thing to do is be with us in the computer room and wear her little neck kerchiefs like she's all dressed up.
Marilynn Lee
Hughes Springs, Texas
Visitor Comments: Cocker Spaniel Photos of Precious
What a cute Cocker! I'd love to see her in her neck-chief. I'll bet she looks fantastic.
I love the freckles on her nose!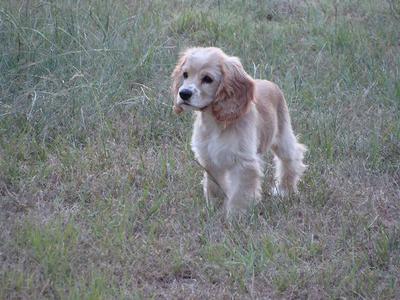 Precious is a gorgeous golden Cocker Spaniel
Cute Cocker!
By: Lana


Fabulous! Precious is so cute - I'm envious. I'd really love a cocker spaniel just like her.

You're very lucky.
Precious Cocker Spaniel
by: Sally
Update By Precious's Mummy
Awwww, thank you so much for your sweet comments!! She is my little girl...we don't have children, we are "petrents", and she is our baby girl.
I have posted more cocker spaniel photos of Precious, one in her vest, her winter sweater and her favourite neck kerchief. She's really a daddy's girl in those pictures.
Cheers to all cocker spaniel lovers and thank you for your nice comments!
Update by Precious' Mummy
By: Marilynn Lee
Hughes Springs, Texas
More Pictures of Precious!
More cocker spaniel photos and another update by Precious' Mummy
Marilynn Lee
Hughes Springs, TX
Here are a few more lovely photos of Precious as she's growing; they give you an idea of how she's developing and what she likes to get up to!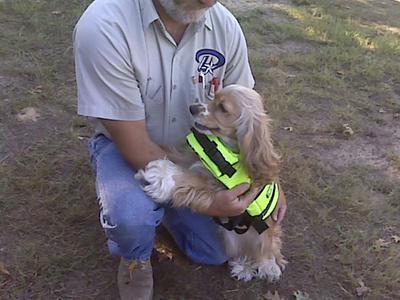 Precious wearing her new life vest
In these pictures, she's preparing to go boating in her new life vest.
In the next one, she's wearing her favourite sweater to keep her warm in the snow.
And the last one, she's ready to go riding, wearing her best neck kerchief.
Precious is absolutely human to us, and we love her very much!

Precious Little Girl
by: Pauline (Web Owner)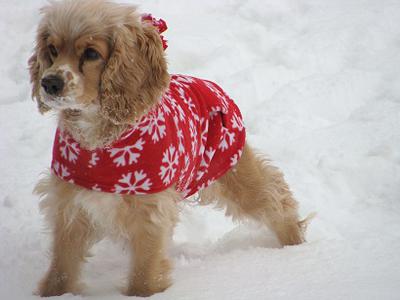 Precious in her new coat
Hi Marilynn, Isn't she just gorgeous?
Thank you so much for posting these fabulous cocker spaniel photos.
I love her little sweater and the flower behind her ear. She looks so cute...and her little neck kerchief... well, she's just adorable!
Reply to Comment
By: Marilynn Lee
Thank you so much for your updates and cocker spaniel photos showing Precious.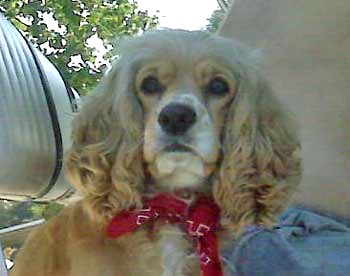 Precious wearing her new neckchief
She is truly a daddy's girl too, and wants to go with him whenever he goes out the door. LOL He can't even put on his cap, and she's already waiting at the door!
I'm here to vouch that if you have a cocker spaniel in your family, you'll have a very merry, good time with them.
Even their little walk is just the cutest gait I've ever seen.
Billy, Our Loving Cocker Spaniel
Billy is our very loving cocker spaniel.
He follows us around everywhere as he always wants to be by our side.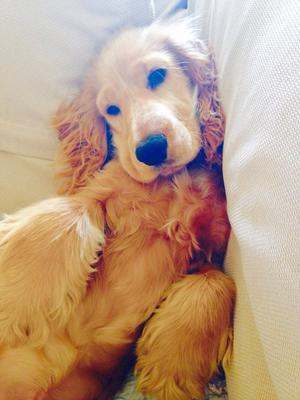 Billy our Cocker Spaniel, relaxing
He comes into our bedroom to wake us up every morning and travels with us everywhere we go.
He's also a real foodie!
He jumps up if he hears us in the kitchen!
Even if he's exhausted, he will try to stay awake as he never wants to miss out on anything.
Purdy and Holly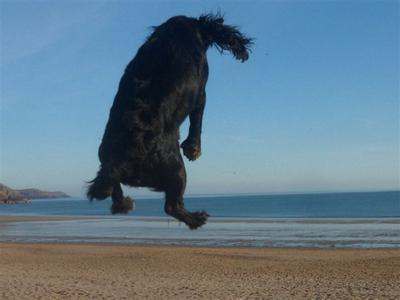 Holly leaping with joy at the beach!
Purdy and Holly (aunty and niece) are my beautiful working cocker spaniels!

The photo above shows an excited Cocker at the seaside. Her name is Holly, and she's so happy to be on the beach; she's leaping in the air.
The following two photos show Purdy and Holly together, enjoying a game of fetch and another of Purdy on her own. She's looking for squirrels!
By Ian
United Kingdom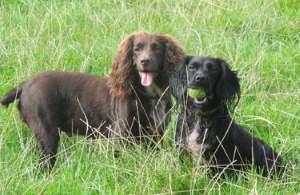 Purdy and Holly playing ball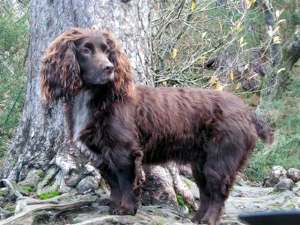 Purdy ready for a hunt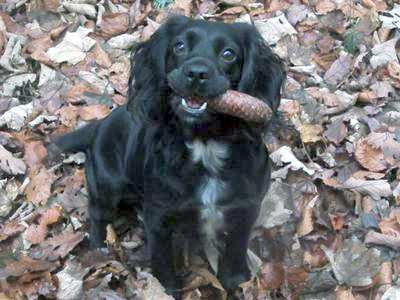 Holly the clown!
Visitor Comments: Cocker Spaniel Photos of Purdy & Holly
Beautiful, stunning dots. Holly looks quite a character.

Cocker spaniel photos:
Purdy and Holly
By: Anonymous
Beautiful looking dogs! I love the beach photo, it's so funny!
Purdy & Holly
By: Pauline (Website Owner)
Hi Ian,
Thanks so much for sharing these lovely photos of your working cocker spaniels. Purdy and Holly (such beautiful names) look absolutely magnificent.
You must be very proud of them - and rightly so!

Sweet Puppy Tyrant
Molly Green
Livingston, Texas, USA
Emmy is my sweet Cocker Spaniel puppy.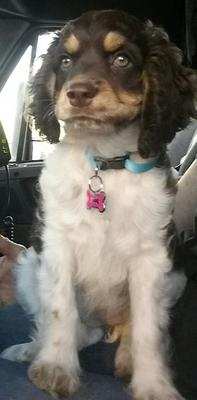 Emmy, my sweet tyrant!
She's so loving and affectionate, and she's also very smart. At 9 weeks old, she had mastered; sitting, shaking hands, and down.
She's 12 weeks old now, and she can communicate very well.
She will tell me when it's time to potty, play, eat or "hey, don't laugh at me".
She is an absolute joy to me and all who have the pleasure of meeting her, both human and doggie friends!
Alfie, Our Handsome Boy!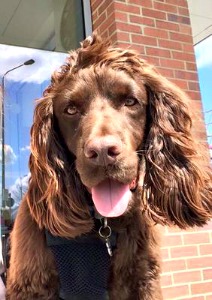 Alfie, Our Handsome Boy!
By Lynsey
Durham, England
This is Alfie, our two and half year old cocker spaniel.
He's a very handsome dog and his coat is a beautiful ginger colour.
We love him to bits!
Keep scrolling down for more wonderful cocker spaniel photos!
Love Me. Love Her!
By Toni
NSW Australia 

Nora is now three years old and loves to be kept busy.
She has inside and outside toys; we walk and do agility training every day,
which is more like playtime than lesson time. But we love it, we have so much fun.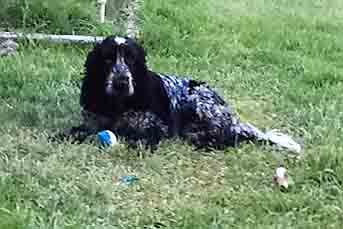 Waiting for her next instructions
Nora and I have a strong bond.
She is my companion and gives me the strength and confidence to get up daily.
My husband calls her my daughter. Well, that's true; she is family, after all.
I have to work hard at keeping Nora's ears healthy, as she is prone to ear infections.
To help keep her ears dry, I have crocheted her a snood. The snood slips over her head and holds her ears back, allowing airflow.
Nora is hilarious when she has it on. She sits still with a sad face and her head down for about 20 minutes.
The look is like saying, "Oh mum, must I?" I won't share the photo because that would be cocker-embarrassing. But it's on each or every other day, especially throughout the wet season, and it has helped reduce the frequency and severity of her ear infections.
For the snood pattern, I just made it up. It's a rectangle piece, and I sewed two edges together, making a tube. For those that can crochet, the stitches I used were a treble with a chain in between. This created a tall open weave that allowed good airflow.
I love Nora, and she loves me straight back.
Comments for Loves Me. Love Her!

Adjustable Ear Harness Might Help
By Anonymous

I bought an ear harness on Etsy a few years back that is adjustable through straps, and they hold the ears back.
Fi does not seem prone to ear infections so far (but I am always vigilant). I always have the vet test her ears to get each ear's yeast and bacteria counts at the beginning and end of each summer.
I also flush them when she is finished doing water retrieves in the hot summer months and after baths.
Miss Madison
By Jerry Henry
Murphysboro IL

This was my best friend in the whole world and her name was Miss Madison.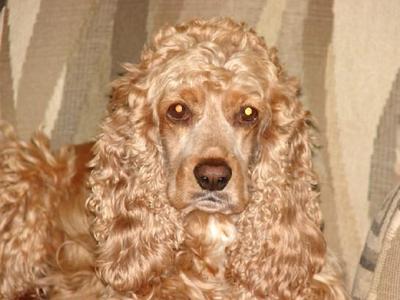 RIP Miss Madison!
She lived to be 16 and was right by my side until the day she said goodbye.

I miss her so very much.
By Pauline
Website Owner

I'm so sorry to hear that you have lost your precious Cocker Spaniel. My thoughts are with you and your family.
Rest in peace, Miss Madison.
Birthdays Just Tire Me Out!
By Beth
New York State
Tanner is a loveable little fella and he will be four in August 2016. He brings us much love and laughter.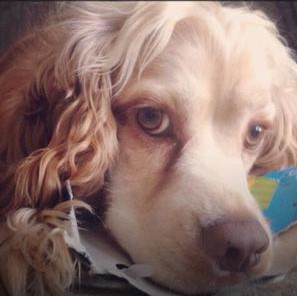 More Doggie Cake Please!
In this photo, Tanner's tummy is full of birthday cake as he's reached his fourth birthday!
If you'd like to see more cocker spaniel photos, simply follow this link.
Submit Your Cocker Spaniel Photos Here
If you'd like to send us some of your favourite cocker spaniel photos, (good quality please) we'd be delighted to add them to our website. You can do this by completing the following form.
Share Your Cocker Spaniel Pictures!
You know your Cocker Spaniel is beautiful!

You also know that Cockers often get up to all sorts of antics and into so much 'loveable' mischief!

We'd love you to share some of your favourite Cocker Spaniel pictures with us and show the world just how beautiful they are.

Your photographs may capture your pet getting up to mischief, running in the park, playing with other dogs, asleep on his back - legs akimbo, or they may simply reflect how adorable they are!

You can build your very own page, right here, for all your friends and family to see.
Other Visitors' Favourite Cocker Spaniel Pictures
Click below to see contributions from other visitors to this page, including their favourite cocker spaniel pictures...


I Love My Cocker Spaniels!

Meet Theo and Sophie! Love is saturating those who just watch the love between others! They are/were inseparable - people have accused me of inserting …
If you're still eager for more Cocker Spaniel photos, just follow the links below: