Pictures of Dogs from our Visitors
Our visitors often send us pictures of dogs and puppies so we thought we'd collate all the photos of beautiful cocker spaniels we had sitting in our files and show them here. We'd like to thank our visitors for sharing and we hope you enjoy them!
Lenny The Wonder Dog!
Lenny the Wonderdog!
Nicola Davis
Sligo

Hi Guys!
This is my Lenny and as you can see, he's getting bigger. 
His first year is just flying by.

He's just mad about the beach and absolutely loves his ball. He's so playful and lots of fun!  Love you, Lenny!
Our Beautiful Baby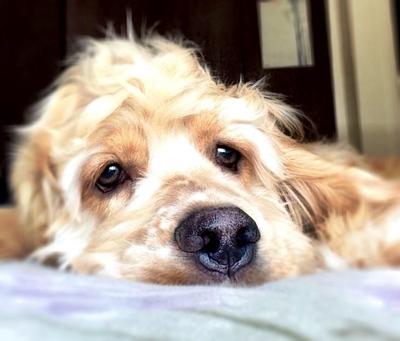 Sosu, our beautiful cocker spaniel!
Maria
Wixom, MI
This is our cocker spaniel puppy, Sosu.
He's so sweet and beautiful!
We love, love, love, him!
Visitor Comments:
Beautiful Cocker Spaniel
by: Darren
I can see why you love, love, love him. I'm almost speechless, he's so lovely and it's a great photo by the way. 
Is he an orange roan?
Pictures of Dogs: Sosu
by: Sandy
I'm almost sure he's an orange roan cocker. He is absolutely gorgeous and I'd would love to know where you got him from. He's beautiful!
I hope you enjoy him for many years to come.
Scooby Is A Very Nervous Young Man
Steve
England
Scooby is very loving and affectionate but unfortunately, he's terrified of noises and strangers. However, with a lot of patience, we're getting there, slowly but surely!
Pauline (Website Owner)

Hi Steve,  What a beautiful Cocker Spaniel Scooby is, and he looks so affectionate!

Max was quite timid when I first got him and I was given a CD called Sounds CD.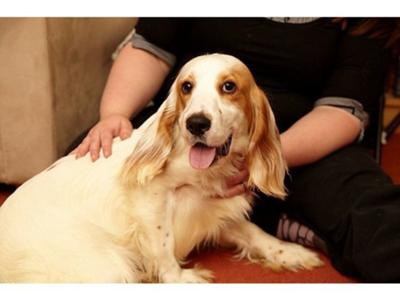 Scooby, the timid Cocker Spaniel!
It was a compilation of snippets of sounds; telephones ringing, children screaming, adults shouting, sirens, thunder, etc. which was meant to be played when your puppy was around, even when he was asleep.

I played this most days (quietly) when Max was about to fall asleep. Today, my Cocker is okay with most sounds (except for the hoover - he's such a wuss!)

Here are some good tips and advice on socialising your puppy which will help to build Scooby's confidence.

Good luck!
If you'd like to submit some of your favourite pictures of dogs or your puppies, please complete this form.

Those Eyes...Pure Innocence!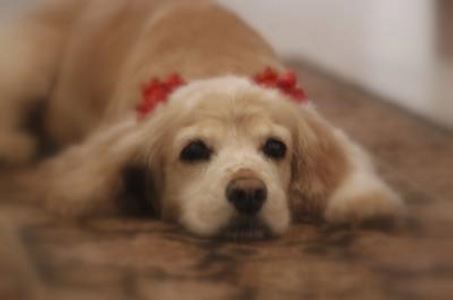 My Girl!
Linda
Peabody MA

This is Miss Molly, my beloved cocker spaniel.
She was born on March 28, 2000 and she's the most loyal, sweet, devoted companion I've EVER had.
I absolutely adore her!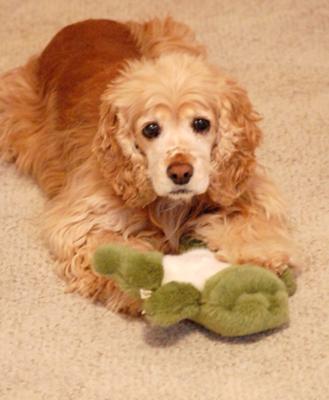 Molly with Cupcake the Frog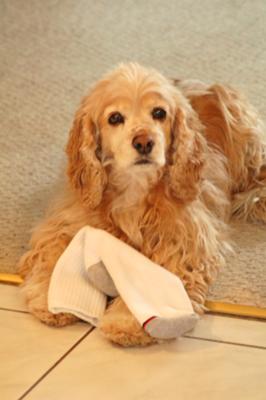 Going to take a nap, okay Mamma?
Hi Linda, we're always grateful for our visitors sending in their pictures of dogs. Molly is such a sweet little thing and I'm sure our visitors will enjoy them.
Thanks very much for sending us these lovely photos of your beautiful cocker spaniel girl!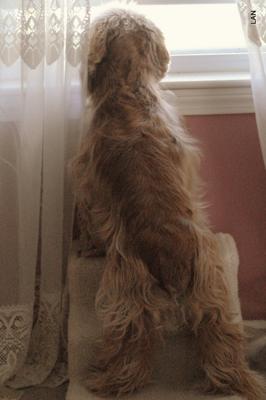 Molly's front row seat
Sophie Ellis:My Beautiful Cocker Spaniel
David Moreno
Panama, Panama City
Hi, this is Sophie Ellis, my beautiful 3-month old cocker spaniel puppy. She's amazing, friendly, funny, and very smart.
I absolutely love her!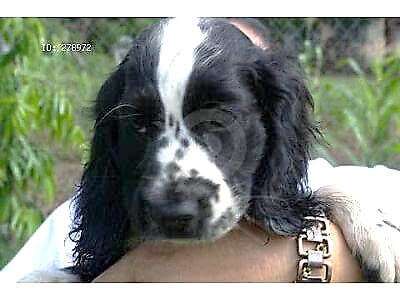 Hello, My Name Is Sophie Ellis
(Update) Hello!
Sophie & David
Hello everybody!

Guys, thank you for your comments! Yes, I named her after the singer that I love. So, I thought it was a good name for a puppy.

And Yes! birds are irresistible for her, she chases everything that seems like a bird. Ha-ha, she got it from her Mom. Sophie is 7 months old now, and still growing.
I'll upload a few more of my pictures of dogs soon.

Kisses,
PS: Sophie says Hello too
Visitor Comments: 
Sophie Ellis: My Beautiful Cocker Spaniel
Sophie Ellis
by: Anonymous

How gorgeous you are, Sophie! You look just like my first cocker spaniel, Jessie. Sadly she's no longer with us but when I first say your photo my heart missed a beat - you're so much like her!

She used to like running around the park, chasing balls, frisbees, and birds (any type would do, so long as they could fly - come to think of it, she'd chase those that couldn't fly too!).

She was so gentle and friendly, even though she wasn't socialized as properly as she should have been.

I loved her so much - she was my life! I still think about her, and I'm so happy to have been privileged that she chose me.

The puppy days soon fly by, so please enjoy every minute of the day with your lovely Sophie Ellis.
Sophie Ellis
by: Jan

Is she named after Sophie Ellis Bexter? Why? It doesn't really matter - she's so gorgeous anyway - but I was just curious.
Sophie Ellis is a Sweetie
by: Suzette
Aaaaw, your little cocker is as beautiful as her name. I'm assuming you named her after the singer? In any case, she is lovely!
Take care of her, and she will take care of you tenfold, at the very least!
My Gorgeous Baby Boy Radley
Christine Underhill
Long Buckby, Northants

Our black and tan cocker spaniel puppy is 14 weeks old and loves his walks.
He can be a little monkey at times, but he's so very loving, and adores having his tummy rubbed!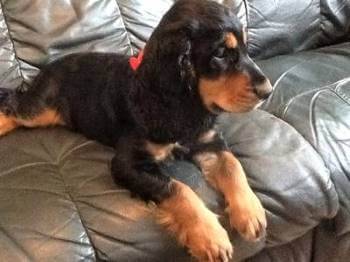 Hello, my name is Radley!
He's bit of a piglet with his meals; he swallows his food without chewing it properly so he ends up coughing it up to eat it all over again!  

He's named after my favourite make of handbag, (the ladies will know this!)
Our New Cocker Spaniel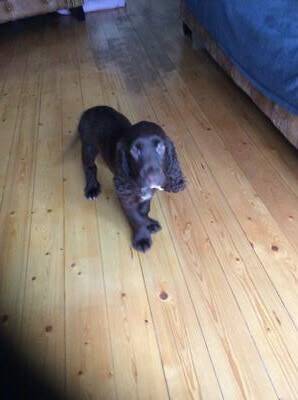 Please be my friend!
James Alexander
Corby, England

This is our latest Cocker Spaniel.
We only bought him on Saturday to be a friend for our existing family cocker.

Unfortunately, it doesn't seem to be working at the moment as our dog Harry has gone in the huff.

Oh well, I guess time will tell.
Cocker Spaniel Pictures of My Smarto!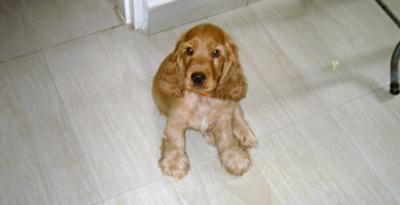 Hello, my name is Smarto and I'm very smart!
Arathi Belvadi
Bangalore
This is my gorgeous cocker spaniel puppy - he's just too smart to be handled!

He's only very young, but I love him already!
Pauline (Website Owner)

Hi Arathi, Thanks for posting. Smarto is such a lovely cocker spaniel puppy. I hope you have lots of fun with him.
Don't forget to take a look at this page which give lots of helpful information about puppy care to help you raise him, I promise you, it's very useful.
Alfie Just Can't Reach It!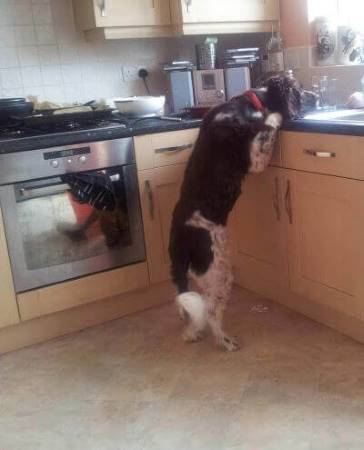 Oh, I really want that chicken!
Phil Oasgood
UK
This is Alfie, my mischievous Cocker Spaniel-Springer mix.

He's trying to get at the bag of chicken on the back of the kitchen worktop.

He was so focused on trying to reach the chicken that he didn't notice me sneaking up and taking this photograph.
If you'd like to send in a couple of your favourite pictures of dogs or your puppies, just complete the form below and we'll do the rest.

Buddy and Lottie
Sue Byrne
Warwickshire, UK

Buddy is 12-months old and Lottie is 7-months. They live with me, my husband, and our two sons in Warwickshire, UK.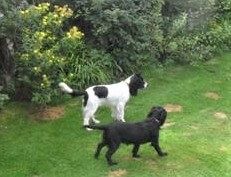 They have a very frequent visit from my 3-year old grandson, Alex.

Buddy is very laid back and obedient, which is why we decided on another working cocker spaniel and along came Lottie. She's feisty and quite vocal like she announces her arrival, "Hello, I'm here!"
Buddy and Lottie get on very well and we are a very happy, contented pack.
I am a dog groomer and work from home, so I always have different dogs visiting - something we all get pleasure from.
Funnily, it was because of all the cocker spaniels that I'd been grooming that made me want one.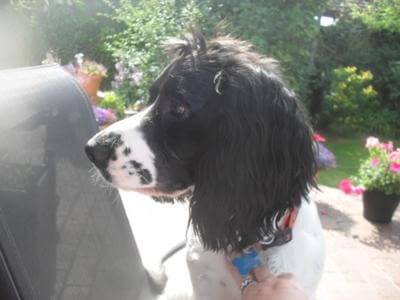 Cocker Spaniel hoping for a bath in the garden
At that time, I had no idea that there was such a thing as a working and a show type cocker spaniel and I got Buddy by mistake!

Once the breeder explained the difference, I had already fallen in love with him. All my ideas about him having the best hairstyle ever went out of the window!
Buddy now has beautiful leg feathers and a spectacular quiff going on - he takes relatively little grooming.
Lottie's coat is starting to sprout little tufts all over, although the top of her head is smooth.
I really have no idea how they are going to turn out, but they are a joy and every day is wonderful with them!
If you'd like to submit some of your favourite pictures of dogs or your puppies, please complete the form below.

Visitor Comments for Buddy and Lottie
Buddy and Lottie
by: Anonymous
Hi Sue, Buddy and Lottie look to be lovely dogs! I adore the 'punk cocker' hairstyle too! (Sorry!)

What I really like is that they sound so very different, yet they get on very well together. I'd like another dog, and would seriously consider a working strain cocker, but I'm not sure my old Cocker is ready to accept another animal in our household.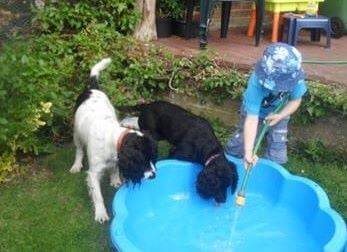 We can't wait for the pool to fill!
Oh well, I don't intend to put him through any undue stress or anxiety so I'll put all thoughts of getting another dog on the back burner.

I hope you and your family enjoy your dogs for many years to come.
Lovely Buddy and Lottie!
by: Jenny
They're both beautiful dogs and seem to be such characters too. I love show cockers, but I also adore the working cocker spaniel, and I love the tufts on the top of the head.
Lovely cockers!
Read on for more lovely pictures of dogs from our visitors!
If you'd like to send us some of your favourite pictures of dogs or your puppies, please complete the form below.

Henrik's First Day Home
Dale Shepherd
Fife, Scotland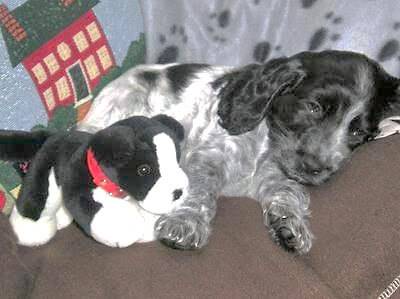 Henrik's first day home
Hi, Meet our new blue roan cocker spaniel puppy.

He's 6 weeks old and he's called Henrik and we think he's just adorable!
He's whacked after playing so he's about to have a little nap. 
Update: Dale Shepherd
Fife, Scotland

We know you're always happy to receive pictures of dogs, so we thought we'd give you an update!

Henrik is now 13 months and we're trying to get him used to water! 
| | |
| --- | --- |
| Not sure about this Mum | It's too hot Mum! |
| | |
| --- | --- |
| Daisy Chain | Henrik is a gorgeous Cocker Spaniel |
If you'd like to submit some of your favourite pictures of dogs or your puppies, please complete the form below.

Indiana and Her New Pal Mike Wazowski
Hello,
Meet my new cocker spaniel puppy Indiana. She's 7 months old and she's very precocious (but precious!).  

Indiana is gorgeous and she brings a smile wherever she goes and loves to be with her pal Mike Wazowski! 
| | |
| --- | --- |
| Mike Wazowski! | Lion paws! |
Why not send us some of your favourite pictures of dogs or your puppies, please complete the form below. As long as they're good quality, we'll post them here!

Our Beautiful Amber!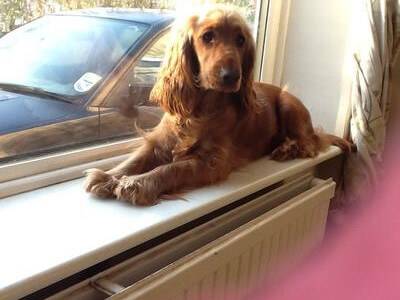 Beautiful Amber
Tessa
Colchester, England

Amber is 16 months old and she was born on Christmas Day.
She is my first dog and she's a typical cocker spaniel, full of life, very stubborn, but very beautiful and always happy.
Sleeping Beauty!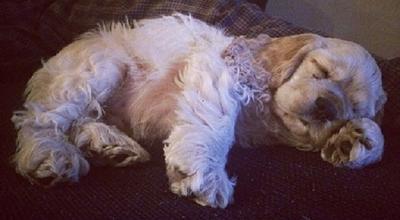 Jax, my sleeping beauty
Tammy Wright
Mississauga, Ontario, Canada
This is Jax, our little cocker puppy and we love him to bits. 
He's still young (he's 4 months old) so we're still getting to know him but he's very curious and very loving!
Pauline
Website Author and Owner
Hi Tammy, Jax is certainly a little treasure - he's beautiful! He reminds me of Max when he was a puppy. He's so cute.
They grow up so very quickly so enjoy every single minute of his 'puppy-hood'!
Take care.
If you'd like to submit some of your favourite pictures of dogs or your puppies, please complete the form below.

Pictures of Dogs: Our Special Family
Glenn
Canada

Luna chose us, but we knew she was special, her birthday and mine are the same days. Born as a moon child, hence her name.
Meet Luna!
Luna has always been with cats. When we first got her as a pup, we had a diabetic cat, Peppy.

He only just tolerated Luna, as a puppy she was too busy for him.
Then came our next family members, Nyx and Theo, two rescue cats, (kittens at the time). They have grown together ever since.
It's funny because they have picked up traits from each other. They do things that normally they wouldn't if they were on their own. That makes it so special to have them all together.
Meet Sully, My Lovely Cocker Spaniel
Lonni
Bellingham, WA
Sully is named after the Monsters Inc. character, Sully.  When I saw him for the first time I melted.  I love that he has one black ear and one black eye.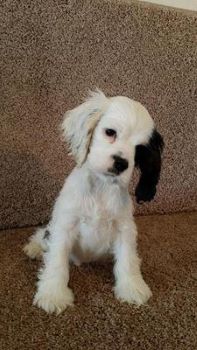 Meet my Sully!
Sully is 12 weeks old and a total lover of all people.  He's quick to learn and is currently in puppy kindergarten.  We've never owned a cocker before but can see how one can become addicted to these little clowns. 

Sully enjoys walks and she loves playing in the water.
Thanks for this website, it has so much useful information about cocker spaniels that we can use.
Hi Sully
Pauline (Website Author and Owner)

Hi Lonni, Sully is absolutely gorgeous - he looks like he's going to be a real character!

Thank you for the very kind words about my site. I hope you continue to find it useful during your puppy's lifetime.

Enjoy your new Cocker Spaniel!
If you'd like to submit some of your favourite pictures of dogs or your puppies, please complete the form below.
Visitor Comments: My Gorgeous Baby Boy Radley
Radley
by: Dale Shepherd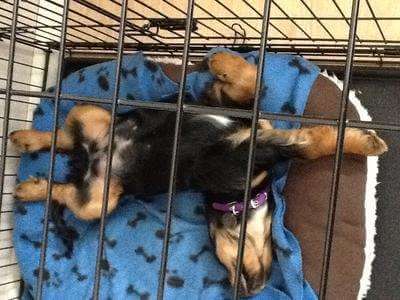 What a day!
He looks so cute and mischievous!! Great name too!!

Precious Boy, Radley
by: Karen

What a cutie!
He has beautiful colouring, I just love black and tan cockers!
He looks like he's zonked out, I love the relaxed sleeping position!
Thank you for sharing him!
Pictures of Dogs: Snap!
by: Ian

Hi, I couldn't believe it when we saw your picture, Radley has identical colouring to our own little spaniel, Crunchie. How old is he now?

(By the way, we're in the same village!)
Radley Today
Christine Underhill
Hi Ian, As of 18th March 2015, Radley is just over a year old.
Submit Your Pictures of Dogs and Puppies Here
Well, that's it for now, but if you'd like to send us some pictures of dogs or your puppies, (good quality please, not blurred) we'd be more than happy to post them on this website for you. Simply fill in the form below.
Share Your Cocker Spaniel Pictures!
You know your Cocker Spaniel is beautiful!

You also know that Cockers often get up to all sorts of antics and into so much 'loveable' mischief!

We'd love you to share some of your favourite Cocker Spaniel pictures with us and show the world just how beautiful they are.

Your photographs may capture your pet getting up to mischief, running in the park, playing with other dogs, asleep on his back - legs akimbo, or they may simply reflect how adorable they are!

You can build your very own page, right here, for all your friends and family to see.
If you're still eager for more beautiful dog pictures, just follow the links below: