Visitor Dog Pictures

Our visitors often send in their favourite dog pictures, and I thought it would be criminal not to show them off. So I've put together a couple of pages displaying all our visitor's gorgeous cocker spaniel photos. I hope you enjoy them!
Cocker Spaniel Dog Pictures To Warm Your Heart!

Here you'll find lots of gorgeous cocker spaniel photos sent in by our loyal visitors. This gorgeous chocolate roan is called Rosie - isn't she simply adorable?
If you'd like to submit some of your own favourite dog pictures, follow this link and complete the submission form. 
We look forward to hearing from you soon!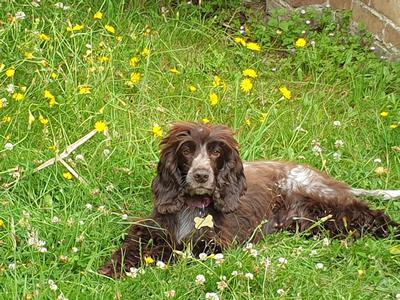 Hello, My Name Is Rosie; what's Yours?
Bella aka Snow White Delight
By Candice
Manchester, United Kingdom
Here's our little girly, Bella, also known as Snow White Delight!
She is so loving and playful and provides hours of fun for my 8-year-old daughter. She's the best friend anyone could ever have and has such a lovely temperament.
Playful Bella, our beautiful Cocker Spaniel
We'd love her to meet a stud in the local area of the same colouring when she's old enough so that we could breed from her.

She's so eager to please and such a happy puppy. We adore cocker Spaniels, and we love our puppy very much.
Our Wonderful Cocker Spaniels: Jessie and Duke 
My Precious Babies!
By Janice
St. Andrews, Manitoba Canada
Jesse and Duke are brothers, born in 2011. Jesse is the blonde cocker spaniel, and the black one is Duke. 
I have been taking this shot of them in the same spot every year since 2011.
They're my babies, and they are very special to me. I cannot imagine my life without them now.
Storm's First Christmas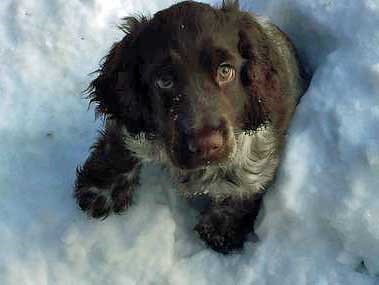 Storm's first time enjoying the snow
By Malcolm
Sheffield
Storm is the latest addition to our family.
He's almost 15 weeks old and is a brown roan cocker spaniel.
We recently lost our 14-year-old Cocker Spaniel (Jake), and for the last four and a half years, Jake has been a faithful companion to our working Cocker Spaniel (Max).
When we lost Jake, we were unsure whether to take on another dog because the heartbreak of losing a well-loved pet of so many years is so hard to deal with.

Storm and Max Sitting Together
We decided to bring a new puppy into our home, partly for selfish reasons and partly for wanting to have a new playing partner for Max.
I have to say that it was the right thing to do.
Max is now getting on so well with Storm that it has given him a new lease of life, really bringing his playful side out.
Although of a working strain, Max is purely a pet and would never have made a worker anyway as he is terrified of loud noises (the time around bonfire night is terrifying for him).
Storm is a real character, as you would expect at his age, and he gets up to plenty of mischief.
He's full of beans and makes us laugh with some of his antics.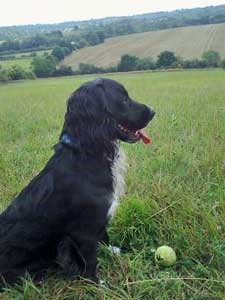 Max enjoying the outdoors
I want to say that Max is a well-trained dog (we found Max easier to train than Jake), but Storm is surprising us with how intelligent he is and how easily he seems to pick things up.
We love him to bits.
Anyway, thank you for reading my brief article. To accompany it, I have included one or two photos for you to display on your site.
Storm, Max and Jake
By: Pauline (Web Owner)

Hi Malcolm,
Thank you for posting these photos of your lovely cocker spaniels for our dog pictures page. Storm is an absolute darling, and I adore his colouring.
I can see he's a character and I'm sure you'll have lots of fun with him and never a dull moment!
It's always heartbreaking when you lose a pet. Of course, you'll never forget Jake; he will always have a place in your heart. RIP Jake.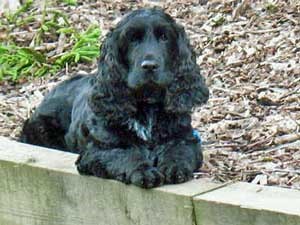 Our Beloved Jake, RIP x
I'm sure Max misses Jake too, but now Max has Storm; he not only has a playmate, he now has a new-found responsibility for setting an example (in terms of behaviour) for Storm to follow.
I'm sure he'll step up to the bar and have lots of fun too!
Enjoy your Cocker Spaniels, Malcolm and thank you for sharing with our visitors!
Jessie The Fluff Ball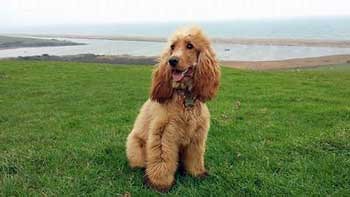 Beautiful Jessie!
By Amy
Dorset
This is our gorgeous Cocker Spaniel, Jessie. She's 7 months old, and she's such a loving dog!
We are hoping for her to become a therapy dog soon.

Jessie is so photogenic

Jessie Cocker Spaniel
by: Pauline (Web Owner)

Hi Amy, Thank you for sharing your photos of beautiful Jessie on our dog pictures page.

Jessie needs a bath!
She really is a lovely cocker spaniel, and you're right; she's so photogenic too!
It looks like she's really enjoyed her romp in the forest. I dread to think what your kitchen floor will look like when you get her home! She's worth it, though, isn't she?
I wish you lots of good luck with the therapy training!
Our 'Personality Rich' Cocker Spaniel
By Eric
Denmark
Dear Pauline,
I am just writing to say thank you for the work you put into this website.
Our continued quest for ideas to help us get the upper hand with our personality-rich cocker spaniel led us to your site.
The comments and advice have helped us to understand that we're not alone. Your website has also helped us make good progress on our dog's training.
Thanks again, and we'll certainly be putting your ideas to the test with our dog.
We have a 6-year-old female Cocker Spaniel named Rita that has been (and still is) an enigma for us. She is a year younger than our female Wheaten Terrier, which is a much less challenging dog.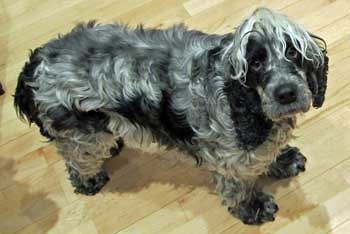 Rita is a challenging cocker spaniel!
Our efforts to renew the fight against attention-seeking behaviour (primarily whining) have given some immediate results.
We go through cycles of focus and laxness, and Rita has a way of adopting new and undesirable behaviours when we lose our vigilance.

Fortunately, she is very mild-mannered. We've had no issues with temperament or possessiveness outside of lots of non-threatening noise-making when she doesn't like something.
Rita the Cocker Spaniel
By: Pauline
Hello Eric,
Thank you for your kind words about my website and for submitting your favourite dog pictures. As you can probably see, Cocker Spaniels are my passion. I'm retired now and it's what keeps me sane!
I just love Cocker Spaniels...and all their little 'quirks' and I too have a 'personality rich' cocker.
Over here, (I'm living in France now) the French have have a lovely saying for dogs like ours, they say the dog is...'un chien avec caractère' - a dog with character. Well he certainly is that, and more. Max is eight years old now and only just beginning to settle down. I, on the other hand, am exhausted!
Still, I wouldn't swap him for the world.
I'm assuming you've read my article on the alpha dog, but just in case you haven't, here it is. The training advice it contains will help to keep Rita on the straight and narrow!
Good luck and thanks for posting.
Kronos the Cocker Spaniel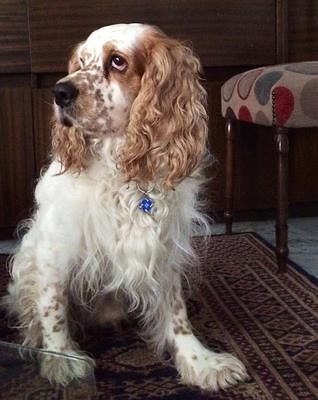 My Handsome Kronos
By Stefania
Caracas, Venezuela
Meet Kronos, my handsome orange roan Cocker Spaniel. I would like you to add him to one of your dog pictures pages.
He is so sweet, friendly and full of joy.
He loves to play with his Frisbee, and he loves playing fetch with his ball!
I love him so much and don't know what I would do without him.
A Day On The Moors
Sitting Beautifully!
By Ian
Long Buckby
Here is my wonderful cocker spaniel, Crunchie. I've had her since she was a puppy; she is now 16 months old.
Crunchie loves running about in the fields and chasing balls.
She's a very affectionate Cocker and a loved family member.

A Day On The Moors
Pauline (Web Owner)

Hi Ian,

Thank you for submitting to our dog pictures page.
Crunchie is simply gorgeous; I bet she's spoilt rotten! I love her colouring. Is she named after the chocolate bar?
My next cocker will definitely be the same colour as your cocker spaniel!
Too Beautiful To Be A Boy!
Beautiful Rocco!
By Patricia Pearson
Penshaw, Tyne & Wear UK
This is my Rocco.... he's 20 weeks old and is a sable roan. He has a beautiful nature and is so sweet.
Everyone who meets him loves him.
I think he's too pretty to be a boy!

Beautiful Rocco
by: Pauline (Web Owner)

Hello Patricia,
You're right; Rocco is too beautiful to be a boy!
I absolutely love Sable Roans; their colouring is gorgeous. I can see how anyone who meets him would love him instantly.
Thanks for posting on our dog pictures page, and have fun with your Spaniel!
Leia Is One Year Old Today!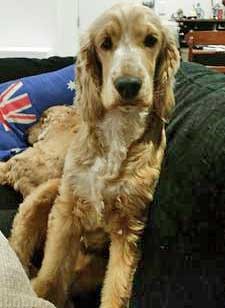 Leia the Birthday Girl!
By MT
Sydney, Australia
Leia is one-year-old today, so I wanted to share some of my favourite dog pictures again.
She loves tearing things apart and causing general mayhem, but I wouldn't have it any other way.
Jelly is the old man of the house. I have mentioned before that he used to be a show dog and a stud dog but has settled into his retirement. He is now ten and a half.
The two of them are good buddies, especially when it's a little chilly out.
Happy Birthday Leia!
by: Pauline, Web Owner

Hi MT, Thanks for the update on Leia and Jelly and the lovely dog pictures - keep them coming.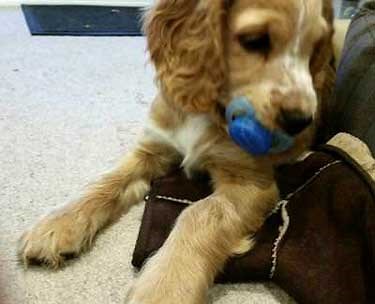 Sleepy Time!
Six months on, and they seem to be getting on like a house on fire, don't they?
They both look very relaxed and content, and I especially love the photo of them napping together - it's simply adorable!
I Hope Leia has a special treat for her birthday (and I'm sure you won't leave out Jelly).
These lovely dog pictures are so cute, don't you think?

These lovely dog pictures are so cute, don't you think?
| | |
| --- | --- |
| Sleepyhead! | Cocker Snooze Time! |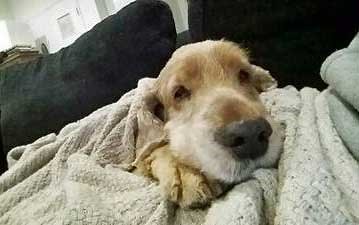 Jelly, Snug as a bug
| | |
| --- | --- |
| The destruction Zone | Jelly is an old man now |
Our Visitors' Cocker Spaniel Dog Pictures
I hope you've enjoyed this selection of our visitors' cocker spaniel dog pictures!
Follow the links below if you want more gorgeous pictures of cocker spaniels or puppies.

Enjoy!

Share Your Cocker Spaniel Pictures!
You know your Cocker Spaniel is beautiful!

You also know that Cockers often get up to all sorts of antics and into so much 'loveable' mischief!

We'd love you to share some of your favourite Cocker Spaniel pictures with us and show the world just how beautiful they are.

Your photographs may capture your pet getting up to mischief, running in the park, playing with other dogs, asleep on his back - legs akimbo, or they may simply reflect how adorable they are!

You can build your very own page, right here, for all your friends and family to see.
If you're still eager for more beautiful dog pictures, just follow the links below: