Your Favourite Cocker Spaniel Pictures

Do you have some treasured Cocker Spaniel pictures that you'd like to share with us? If so, we'd be delighted to hang them in our 'doggie hall of fame'. Why not join in the fun and send us some of your best Cocker Spaniel photos today! 
Cocker Spaniel Pictures to Warm Your Heart!

Welcome to our...correction...YOUR cocker spaniel pictures page! 

This is where you can show off your best photos of your Cocker Spaniel and tell us all about your faithful hound and what he (or she) likes to get up to! 
Come on Mom, throw the ball!
Copyright: About-Cocker-Spaniels.com
You own a Cocker Spaniel right? Right, which means you're bound to have lots of cute Cocker Spaniel pictures and so many amusing stories to tell - so come on, why not share with us?
You can send us up to four of your favourite Cocker Spaniel photos, write a few words to go with them and I'll place them in our doggie hall of fame for all our visitors to see.
You may have captured your Cocker's true personality in a chance snapshot, he may have been caught in the act raiding the trash can, or getting up to other doggie mischief!

Or you may have some lovely pictures of Cocker Spaniels just being, well, Cocker Spaniels: playing, lying in the sun, sleeping, but above all, being simply adorable!
It's so easy to do, just go to the submissions page and follow the instructions, and don't forget to add a few details about the picture too.
If you need inspiration to help get those creative juices flowing, you'll find some good ideas here.
Some of our Visitors' Cocker Spaniel Pictures
My Dougal
This is Dougal, our beautiful cocker spaniel who sadly died recently.
I thought I would never stop crying.
We now have our new puppy, Teddy (pictured on this site too) who is mending our hearts.
Although we love him very much and he's already a part of our family, we won't ever forget Dougal.
Rest in peace sweet boy.
Julie
Inverness, Scotland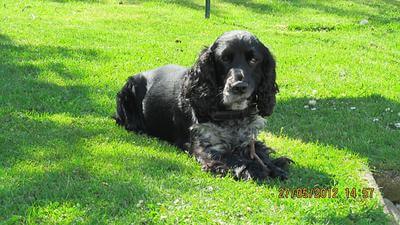 Rest in peace, Dougal.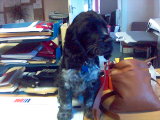 Dougal as a puppy
Ben, My New Love
Hi, This is Ben, my new love. He's a cocker puppy and is 6-weeks old in this photo. 

I am so lucky as the breeder only lives across the road, so I see Ben a lot and I'm so looking forward to having him permanently.
Terry
Redcar, UK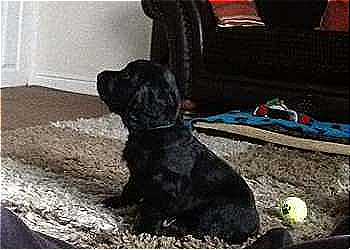 This is Ben, my new love.
I love Snow!      

This is Rocky, our one and a half year-old cocker spaniel, joining in the fun and games.
He just loves the snow!
Charles Adams
Aberdeen, Scotland
Snow Bathtime!
I love Snow too!      
Not to be left out, this is Apollo, our other cocker spaniel. He's 1.5 years-old and is the brother of Rocky (above) and he loves the snow too.
No matter how cold it is they just love to roll and play in it!
Charles Adams
Aberdeen, Scotland

I love snow too!
...But What Do I Write About?
Anything and everything!
If you need inspiration, why not tell us a little about your Cocker's personality, what they like to get up to, or their favorite toys or games?
Anything you'd like to say is fine by us.

Perhaps, sadly, your Cocker Spaniel is no longer with you, and has passed on to 'Doggie Heaven' - why not pay a tribute to him here, or write a poem to celebrate his life and keep his loving memory alive?

Whatever you've got to say, we'd love to hear it.
We love looking at beautiful cocker spaniel pictures and we're itching to see your favourite Cocker Spaniel photos!

If you're still stuck for words, why not try answering some or all of the following?
What's the name of your Cocker Spaniel? 
How old is he? 
Where did you get him?
What are his favourite games and toys?
Does he like to play in the park with a ball or a Frisbee? 
Is he friendly with other dogs? 

Does he have any health problems?
What are they and how are they being treated? 
Does he go on holiday with you? 
Has he been abroad? 
Where's your dog travelled to?

Does he enjoy running run on the beach?
Does he like swimming or does he prefer dry land?

I'm sure by now you get the (dog) picture!
Whatever you've got to say, I very much look forward to hearing from you, and finding out all about your Cocker.
If you'd like to see some of our other visitors' cocker spaniel pictures, simply scroll to the bottom of this page - you're in for a real treat.
Enjoy!
Discover lots of lovely pictures of dogs and puppies here and if you want more, you will see more of our visitor's beautiful pictures of Cocker Spaniels here.

Share Your Cocker Spaniel Pictures!
You know your Cocker Spaniel is beautiful!

You also know that Cockers often get up to all sorts of antics and into so much 'loveable' mischief!

We'd love you to share some of your favourite Cocker Spaniel pictures with us and show the world just how beautiful they are.

Your photographs may capture your pet getting up to mischief, running in the park, playing with other dogs, asleep on his back - legs akimbo, or they may simply reflect how adorable they are!

You can build your very own page, right here, for all your friends and family to see.
Other Visitors' Favourite Cocker Spaniel Pictures
Click below to see contributions from other visitors to this page, including their favourite cocker spaniel pictures...

Enjoyed this page? Click 'Like'!

If you enjoyed this page, please click on the 'Like' button below and tell your friends about us. Thank you.

If you'd like to see more cocker spaniel pictures, just follow this link.