Your Favourite Cocker Spaniel Pictures

Do you have any treasured Cocker Spaniel pictures that you'd like to share with us? I'm sure you do.  I'd love to see them and would be delighted to hang them in our 'doggie hall of fame'. 
Why not join in the fun and send me some of your best Cocker Spaniel photos today! 
Cocker Spaniel Pictures to Warm Your Heart!

Welcome to our...correction...YOUR cocker spaniel pictures page! 

This is where you can show off your best photos of your Cocker Spaniel and tell us all about your faithful hound and what he (or she) likes to get up to!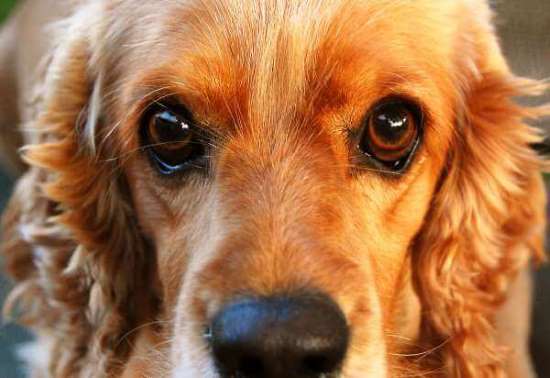 Beautiful Cocker Spaniel picture copyright of Jeff Dutton
You own a Cocker Spaniel right? Right, which means you're bound to have lots of cute Cocker Spaniel pictures and so many amusing stories to tell - so come on, why not share with us?
You can send us up to four of your favourite Cocker Spaniel photos, write a few words to go with them and I'll place them in our doggie hall of fame for all our visitors to see.
You may have captured your Cocker's true personality in a chance snapshot, he may have been caught in the act raiding the trash can, or getting up to other doggie mischief!

Or you may have some lovely Cocker Spaniel pictures showing your pet's true personality. He may be playing, lying in the sun, sleeping, but above all, being simply adorable!
It's so easy to do, just go to the submissions page and follow the instructions, and don't forget to add a few details about the picture too.
If you need inspiration to help get those creative juices flowing, you'll find some good ideas here.
Deardreamer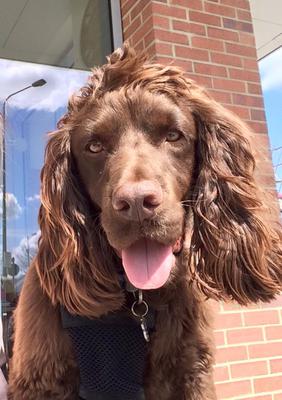 Hello handsome Taro!
Ewa
West Yorkshire
Hello Pauline,
I'd like to introduce you to my gorgeous liver coloured cocker spaniel.
His name is Taro and he's two years old and one of the most 'mischievous' dogs I've ever had.
He's a lovely boy with a gorgeous temperament, and I love him to bits!
Taro is simply the best ever.
My Dougal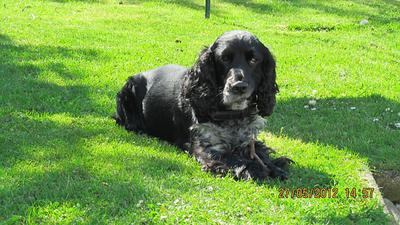 Rest in peace, Dougal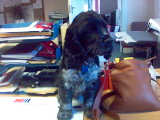 Dougal as a puppy
Julie
Inverness, Scotland

This is Dougal, our beautiful cocker spaniel who sadly died recently.
I thought I would never stop crying.
Fortunately, we now have our new puppy, Teddy (pictured on this site too) who is mending our hearts.
Although we love him very much and he's already a part of our family, we won't ever forget Dougal.
Rest in peace my sweet boy.
Ben, My New Love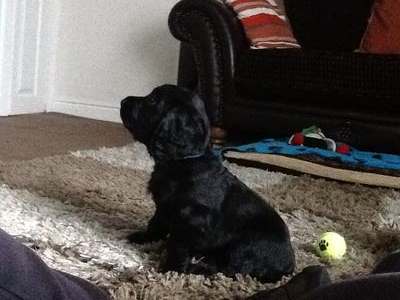 This is Ben, my new love
Terry
Redcar, UK
Hi, This is Ben, my new love.
He's a cocker spaniel puppy, and he's 6-weeks old in this photo. 

I am so lucky as the breeder only lives across the road, so I see Ben a lot and I'm so looking forward to having him permanently.
I just can't wait!
Alfie in the Kitchen
Meet Alfie!
Robert Olusanya
Dungarvan
Alfie is 4-months old, and he's a wonderful family pet.
He came from a litter of nine puppies, and when I chose him, he was one of two left.
He's the first dog I've ever had, and we're learning the ropes together. So far, so good!
Getting a cocker spaniel puppy is one of the best decisions that we have ever made!
Just So Cute!
by: Pauline (Web Owner)
Hello Robert,
Thank you so much for posting a photo of Alfie, your new Cocker Spaniel. He's so adorable I could just eat him up! I'm sure you'll have lots of fun learning the ropes together, and I hope you find all you need on my website.
Happy bonding!
I love Snow!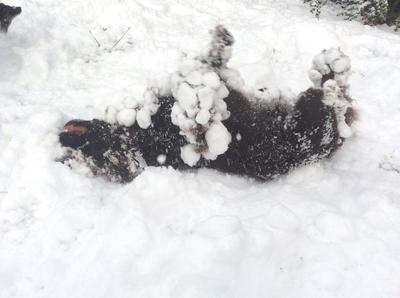 Snow Bathtime!
Charles Adams

Aberdeen, Scotland
This is Rocky, our one and a half year-old cocker spaniel, joining in the fun and games.
It takes us ages to remove all the snow from his coat, but he's worth it.
He just loves the snow!

I love Snow too!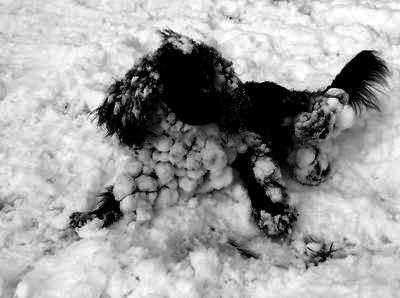 I love snow too!
Charles Adams

Aberdeen, Scotland
Not to be left out, this is Apollo, our other cocker spaniel.

He's a year and a half, and is the brother of Rocky (above) and he loves the snow too.
No matter how cold it is they just love to roll and play in it!
Lucy, Lotty, Lacey, and Lilly!
Julie Hastie
Winsford Cheshire
Here are my 4 Best Friends!
My girls are my world, they are so loving and so much company and each one has their sense of humour and character.
Lucy is very loving, and if you ask her to cuddle you, she puts her head on your chest.

Lotty is also loving and playful; she loves to run fields and comes back to you in her own time :)
Lacey is my sniffer dog. Her nose is always to the floor when we're on a walk. Surprisingly, she has never bumped into a lamp post! 
She is funny and very curious. She even sniffs the biscuit you're offering her, to make sure it's okay.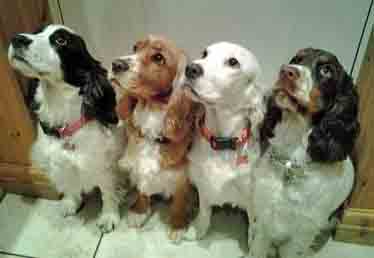 My Show Type Cocker Spaniel Family
Lilly is my baby she is very loving and so laid-back, she just loves company full stop.

Lilly loves to sit on your knee in the evening and just lies down and snores loudly as we try to watch TV.
All in all, my pooches have us wrapped around there little claw. X
Four Lovlies!
by: Anonymous
What cute Cockers you have. They all seem to be focusing on one thing...I wonder what that can be?

Beautiful dogs!
Delta Only Interested In One Thing!
Kellie
New Zealand 
This is my honey bear eagerly looking up at what I have in my hand. Now, if you know cocker spaniel's, you'll know exactly what I'm holding (LOL) yes indeed, it is food.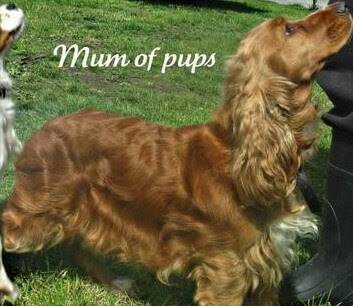 Delta Cocker Spaniel
She's patiently waiting for her treat after doing some cool tricks. Delta is now 10-years' old and is my best friend of all time, the love of my life even smiles when I smile at her. She owns a piece of my heart.

She has had two litters which was a fantastic experience, and I wasn't able to let two babies go, so they are now part of the family, hence the 'mum of pups'.
Delta was such a lovely gentle mum, but now they are older, and she's even older, it's competition time all over again. Even though delta is now 10-years' old, she continues to beat her daughters, Storm and Elite,  swimming for the ball.

I'm such a proud mum.

Delta, Golden Cocker Spaniel
by: Anonymous

She's beautiful, I can see why you're proud of her!
Like To See More Cocker Spaniel Pictures?
If you'd like to see more of our visitors' cocker spaniel pictures, simply scroll to the bottom of the page where you'll find many more!
...But What Do I Write About?
Anything and everything!
If you need inspiration, why not tell us a little about your Cocker's personality, what they like to get up to, or their favorite toys or games?
Anything you'd like to say is fine by us.

Perhaps, sadly, your Cocker Spaniel is no longer with you, and has passed on to 'Doggie Heaven' - why not pay a tribute to him here, or write a poem to celebrate his life and keep his loving memory alive?

Whatever you've got to say, we'd love to hear it.
We love looking at beautiful cocker spaniel pictures and we're itching to see your favourite Cocker Spaniel photos!

If you're still stuck for words, why not try answering some or all of the following?
What's the name of your Cocker Spaniel? 
How old is he? 
Where did you get him?
What are his favourite games and toys?
Does he like to play in the park with a ball or a Frisbee? 
Is he friendly with other dogs? 

Does he have any health problems?
What are they and how are they being treated? 
Does he go on holiday with you? 
Has he been abroad? 
Where's your dog travelled to?

Does he enjoy running run on the beach?
Does he like swimming or does he prefer dry land?

I'm sure by now you get the (dog) picture!
Whatever you've got to say, I very much look forward to hearing from you, and finding out all about your Cocker.
If you'd like to see some of our other visitors' cocker spaniel pictures, simply scroll to the bottom of this page - you're in for a real treat.
Enjoy!
Share Your Cocker Spaniel Pictures!
You know your Cocker Spaniel is beautiful!

You also know that Cockers often get up to all sorts of antics and into so much 'loveable' mischief!

We'd love you to share some of your favourite Cocker Spaniel pictures with us and show the world just how beautiful they are.

Your photographs may capture your pet getting up to mischief, running in the park, playing with other dogs, asleep on his back - legs akimbo, or they may simply reflect how adorable they are!

You can build your very own page, right here, for all your friends and family to see.
Other Visitors' Favourite Cocker Spaniel Pictures
Click below to see contributions from other visitors to this page, including their favourite cocker spaniel pictures...

If you're still eager for more photos of Cocker Spaniels, just follow the links below: