Pugsley Is Now At Peace At "Rainbow Bridge"
by Pugsleys "Grammy"
(West Virginia)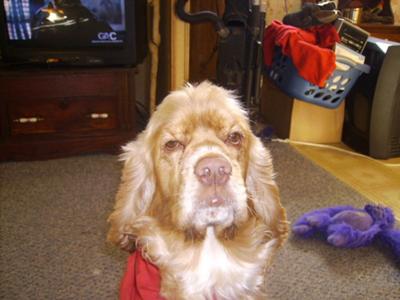 Rest In Peace My Lovely Pugsley
This is our late English Cocker Spaniel, "Pugsley" aka "Puggers", whom we were blessed to have as a part of our family for 5 years.

He LOVED empty water bottles and would wait for you to finish so he could have it. Many, many bottles of water were chugged in this house to please him!

He loved walks, playing with stuffed toys, and of course, treats!

He suffered from seizures from the age of 12 months upwards.

3 weeks ago, he contracted something called IMHA.

I noticed he acted like he didn't feel well on Saturday, and he was about the same on Sunday. By the time I took him to the vet on Monday morning, he was seriously ill.

He passed away that night.

I'd never heard of this and urge all pet owners especially Cocker Spaniel owners to read up on this disease and become familiar with the symptoms. It can be swift and a lot of the time, as with our Pugsley, fatal.

Although our hearts are broken, our lives are richer and we are blessed to have had him for 5 years.

Rest in peace sweet boy, we'll meet again one day. xxx

Enjoyed this page? Click 'Like'!

If you enjoyed this page, please click on the 'Like' button below and tell your friends about us. Thank you.