Oh, Phoebee!
by Bridget
(San Antonio, TX)
So Cute!
Phoebee is my 8 1/2-year-old cocker spaniel - she is the highlight of my life.

(I think she might know it too!).

Comment from Pauline (Web Owner)

Well isn't she just adorable?

She looks so innocent and cute that I could just pick her up and bring her home!

Her colouring is beautiful - I'd like to bet that you get lots of comments about her coat.

Kisses and hugs to Phoebee!


Phoebee & Daphnee
by Bridget
(San Antonio, TX)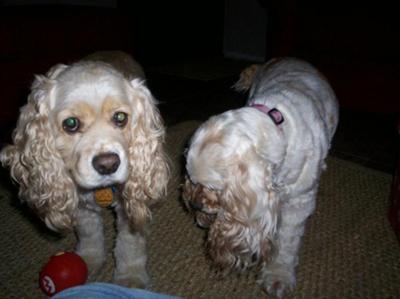 My girls!
Phoebee is 8 1/2 and Daphnee is 7.

Phoebee and I are very close; she follows me everywhere. Daphnee, on the other hand, is very energetic and loves her "ball".

I adore my dogs and couldn't imagine my life without them!