Cute Photos of Cocker Spaniels
We love our pets and we love looking at photos of Cocker Spaniels, but best of all we love showing them off! That's why you send in lots of your pet photos, and their stories, so that we can share them will all and sundry.
Here are a selection of beautiful pictures of Cocker Spaniel puppies and dogs for you to enjoy! 
Penny, My Cocker Spaniel Puppy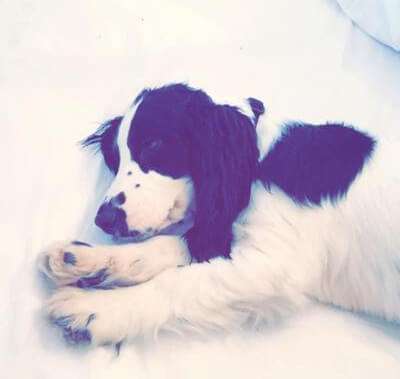 Penny is flat out!
By: Emily
From: Somerford, Cheshire
This is Penny, my 1-year-old black and white cocker spaniel puppy with amazing markings.

She's such an affectionate little baby!
Gizmo - My Little Darling!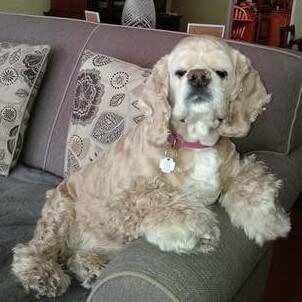 Hi, my name's Gizmo!
By: Basil Mackenzie
From: Point Claire, Quebec
This is our "Gizmo," who came to us at the age of six months. He is a purebred blonde and was born in Atlanta, Georgia.
The breeder bought him and intended to use him as a breeding dog, but they discovered he had 'Cherry' eyes, so they could not use him.
We were very fortunate to get him, and he has quickly become a very treasured member of our family and has been for six years.
Sammy and Bracken
By: Brian
From: Northampton, UK
I recently lost both of my boys, Sammy at Christmas, aged 15, and Bracken, aged 14, just 4 weeks ago. They were lifetime friends both to us and each other.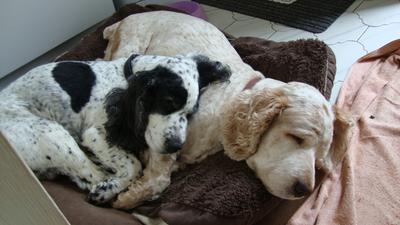 Sammy and Bracken, rest in peace little boys!
We have never experienced such heartache, although I have had dogs all my life.

We suffered for 2 weeks and now have just bought a new puppy, and he's  5 weeks old. He's a chocolate roan, and I've called him Brody.
The breeder can't let me have him until the end of August when he will be 8-weeks-old. I can't wait!
UPDATE: I now have Brody, and he's gorgeous. You can see him in the photo below. Isn't he cute?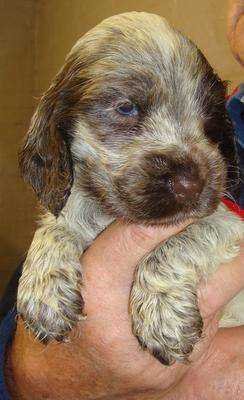 Hi, my name is Brody!
Comments for Sammy and Bracken
Hi Brian,
I'm so sorry to hear about your loss of Sammy and Bracken. When our pets finally reach rainbow bridge, they really do hit us where it hurts, don't they?
I notice you now have your new puppy, Brody, and just look at him, he's beautiful. I hope you're both getting on famously!
Our thanks go to Brian for sending us these beautiful photos of cocker spaniels, Sammy and Bracken. RIP boys. x

Photos of Cocker Spaniels: Puppy Alfie
By Alan
Leuchars, Scotland
After a long wait, we finally got our puppy home.
His name is Alfie (but his Sunday name is Kelbonny Country Runner)
He has been vaccinated and is now allowed out for walks, and can meet other dogs.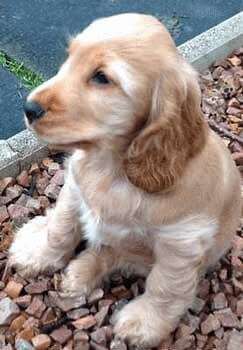 Puppy Alfie checking out the garden
Update: By Alan
Leuchars, Scotland
Little Alfie is little no more. He's growing up and is now taking over the house!
He loves to lie on my bed with his toys and I haven't the heart to move him.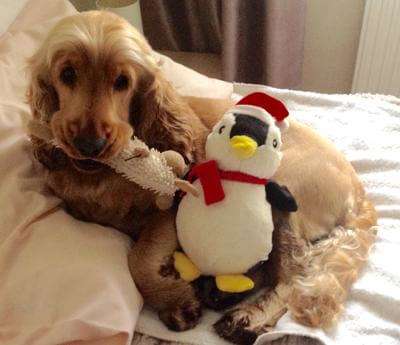 No, you can't have my penguin!
Alfie is now almost 10 month old and he's turning into a handsome lad.
He's found his voice though, and let's people know he is around.
He is a lovely wee boy and recently had a full trim.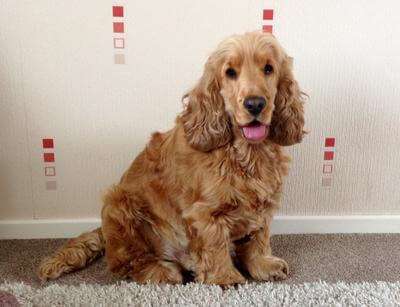 Say cheese!
He's still getting on my bed, which I know is wrong but he's irresistible to cuddle up to.
| | |
| --- | --- |
| What now? | It wasn't me, Dad! |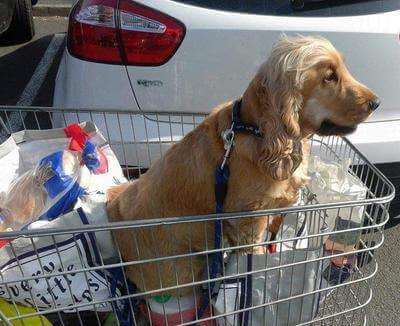 Alfie is humming the theme to the Dambusters!
Alfie loves to come shopping with me and enjoys riding in the shopping trolley.
He gets lots of admiring glances, and a few giggles!
My Baby Girl, Bailey
By Roxanne
From: Northbay, Ontario
I got Bailey when she was just 9 weeks old, and she is now 5.
She's an American cocker spaniel, very friendly, loving, well behaved, and she's a very smart dog. I love her very much and spoil her rotten. LOL!
Come on, blow them out!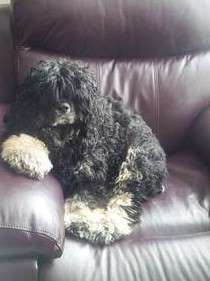 Just chilling after eating too much cake!
Comments for: My Baby Girl, Bailey
By: Pauline - Website Owner
And so you should, she's so cute Roxanne!
I love her birthday cake and candles photo, truly wonderful.
By: Janet
Nottingham, UK
I love Bailey. She looks just like my cocker spaniel, Sasha. 
The mad-hatter hat, and the loving sunglasses look really cute. I'm going to take some photos of cocker spaniels and send them in here.
Photos of Cocker Spaniels
Well, that's it for now. I hope you've enjoyed our visitor's photos of their cocker spaniels. If you'd like to send in some of yours, you can do that below.
Please make sure the photo is sharp, and that you write a few details about your pet's personality and what he (or she) likes to get up to.
Looking forward to hearing from you!
Share Your Cocker Spaniel Pictures!
You know your Cocker Spaniel is beautiful!

You also know that Cockers often get up to all sorts of antics and into so much 'loveable' mischief!

We'd love you to share some of your favourite Cocker Spaniel pictures with us and show the world just how beautiful they are.

Your photographs may capture your pet getting up to mischief, running in the park, playing with other dogs, asleep on his back - legs akimbo, or they may simply reflect how adorable they are!

You can build your very own page, right here, for all your friends and family to see.
Photos of Cocker Spaniels