Pictures of Cocker Spaniel puppies
Pictures of Cocker Spaniel Puppies
If you're looking for cute pictures of Cocker Spaniel puppies, you'll find lots of photos of adorable Cocker puppies here.
Our visitors often proudly show off their new puppies and send us photos of their pups, with a bit of detail about what they like to get up to. I wanted to show some of them here.
Meet Gordy, the Cocker Spaniel Puppy
Just look at these delightful pictures of cocker spaniel puppies that our visitors have kindly shared with us!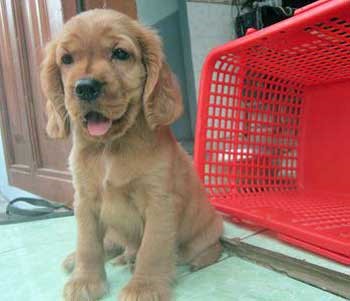 Picture of a cute golden Cocker Spaniel puppy
By Marcus
Saigon, Vietnam
Greetings from Vietnam.
I'd like you to meet Gordy, my new cocker spaniel puppy.
I selected Gordy yesterday at the Breeders (in Saigon, Vietnam), and he will be coming home with me next Saturday!
Gordy was born on the 20th of December 2014 and is, therefore, just over 8 weeks old!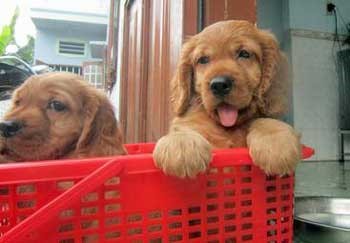 Gordy is helping with the washing up!
I'm really looking forward to the experience of being his caretaker/daddy and taking Gordy through all the stages of becoming Man's Best Friend for the rest of his life.
Wish me luck!

Gordy is so cute!
By: Pauline (Web Owner)
Hello Marcus,
It's good to know we have visitors all the way from Vietnam! I spent a few months there many years ago and loved the warmth of the people and the land.
Thank you for your post and those lovely pictures of cocker spaniel puppies. Gordy is absolutely gorgeous, and I know you'll enjoy him immensely.
It would be great to hear from you from time to time to let us know how Gory is getting on with his training and how he's developing. And, of course, a few photos of him growing up!
Sybil the Cocker Spaniel Puppy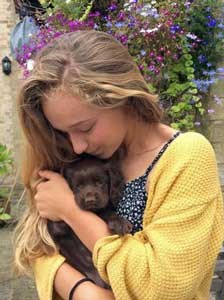 Sybil at 6 weeks old
By Oriel
Cambridge UK

This is one of my favourite pictures of my cocker spaniel puppy, Sybil, and she's so beautiful.
She's a chocolate cocker spaniel, and she came to us when she was only 8 weeks old.
Sybil is so cute, and we love her to bits!


Sybil Our Chocolate Cocker Spaniel
By: Pauline
Website Owner
Hi Oriel! Thank you for sending us this beautiful photo of your new chocolate cocker spaniel puppy. Sybil is absolutely gorgeous; she looks so cute in your arms.
I hope you get many hints and tips on how to take care of her on this website.
Good luck, and enjoy your new puppy.
PS: It's never too early to start your puppy's obedience training.
Cooper and his Brother Naoise
By: Catherine
(Derry)

Copper is my first cocker spaniel.
I have a springer, but in the past, I've seen so many golden cockers in the park and loved their size, colour and temperament, I just had to have one, and I love him to bits.
My sister owns Naoise, his brother, and they see each other a few times a week. They are just over 5 months old and so adorable!
Cooper and Naoise are brothers!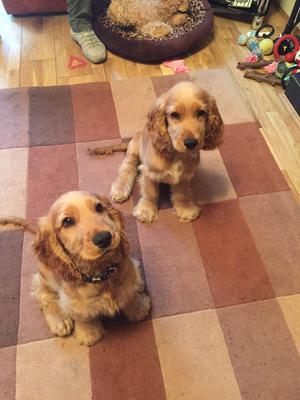 Cooper and Naoise are brothers!
Mr Handsome 
By Mary
(OHIO)
I adopted Mr Teddy Graham from the Columbus Cocker Rescue in September 2013. I met him at an adoption fair; I spotted him from across the fairgrounds.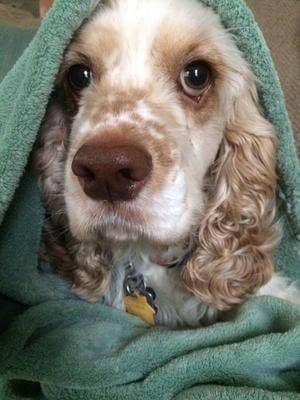 Hi Mum, I'm toasty in here
As I walked toward his booth, he trotted over to my feet, flopped down, and then rolled over to show me his belly.
It was love at first sight!
I can't even remember my life before him.
He has such a wonderful personality.
I don't have kids, but he loves children and enjoys playing with the neighbourhood kids when they stop by to say hello.
The kids get a big kick over how excited Teddy is when people stop to say hello because he sometimes tinkles a little bit, which sends them into fits of giggles.
Teddy loves his food, and just like Enzo, he dreams of racing cars in the book "The Art of Racing in the Rain".
I think Teddy dreams of one day becoming a chef (or maybe a professional eater!).
He likes to watch me cook, and it seems as if he pays very close attention to everything I do in the kitchen. 
Teddy loves walks and playing in the dog park. When we go to the park, Teddy likes to make friends with everybody, but he tends to ignore the other dogs.
I think we have to work a bit on his socializing skills!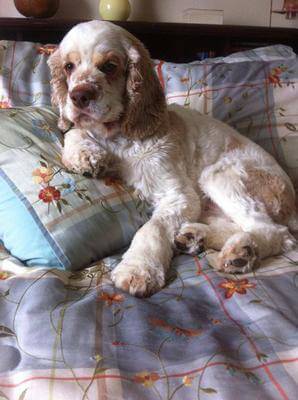 Hi! My name is Teddy
Teddy is a champion snorer - I never knew something so small could make such a loud noise!

He likes a routine, and no matter how hard I try to convince him to sleep in on the weekends, he gets up every morning at 5:00 am and puts himself to bed at 10:30 pm.
Teddy loves all toys, especially those you can stuff with treats, but his absolute favourite toy is balls. He has several, and he alternates playing with each one; it totally makes me laugh.
Teddy is also intelligent! I know I am probably biased, but I did administer a dog IQ test, and he tested at genius level. (I am so proud!).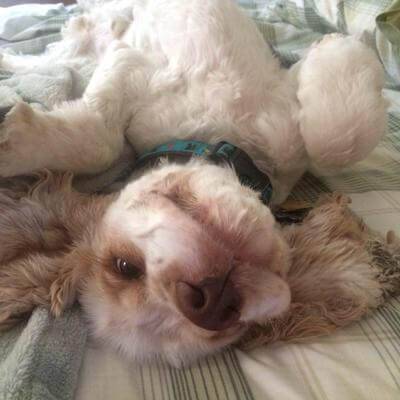 I love this bed!
He's a little devious too.

He knows he is not supposed to sit on the back of the couch but jumps up there when I am upstairs, and when my dog hears my feet hit the landing, Teddy jumps down and pretends he is stretching.
He has to work on hiding all of the evidence because he forgets to smooth out the butt imprint that's left on the back of the couch when he jumps down.
I could chat about Teddy for hours!
Teddy has so many good qualities, but I think one of his best qualities is that he adapts to any situation and makes the best of it.
He was in four foster homes before I was lucky enough to adopt him. Teddy has so much love that you would never know that the first year of his life was filled with upheaval and insecurity.
I tell him all the time that he is the best dog in the entire world, and I don't know how I got so lucky to be the one that got to adopt him.
Comments for Mr Handsome
By: Pauline
Owner of About Cocker Spaniels 
Hi Mary!
What a lovely piece about Teddy!
And thanks for the pictures of cocker spaniel puppies you submitted; they're gorgeous! Teddy sounds simply wonderful, and I can tell you love each other dearly and that you are very proud of him!
I enjoyed reading about Teddy and am sure our visitors will too.
Thank you for posting, Mary and thank you for those beautiful photos of Teddy.


Visitor Comments
He and our Ritz could be brothers
By: Jenny
What a handsome little guy! With those adorable freckles he looks a lot like our Ritz Carlton.
Love you Teddy!
If you'd like to send us some pictures of cocker spaniel puppies or your dogs, you can do so here. Just complete the short form and upload your photos. Easy!
Cocker Spaniel Sun Worshipper!
By Jane
Penzance, Cornwall
We got our little bundle of joy when she was quite young, but she has settled in very well, considering.
Juno is the sweetest little 7-week-old puppy, with eyelashes to die for, and butter wouldn't melt.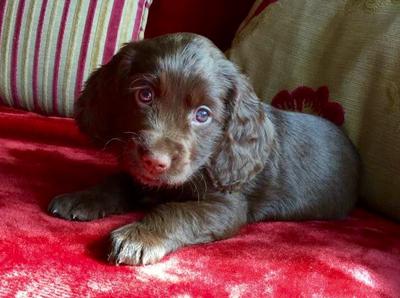 Juno Lavishing in the Sunshine
She loves playing outside, chewing thick socks, wagging her little tail, sleeping, climbing upstairs, being daft and BITING.
She already has teeth like razors and jaws like a vice, but we are playing the role of mum and siblings as best as we can.
She is brave, curious, very pretty, growing very fast, and she's heaps of fun.
She's up early (around 5.00 am), so it is a long day for all of us.
We can't wait for her to be able to go out and race around the moors of West Penwith.
Nothing is getting done at home as we can't stop looking at her and playing with her.

Visitor Comments
Cocker Loves Sun Worshipper
By: Anonymous
I love your dog's colouring; she's so lovely!
My Spaniel also loves the sun and follows it around the house. He likes to lie under the table, basking in the sunshine, and as it moves (and leaves him in the shade), he moves with it!
My Gorgeous Puppy Sleeping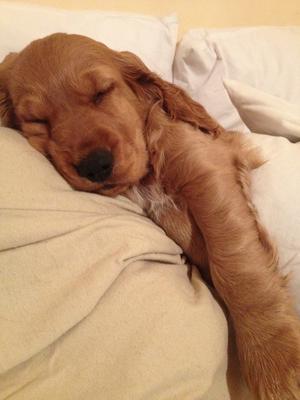 Codi Sleeping Soundly
Naydia
Cape Town, South Africa
This is Codi, my 9-week-old cocker spaniel, born on the 2nd of June 2014. I collected him up from Worcester, Western Cape, two and a half weeks ago.
He's so precious, and I love him to bits and pieces. He's extremely playful and enjoys the beach :-)

Sleeping Beauty
by: Pauline (Web Owner)
Hi Naydia,
Codi is so delightful - little boy puppies can be sleeping beauties too, and he certainly is a beauty!
Please give him a cuddle from me and Max. xxx
More Pictures of Cocker Spaniel Puppies!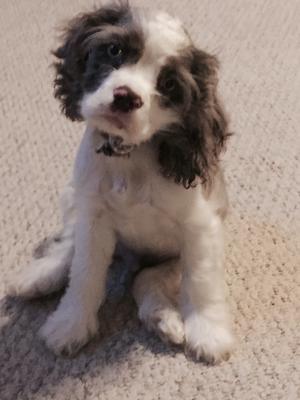 What Ya Doing, Mom?
Leona Laing
Frisco, TX. USA
Here is our little boy, Prince.
We got him when he was three months old, and he's curious about everything and just a little bit spoiled. LOL!
His silliness brings huge smiles to our faces, and he loves to snuggle while giving kisses.

Prince
by: Anonymous
Prince is so adorable; I love him!

Mabel, our Cocker Spaniel Puppy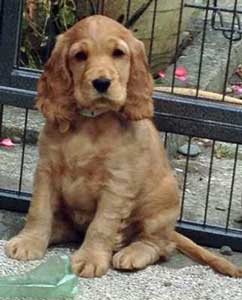 Adorable Mabel
By Sheila
Flintshire
This is Mabel, our gorgeous Cocker puppy. She's from my very first litter of cocker spaniel puppies, and I couldn't be more proud!
She's only 9 weeks old here, posing for the camera, and very happy to do so.
She's just adorable!

Naughty Hector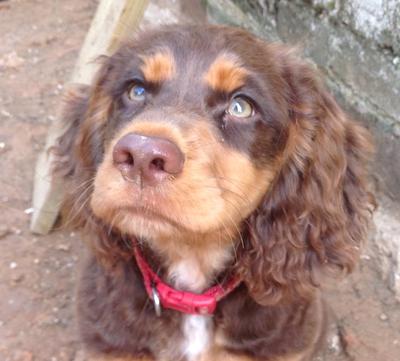 Hector, Our Bonny Boy
Juliet R
West Sussex
Hector is a lovable 14 weeks old Cocker Spaniel.
Apart from being such a bonny boy, he has such a loving, gentle temperament and a naughty personality!
I have never known a puppy with so much energy; keeping up with him is sometimes difficult.
Our Wee Cocker Pup
By: Stellie
Scotland
Honey has been with us for 9 weeks, and what a darling she is!
She's just adorable; she's playful, energetic, clownish, kind, gentle, and sweet too!
We are all mad about our lovely puppy, Honey!

| | |
| --- | --- |
| Honey, sitting on her very own chair | Puppy's First Bath |
By: Pauline
Website owner
Hi Stellie,
We're always delighted to receive pictures of cocker spaniel puppies from our visitors, and your photos of Honey are gorgeous.
Honey really is adorable!
She's cute as a button!
If you're still eager for more beautiful dog pictures, just follow the links below: