Cocker Spaniel Blog
What's New?

My Cocker Spaniel blog is where you can quickly and easily stay up to speed with what's happening in the world of Cockers and find out what's new and upcoming on our website!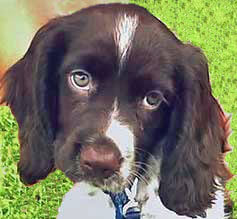 There's always something going on here, new articles, updated pages, more gorgeous puppy pictures, comments and photos from our visitors....busy, busy, busy!

Anytime our site is updated, you'll find all the details here, quickly, easily, and without fuss.

If you subscribe, you won't have to search for new material - this Blog page will keep you up-to-date with amendments to existing pages, and will notify you when new pages or articles have been added to the website.
You can subscribe free here by clicking on the orange RSS button just underneath the titles in the left hand column. If you're not too familiar with RSS and blogging, please click on the question mark above the RSS button for further details.

Once you understand what RSS can do for you, you'll wonder how you ever managed without it!
You'll find all our updated articles and new submissions from our visitors below.
Enjoy!


Cocker Spaniel Blog

Oct 30, 2014
Alfie In The Kitchen
Alfie is 4 months old and a wonderful family pet. He came from a litter of 9 puppies. When I got him he was 1 of 2 that was left. He is the first dog I
Home
› Cocker Spaniel Blog
Return to Top of Page