Chocolate Cocker Spaniels
Delicious Chocolate Cocker Spaniels!

Chocolate Cocker Spaniels are simply gorgeous, but chocolate roan Cocker Spaniels are beautiful too!
Drool over lovely pictures of Roan and Chocolate Cockers and puppies. If you have a chocolate spaniel, why not add your pet's photo to this page for all to see?
Chocolate Brown Cocker Spaniels

Chocolate Cockers, sometimes also known as liver (brown to you and me!), may not be seen as often as some of the other Spaniel colours; however, they're undoubtedly popular, and gorgeous too!
Chocolate isn't a prevalent colour in the show Cocker.
Many cockers and field spaniels (long before the breed was divided into two separate species) were chocolate.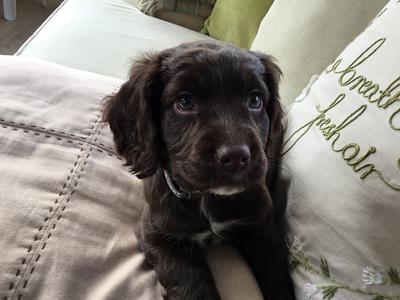 Hello Mummy!
In fact, today, many working cockers are still brown/liver-coloured.
Chocolate Cocker Spaniels are nowhere near as prevalent as they used to be. That's because responsible breeders are now breeding on temperament rather than colour. Having a cocker with a good, gentle disposition is much better.
Unfortunately, because chocolate Cocker Spaniels are in demand, some breeders are tempted to breed on colour alone, ignoring the health and temperament aspect, which can have dangerous consequences.
However, despite the chocolate cocker being reasonably uncommon, I've compiled a good selection of photos of beautiful brown cockers for you.
Please take a look; I'm sure you'll agree they're gorgeous!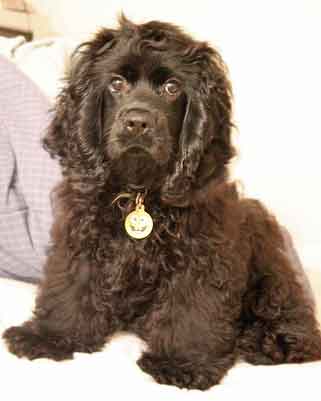 Hello, my name's Coco!
Chocolate cockers can be seen in a solid brown colour (just like this adorable puppy above), chocolate roan (liver roan), chocolate and tan (liver and tan), and chocolate and white (liver and white).
There are many beautiful combinations!
I adore brown Cocker Spaniels, especially those with roan markings.
Look at the markings on this beautiful chocolate Cocker Spaniel's coat (below); they're unique! Her name is Kona, and she's an excellent example of a chocolate roan.
My Chocolate Cocker Spaniel is Just Too Cute!
By: Helen
From: Edinburgh

Meet Millie, our new puppy who has stolen our hearts!

She is our first dog, a beautiful chocolate girl with white and roan markings.

We absolutely love every little thing about her!

Millie taking a well-earned nap!
Kona: A Beautiful Chocolate Roan Cocker Spaniel!

Let me introduce you to Kona. She's a beautiful chocolate roan, enjoying a refreshing swim in the lake!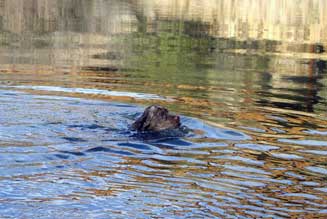 I love to swim!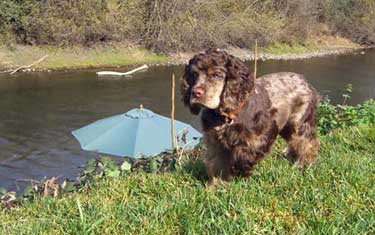 I love long walks too!
Here she is again, having dried off; she's now feeling restless.
Kona's exploring the bank side (on patrol, by the look of it) while the grown-ups enjoy their sunny day by the river.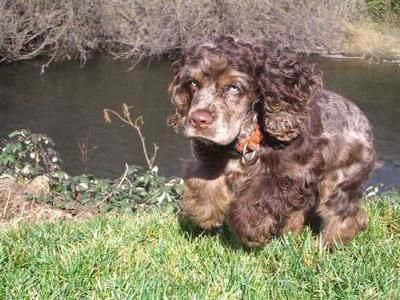 I love running down here but I want to swim!
Kona's decided to have a little fun, running up and down the riverside or has something caught her eye?
Just look at those beautiful roan markings.
She's like a frothy cappuccino!
Now it's time to play ball; she's absolutely tireless!
Who wants to play?
Come on, Mum and Dad, let's go!
With all this fresh country air and exercise, Kona will undoubtedly sleep well tonight!

Come on Mum, just one more game!
Kona is owned by our visitors, Eric and Ali, from Oakdale, California. I want to thank them for sharing these beautiful pictures.
If you'd like to share up to four of your favourite pictures with us (they don't have to be chocolate Cocker Spaniels, we love all colours!), simply complete the form at the bottom of this page.
Working Cocker Spaniel Rossi
This video is just over 2 minutes long. It shows Rossi, a beautiful working Cocker Spaniel, growing from a puppy to an adult.
She's a classic example of just how gorgeous Cockers can be!
Beautiful Cocker Spaniel Coat Colours

Of course, Cocker Spaniel's coats come in various colours and markings.
You'll also find golden and black cockers in solid colours. Then there are markings such as roan or 'ticking', tiny flecks of colour on a primarily white coat.
Parti-colours are just what they sound like, (usually) two colours mixed, and you can also get tricolour...yes, you guessed it, three colours!
Follow this link if you'd like to see a selection of photographs showing beautiful golden cocker spaniels!
And if you'd like to learn more about Cocker coat colours, patterns and marking, you'll find some handy information here.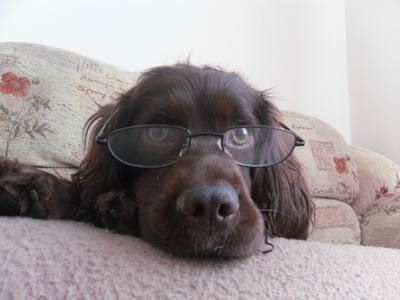 Pay attention now!
Chocolate American Cocker Spaniels Rock!
Just look at this beautiful brown American Cocker Spaniel.
He's absolutely stunning and is a classic example of a well-groomed American cocker.
Isn't he just adorable?

I have a very grand pedigree!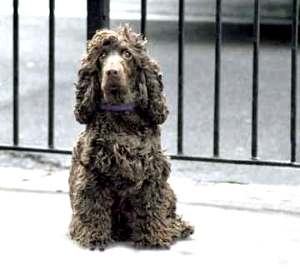 Mummy, where are you?
Yet another example of a gorgeous chocolate Cocker Spaniel!
He's sitting quietly, patiently waiting for his master.
He's an English Cocker and looks very different from his American cousin, but he's just as beautiful!

Chocolate Cocker Spaniel Puppies
Occasionally, our visitors send us photos of their cocker spaniels, and I thought I'd show a couple here.
Enjoy!

Hello, my name is Juno!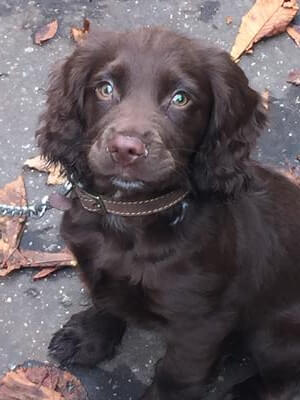 Hello, my name is Bruno!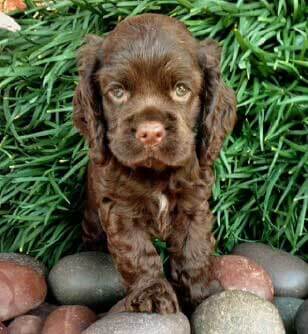 Hello, my name is Keaton
Hunter is awake and ready to go!
By: Chow
From: Southern California
This is Hunter, my beautiful chocolate Cocker Spaniel. He's 9 weeks old, and I love him to bits!
Tired Chocolate Cocker Spaniel
By: Tammy Campbell
From: Sarasota, Florida
Tomi girl is our 6 years old American cocker spaniel, born in Orlando, Florida.
Tomi grew up with 2 cats, but unfortunately, we're now down to one. Sometimes Tomi thinks she's a cat, but she's a full-on bird dog at times!
She is a sweet Chocolate Cocker Spaniel with a big heart like her mommy's.

I'm tired Mum!
She loves to run in her back yard just yapping at the birds flying above.
Tomi is also her mommy's service for people who are hard of hearing, but sadly, since the Covid pandemic, she's had to stay behind at home.
Mommy sure misses having her girl with her at the doctor's office, as she knows when my name is being called, and she gets up. But don't let her fool you when someone knocks on the door; she goes crazy and barks like a madman!
She sounds like a guard dog but is just excited to greet you!
I love her very much.

Comments for Tired Chocolate Cocker Spaniel
By: Polly

Hi Tammi, Tomi looks absolutely cracking!
She does look tired, though. I'm sure she deserves her rest. I don't know how these hearing dogs are trained, but they do a worthwhile and essential job.
I'd love a cocker like Tomi. Please give her a cuddle from me. x


Share Your Cocker Spaniel Pictures!
You know your Cocker Spaniel is beautiful!

You also know that Cockers often get up to all sorts of antics and into so much 'loveable' mischief!

We'd love you to share some of your favourite Cocker Spaniel pictures with us and show the world just how beautiful they are.

Your photographs may capture your pet getting up to mischief, running in the park, playing with other dogs, asleep on his back - legs akimbo, or they may simply reflect how adorable they are!

You can build your very own page, right here, for all your friends and family to see.