The Best Female Puppy Names!

Want fab female puppy names to help you name your new Cocker Spaniel? Find all you need in our comprehensive database of cool dog names. 

Naming Your Puppy Girl
This is where you get to create your short-list of female puppy names to help you answer that all-important question - 'What are you going to call your new puppy girl?'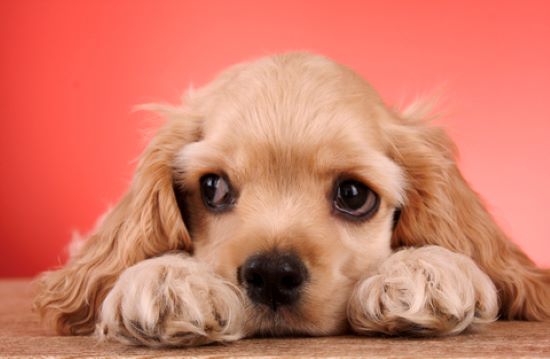 You want to call me what?
Will it be Leyla, Molly, Sapphire, Mazie, Crystal, Misty, or Frankie?   
Oh....it's just too exciting!

You'll find hundreds of unique puppy names to choose from and whilst all those in our database are great for Cockers, we believe that some are particularly suited to the Cocker Spaniel.
Take a look around, draw up a short-list and check them out with the family, but before you make any decisions, you might like to read some of my top tips for choosing your puppy's name below.
Happy searching and good luck!

Female Puppy Names: A - D
Female Puppy Names: A-D
Abbigale
Abby   
Abigail     
Affinity     
Alexis     
Almond   
Amelda     
AmieAmy     
Angie   
Annabelle
Arielle    
Astral   
Autumn    
Avril    
Beatrice 
Bella    
Belle    
Bernadine
Bessie 
Bianca    

Blondie     
Blossom    
Bluebell  
Blueberry   
Bobbie   
Bonnie     
Brittany   
Brook   
Brooke      
Candice  
Caprice   
Carla      
Carrissa  
Champagne
Charity      
Chelsea 
Cherry   
Chiffon    
Chloe
Cindy      

Clover   
Collette  
Courtney
Cristal   
Crystal    
Daisy   
Damsel     
Delilah   
Destiny     
Diana     
Dixie 
Dolly
Dominique
Donna   
Dottie      
Duchess    
Female Puppy Names: E - K

Female Puppy Names: E - K
Eleanor     
Electra     
Elisha     
Ella     
Ellie    
Ellsa      
Emilee     
Emma
Faith     
Fara     
Farrah      
Fawn         
Flo    
Flower    
Fonda    
Frances    
Francine  

Gabrielle
Georgette
Georgia  
Georgie    
Geraldine
Giselle    
Gladys
Gloria 
Goldilocks
Grace
Gretel
Hailey
Hannah
Hazel
Hilton
Holly
Huntress
Ilene
Illusion
Isabelle
Janie
Jenna
Jenny
Jessie
Juliet
Kara
Katie
Kendra
Kimberly
Kirsty
Krista
Kyla
Female Puppy Names: L - P

Female Puppy Names: L - P
Lady
Leila
Lizzie
Lyndsy
Madam
Madame
Maddi
Maddison
Maddy
Madelaine
Madeline 
Mag   
Magdalen
Maggie
Maia
Manda
Mandy
Maple
Marigold
Matilda
Maxime

Maxine
Maybelle
Megan
Melanie
Melissa
Melody
Mia
Michelle
Millie
Minnie
Mollie
Molly
Monica
Morgan
Moselle
Mylo
Natalie
Nellie
Nessie
Nicole
Novella

Olana 
Oprah
Orchid
Paige 
Pandora
Paprika
Patience
Patrice
Patsy
Patty
Penny
Perdie
Persia
Polly
Poppet
Porsche
Portia
Primrose
Princess
Prudence
Purdy
Female Puppy Names: Q - Z

Female Puppy Names: Q - Z
Quincey
Quarry
Queenie
Quest
Rambler
Relish
Rhapsody
Rhea     
Rikki     
Ritzy    
Rochelle    
Ronda    
Ronnie    
Roxy   
Ruby   
Sacha     
Sadie     
Sadie-Mae
Saffron   
Salena      
Sally   
Samantha
Samarra 

Sapphire    
Sasha     
Satin   
Scarlet    
Scyilla   
Shade     
Shayla     
Shelly      
She-ra       
Sherbert 
Sherry     
Silky   
Siren     
Sissy     
Sky    
Slate    
Smoke     
Sophie    
Stella    
Sunshine
Tamara 
Tara         

Tasha
Tiffany   
Trischa    
Trudy
Vanessa
Vanilla
Venus
Vicky
Violet
Wanda
Wynona
Xelda
Xola
Yasmin
Yasmir
Yoshi   
Zadie      
Zadora 
Zandra 
Zeppelin
Zoe   
Zoey
Tips To Help You Choose Your Puppy's Name

There are no hard and fast rules when it comes to choosing female puppy names. There are however some recommendations I'd like to offer to you and your family before you make your choice.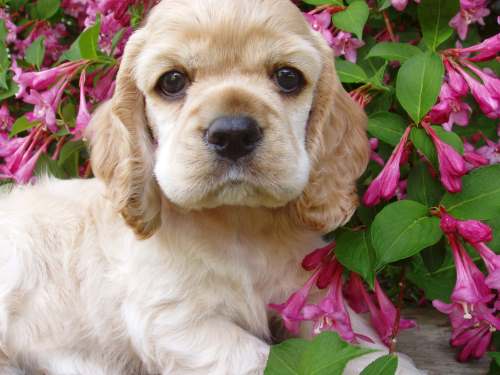 There are lots of female puppy names here!
Why not let the colour and texture of her coat help to give you inspiration?  If your puppy's coat is coffee coloured, why not call her Cappuccino, Chocolate, or Cocoa?

Or, if your puppy's coat is the texture of silk, why not consider Cashmere, Satin, or Silky?


You might also like to consider naming your puppy or dog after her size; Tiny, Tinkerbell, or even Pudding if she's a little on the weighty side!
Alternatively, you may decide that your Cocker Spaniel is far too cool to have just any old name and prefer to choose from a selection of cool dog names for cool Cockers!
Or...why not let your puppy decide? This isn't as daft as it sounds. Try saying the names out loud a few times and watch her - if she reacts to any name in particular, that might just be the one!
If you'd like more tips and suggestions on choosing your puppy's name, simply follow this link.
Photo Credits for Female Puppy Names:
1. Chernetskaya at https://www.dreamstime.com/stock-images-puppy-cocker-spaniel-image18581224
2. Tootles at https://www.istockphoto.com/photo/cocker-spaniel-puppy-gm95186822-1717119?clarity=false