Questions to ask your breeder
Questions To Ask a Cocker Spaniel Breeder BEFORE Buying Your Puppy

Don't worry; Cocker Spaniel breeders expect to be asked lots of questions about themselves and their dogs. They won't be offended. In fact, they would be suspicious if you didn't go armed with a list of questions.
Asking questions shows you are serious about your purchase and that you would make a responsible owner for one of their precious puppies!
So, what are these essential questions to ask breeders?
Questions To Ask Cocker Spaniel Breeders

Don't worry if you're unsure what kind of questions to ask your shortlisted Cocker Spaniel breeders because we've done all the work for you. The questions listed below will help you sound knowledgeable and show you to be a responsible dog owner. 

Seven adorable cocker spaniel puppies!
These questions will also help you distinguish the puppy farmers and other bad breeders from the good ones.
Let's assume you have your shortlist of American or English Cocker Spaniel breeders, or you've seen an advert for puppies that you'd like to answer.
Before you pick up the telephone and make contact, read the advice that follows and make a list of the relevant points you'd like to cover early in the conversation.

You can ask further, more detailed questions as they become relevant.

Use your own judgement about which questions to ask and at what stages as you begin to get to know the breeder.

Cocker Spaniel breeders who genuinely care about their dogs won't breed from them too often, and when they do, they'll probably already have prospective buyers on a waiting list, so you may need to be patient.
In fact, you should be prepared to wait.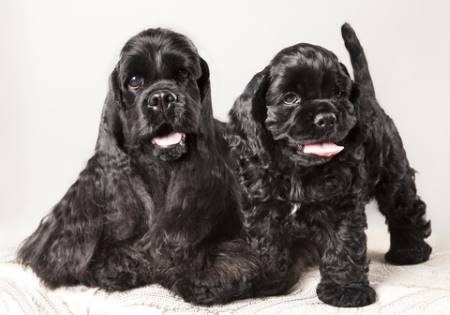 Do you know the questions to ask your Cocker Spaniel breeder?
List Your Questions In Advance
Apart from making you sound like you know what you're talking about, it will also help to reassure the breeder that you can offer a loving, caring home to one of their valuable puppies.
And that is very important. Responsible Cocker Spaniel breeders won't let their puppies go to just anyone!
And quite right too!
Do They Have Any Puppies For Sale?
Ask the breeder if they have any puppies for sale now. Ask if they're expecting or planning a litter soon if they don't.
Ask if there's a waiting list and how many names are on it.
If there aren't puppies available, or their waiting list is too long, ask if they can recommend other alternative Cocker Spaniel breeders.
If you've decided you want a golden bitch puppy, for example, and you are definite about your choice, ask at the outset if they have one available. This way, you won't be wasting your time or theirs; besides, it's only polite.
Are They Experienced Cocker Spaniel Breeders?
To find out how much the breeders know about Cocker Spaniels, ask how many years' experience they have with the breed. The questions below should help you establish how experienced they are.
Ideally, they should have at least a couple of years' experience of breeding Cockers under their belt.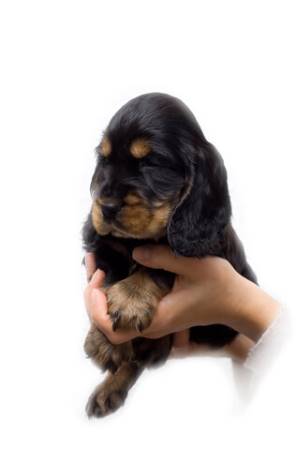 I'm so tiny!
Ask if they breed enough to require a breeding license from the local authority, and if so, would they mind if you had their details?
Do they breed any other types of dog, or are they devoted to Cockers?
Ask if they show their dogs or compete in training and agility competitions. If so, ask what successes they have had with their dogs in the show ring.
The above are important questions because the answers will help you understand how experienced they really are.
You can find a list of Kennel Club assured breeders here. 
Are The Puppies Raised In Kennels Or In The Home?
Find out if the puppies are raised in kennels or the family home. This is really important.
It's much better if the pups are raised in the home because contact with people, particularly children, helps significantly when socializing puppies.
If there isn't enough space for puppies to be reared inside the home, it's acceptable to have the whelping box in a heated outhouse or shed close to the family home where they can be checked on regularly.
Having a whelping box separate from the house will almost guarantee that the dam has somewhere private to give birth and to look after her puppies in relative peace and quiet.
A good breeder will regularly bring the puppies into the house, where they can be given lots of gentle handling and cuddles to make sure they're not under-socialized.
The Puppy's Parents
When you first contact the Cocker Spaniel breeder, ask whether or not you'll be able to see the puppies' parents.
It's unusual for both parents (sire and dam) to be available for you to meet as the sire is usually owned by another family or kennel unless, of course, the breeder owns both dogs.
At the very least, the breeder should be able to give you a photograph and some background information on the sire, for example, health, testing, height, weight, awards won, etc.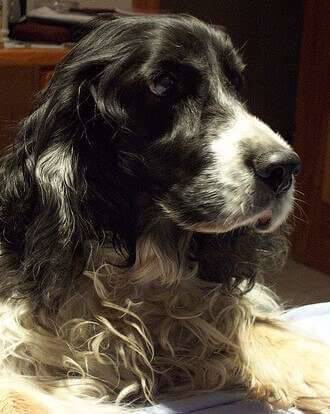 What a handsome boy!
Be very suspicious if there is little or no information on the sire or if the 'Mom' isn't available for viewing; it could be that the puppies are being sold on behalf of an unscrupulous breeder or a puppy farmer.
Check with the breeder that it will be possible to see the rest of the litter and ask the following questions:
Ask for references; Cocker Spaniel breeders should be happy to provide names and telephone numbers of people who have previously bought puppies from them.
The Kennel Club allows kennels to register one litter of puppies each year, per bitch, and doesn't allow breeding from bitches over 8 years old.
Ask how old the mother is and how many previous litters she's had. It should be no more than four or five, although, in some circumstances, the Kennel Club may allow a bitch to have six registered litters.
If you're looking for a show dog, ask whether or not a 4-5 generation pedigree can be provided. Also, ask for confirmation that the Cocker Spaniel puppies have been, or soon will be, registered with the Kennel Club.
Stick with Cocker Spaniel breeders who know the history of the sire and the dam and can explain their pedigree.
The Puppy's Health
Reputable breeders shouldn't be afraid or reluctant to discuss and offer information, not only on the good points of their Cocker Spaniel puppies but on problems associated with the breed.
Come on Mum, take the picture!
Ask whether or not the puppies have been wormed

, and if so, how many times. Puppies are usually wormed at around 2 weeks old and every 10-14 days after that. Your breeder will tell you what has been used and how and when to continue worming your puppy.
The pups won't be treated for fleas

 until they're around 7 or 8 weeks old, as certain chemicals in the treatment can be too harsh for pups as young as this. However, you should still check with your breeder what treatment has been administered and when.
Ongoing, your vet will advise you what treatment to use and when.
It's unlikely that puppies under eight weeks will have been fully vaccinated

. However, some may have their puppies part vaccinated before leaving the litter, sometimes as early as 7 weeks.
Opinion seems divided; some vets feel this is too early to vaccinate, while others are happy. You'll need to check with your Cocker Spaniel breeders (and vet) and make your own judgement.
Learn more about Cocker Spaniel's health problems here.
What Is CERF Testing and Why Should I Ask About It?
If your breeder is genuinely passionate about Cocker Spaniels, their dogs are likely to have been CERF tested.
CERF stands for Canine Eye Registration Foundation and is an annual eye examination and are given by a qualified veterinary ophthalmologist to determine and document the condition of your Cocker Spaniel's eyes.
The Foundation aims to eliminate eye disease in purebred dogs and puppies.
Depending on the results, this information will determine whether or not the breeder will use this particular dog for breeding.  
So, when looking for your perfect breeder, ask whether the puppy's 'parents' have been CERF tested and cleared.
Cocker Spaniel Breeders & The Contract
Ask the breeder if they provide a contract.
This is one of the most important questions to ask. If they're professional breeders, they will provide one, and you must check to see exactly what's included.
Ask what guarantees, if any, they offer under the contract. Some guarantee a replacement puppy should there be any problems with genetic health or temperament. You may also be offered a full refund as an alternative.
Some breeders have a system for reserving puppies and ask for a non-refundable deposit so ask the breeder what their reservation policy is.
The puppies should already have pet health insurance arranged and paid for by the breeder before they leave to go to a new home, but I recommend you check this. This cover usually lasts for 6 weeks.
Don't get caught out by the small print!
What About Training And Socialization?
Ask what training the puppies will have had by the time they're ready to collect and check whether they will be wholly or partly house-trained.
Ask what they have done (or are doing) to socialize their Cocker Spaniel puppies to allow you to continue where they left off.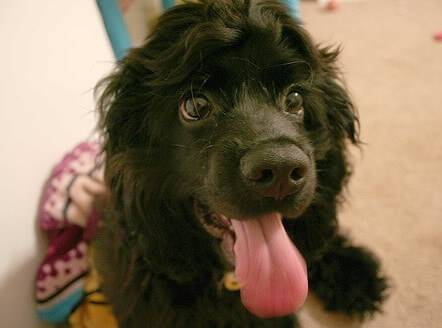 What a long tonuge!
Pups need to be handled gently, as early as possible and should meet as many people as possible; men and women in uniform, children, deliverymen, men with beards, old people, etc.
The puppies should also experience many different household objects, such as umbrellas, washing machines, vacuums, brooms, washing blowing on the line, balloons, sirens, etc. The list is almost endless!
Socializing your puppy is crucial and should be included in your pup's daily routine. A puppy who hasn't been adequately socialized may develop behavioural problems in adult life.
Ask When You Can Take The Pup Home
Ask how old the puppy will be when you can take it home.
Puppies are usually weaned from the mother when they've reached 5 or 6 weeks of age, but they're still too young to leave the mother and littermates at this age.
Puppies aged between 7-8 weeks are just about ready to leave for their new home.
English Cocker Spaniel Breeders: General Questions
If you don't already know the price, ask, but don't insult Cocker Spaniel breeders by trying to negotiate the asking price for their puppies. 
You could ask them how they differentiate between pet and show quality puppies and ask if their charges differ between the two.
Many breeders like to know how their puppies are getting on and often stay in touch with their buyers. Do they seem easy to talk to; do they make you feel comfortable? Do you think that you could form a long-lasting relationship with the breeder?
At some point, you'll need their full contact details. It may be better to leave this question until towards the end of the conversation when you have a better idea of whether or not this is the right breeder for you.
Cocker Spaniel Breeders: Summary
I hope I've given you enough information to help you feel more confident about contacting your selection of Cocker Spaniel breeders.
When all your questions have been answered, all that will be left will be to make arrangements to meet the breeder, view the puppies, and then pick your Cocker Spaniel puppy; however, don't leave choosing your puppy for too long as good puppies sell quickly.
Good luck and enjoy!
Photo Credits for Questions to Ask Your Cocker Spaniel Breeder:
1. Olena Marina at https://www.istockphoto.com/stock-photo-10648298-seven-puppies.php
2. dreamstime_xs_22371228: https://www.dreamstime.com/lilun_info (2 American cockers)
3. Uciekinier at https://www.dreamstime.com/stock-image-cocker-spaniel-puppy-image5257081
4. Visitors photo
5. Cynoclub at dreamstime.com ID 13830379
6. Visitor photo