Cocker Spaniel Temperament

Loyal, Companionable And Affectionate - The English Cocker Spaniel Temperament Is Second To None!

The Cocker's temperament is very gentle and loving.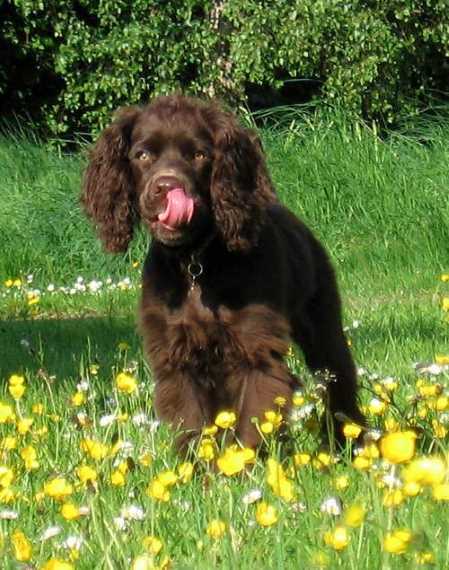 Cockers are very loyal, companionable, and they adore being around the family. As well as being affectionate, they're particularly good with young children, which is why they make good family dogs!
They also make excellent gun dogs because of their willingness to work and the fact that their original hunting instincts are never very far below the surface.
However, if you're expecting your Spaniel to be an effective guard dog - forget it!
They will almost certainly bark to let you know that there's someone coming to the front door, but that's probably as far as it goes.
They make friends very easily and once your visitor has said 'hello', and your dog's had a good old sniff, he'll probably go merrily about his business.
Cockers are lively, and have a friendly, enthusiastic nature, which has earned them the nickname 'the merry cocker'.
Whenever you see a Cocker Spaniel, it's likely that he'll have his nose to the ground, his bottom in the air, and his tail will be wagging back and forth so enthusiastically that his whole back end will be 'wagging'.
They're very 'busy' little dogs, who love nothing more than following scents and rooting around in the undergrowth.
Cockers are also very intelligent and, as they're always so eager and willing to please, they're very easily trained.
As far as the English Cocker Spaniel temperament is concerned, this breed can sometimes be quite strong-willed, that's why socializing your puppy and puppy training are very important if you are to avoid behavioral problems in your dog later on in life.
Whilst researching this breed, you may come across the term 'Cocker Rage Syndrome' or simply 'Cocker Rage'.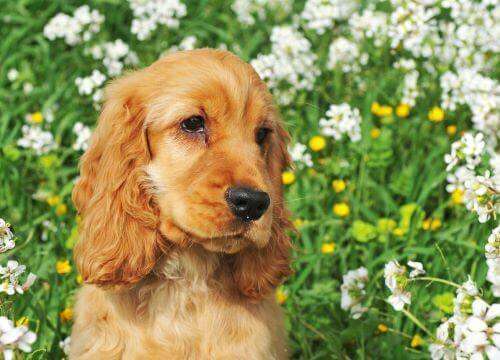 Don't worry too much about this. Rage syndrome in Cocker Spaniels is extremely rare and aggressive dog behavior is very often misdiagnosed as rage syndrome.
Spaniels are very active dogs and they need lots of exercise to keep them fit and happy - around one hour per day should be enough, but more if you can manage it.
English Cocker Spaniels love being around the family.
They need a fair amount of attention and shouldn't be left on their own for very long or they may develop a condition known as separation anxiety.
They're miserable when they're left on their own for too long and can become very destructive and develop unwanted behaviors such as barking, howling, or peeing indoors.
There are, however, many things you can do to help reduce your dog's separation anxiety.
Cockers like to go for long walks through woods, and love to run through fields and swim in rivers when they get the chance.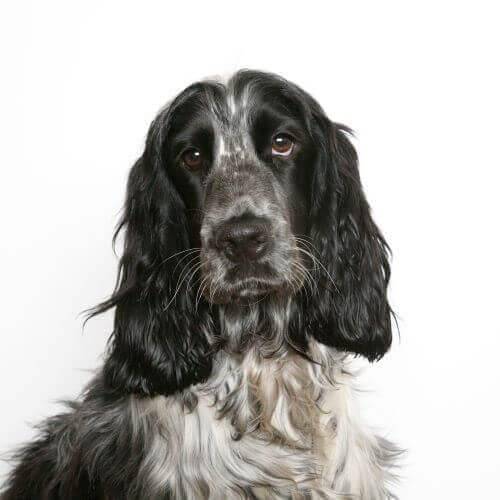 Unfortunately, given the opportunity, they'll also chase cows and sheep, particularly lambs, so even if your dog is well-trained, it's a good idea to put him back on the lead if you're entering a field with animals.
Please be aware - a farmer has the right to shoot your dog if he's caught chasing livestock!
The Spaniel is such a beautiful looking dog - their adoring brown eyes and soft pendulant ears, their silky soft coat, but most of all, it's their loving Cocker Spaniel temperament which makes them the most popular of the Spaniel breed.
I hope you've enjoyed reading about the English Cocker Spaniel temperament and that it's helped you to decide that this is the dog for you!
However, if you weren't quite convinced, (and I can't believe it's not!) why not learn a little more about the Cocker Spaniel breed before making your final decision?
More Titles In The Cocker Spaniel Breed Information Series

Information on the Cocker Spaniel breed.
Coat Colors - cockers can be found in a combination of beautiful solid, mixed and roan markings.
Cocker Spaniel Health - hopefully your dog will remain healthy, but it's really important you understand what can go wrong and if it does, how best to fix it.
Spaniel Breeds - there are many other spaniel breeds - not just the Cocker - why not check them out here?
Cocker History - do you know the History of the Cocker Spaniel? Learn all about it here.
Spaniel Characteristics - the Cocker's characteristics are totally appealing, floppy ears, soulful brown eyes, wagging tail - how could you resist?

Cocker Spaniel Temperament - simply second to none. Nothing more to say other than you can learn more here.

Like This Page?

---
Cocker Homepage

>
Cocker Spaniel Information
> Cocker Spaniel Temperament
Return to top of page
Temperment Photo Credits - In order of viewing:

1. Namq at Flickr.com
2. Crabchick at www.Flickr.com
3. John Elamper at Flickr.com