Finding Cocker Spaniel Breeders
Finding Responsible Cocker Spaniel Breeders

When you're looking for Cocker Spaniel Breeders you need to be certain that you're dealing with a professional and not a puppy farmer. Learn how and where to find good breeders, and more importantly, how to avoid the bad ones!

Choosing Your Cocker Spaniel Breeder

Okay, so you've decided to plump for a Cocker Spaniel puppy - congratulations!
Getting a puppy is so exciting, but before you go out and choose your pup, let me recommend you choose your breeder first.
Look for a responsible breeder before you choose a puppy; first you choose your breeder, then you choose your puppy.
Why?

By making sure you have a good breeder you'll almost certainly be guaranteed that your puppy will be healthy and well-bred with parents that have been DNA tested.
And as an added bonus, the breeder will have already begun the socialization process. In short, your puppy will have had the best possible start in life! 
Professional Breeder or Hobby Breeder?
I think you should know that there are two types of breeder; a professional breeder and a hobby breeder. Do you know the difference?
Below, I explain the differences between the two to help you decide which type of breeder you are going to use.
Professional Cocker Spaniel Breeders

A professional breeder will be breeding and rearing Cocker Spaniel puppies as his or her main business focus and so they're likely to be breeding from several Cocker bitches at any one time.
If you choose to use a professional Cocker Spaniel breeder try to pick one who specializes in breeding only Cockers, if possible.
They may or may not have their own stud dogs, but either way their choice of stud dog will have been chosen very carefully.
There may well be many young puppies at any one time. They usually have too many to be reared in the family home so they're often reared in kennels, on their premises.
Most professional breeders' kennels will be immaculately clean and spacious, with small outside runs and their puppies will be loved and well-cared for.
The pups will be checked by the vet and will be wormed and vaccinated; their puppies' health and happiness will be paramount.
Top Tip:  Don't forget to ask the breeder for details of any socialization that they've done so far!
The down side (if there is one) to puppies being reared in kennels is that they could be slightly under-socialized which means they may not have had as much human contact as they would, had they been raised in the family home.
However, a good breeder will try to make up for this and will put extra effort into socializing their puppies so that when it comes to bringing home your new puppy, he'll be almost ready to fit into his new 'human world'.
'Hobby' Cocker Spaniel Breeders

This type of breeder will normally have two, perhaps three, pedigree bitches living in the home as domestic pets.
Some hobby breeders may not be as knowledgeable, or have as much experience as professional cocker spaniel breeders. Most hobbyists become breeders purely for the love of their dogs and of the breed itself.
It should be noted though, that many hobby breeders are very professional in their approach to breeding; they're extremely knowledgeable and take the breeding process very seriously indeed.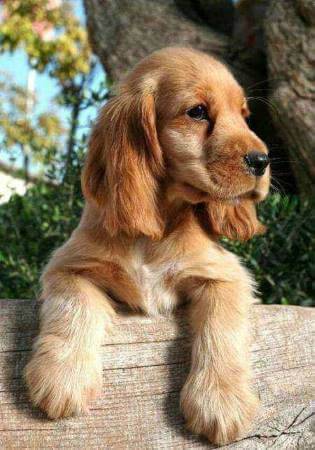 Good cocker spaniels breeders sell puppies like me!
Hobby breeders, like the professionals, are often very particular about who they let their puppies go to (after all, they're giving away their 'babies'!) and will vet a prospective buyer very closely.

Their puppies are often raised in the home with the rest of the family, which means their puppies will be socialized well.
When dealing with a hobby breeder, it might be a good idea to ask how many litters they've bred to give you an idea of their experience.
The Kennel Club guidelines state that the bitch must be over one year old when mated, have no more than 4 litters in her lifetime, and certainly no more litters after she's 8 years old.
Both professional breeders and experienced hobby breeders will be very helpful and offer you lots of advice about caring for your puppy, before and after you've taken your puppy home.
Our breeder was fantastic! She was very professional and so knowledgeable about Cocker Spaniels. She was extremely enthusiastic about her puppies and dogs, and she couldn't have been more helpful.  Anita's details are below: Anita Rothwell, The Fields, Farams Road, Rode Heath, Cheshire, ST7 3RP (delphmount@sky.com).
"Which Questions Do I Ask The Breeder?"

Okay, so you've now got details of a couple of Cocker Spaniel breeders. It's time to telephone them and ask for further details about themselves and their puppies.
It's important to show your breeder that you're knowledgeable about Cockers and that you've done at least a little research.
You'll need to satisfy them that you'll make a responsible owner, and that you can give a loving home to one of their puppies. They will be really fussy about who they give their babies to, and who can blame them?
The tips and advice given here will give you an idea of informed questions to ask your Cocker Spaniel Breeders, and will help you get to know and understand them better.
Other Possible Sources For Cocker Puppies

If you can't find a breeder near you, and you're not prepared to travel, there are alternatives available to you.
Dog Shows and Clubs: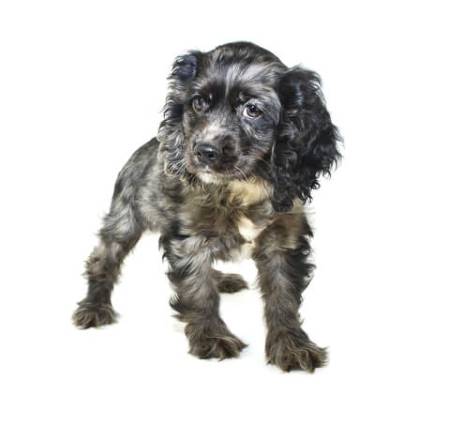 My Mummy says I'm special!
You could visit local dog shows or contact the Cocker Spaniel Club for details of local breeders with Cocker Spaniel puppies for sale.

Your Local Vet:
Your local vets may also be a good source for puppies because they may be able to put you in touch with good Cocker Spaniel breeders.
Kennel Clubs:

And if you don't find someone near you, you could also try contacting the UK Kennel Club or the American Kennel Club, depending upon where you live, to see if they can offer any details of breeders that may be registered with them.
Where NOT To Buy Your Cocker Spaniel Puppy?
Puppy Farms & Puppy Mills

Whatever you do, please, please, please, don't buy your puppy from a puppy farm!
Puppy farms (also known as puppy mills) are places where puppies are bred purely for profit. Standards are extremely low and the puppies and dogs' welfare are secondary, if at all.
No matter how sorry you feel for these puppies, (and believe me, when I say I understand how hard that will be) please be strong and walk away.
If you buy a puppy from a puppy mill, you may be saving one puppy, but you will be keeping a puppy farmer in business in the longer term!

Learn more about puppy farms and why you should avoid them at all costs.

Please Don't Buy From Pet Shops!

I would never recommend you buy a puppy from a pet shop either because the chances are that they've sourced their puppies from a puppy farm! 

Cocker Spaniel Breeders: Summary
Decide whether you're going to use a professional or a hobby breeder.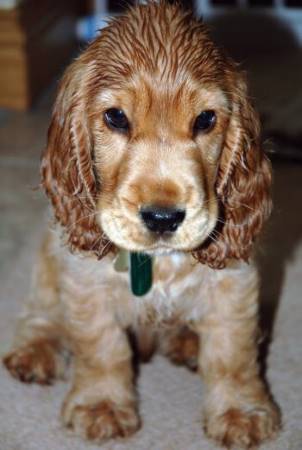 That was my first bath, it was great!
Remember that no matter which you decide to choose, you will still need to do a little research about the particular breeder you choose. You need to be certain that you're dealing with a reliable breeder and not a puppy farmer.

Don't buy from pet shops as you can never be sure where these puppies originated. Usually, they come from puppy farms.
In addition, ask as many questions as you can. If they are a responsible breeder they'll welcome your questions. In fact they'll expect lots of questions from you about themselves, their dogs and their puppies as it will confirm to them that you really care.
Whatever you decide, I wish you lots of luck!
Photo Credits for How to Find Responsible Cocker Spaniel Breeders:
1. Inanna at Flikr.com
2. SensorSpot at https://www.istockphoto.com/stock-photo-2174793-cocker.php?st=4e7bb18
3. Web author's own photograph
4. Jaime Staley-sickafoose at https://www.dreamstime.com/royalty-free-stock-images-cocker-spaniel-puppy-image21342469