Cocker Spaniel Health Problems

Learn more about your Spaniel's health, dog diseases and symptoms, and how they can affect your pet's well-being

Many Cocker Spaniel health problems, such as skin allergies, eye and ear infection(s), can affect your pet at some point in his life, but most could be avoided simply by providing him with a healthy diet, plenty of exercise, and regular grooming.

It goes without saying that our Cocker Spaniel's health is very important to us (and, of course, to our dogs), but if we are to nip health problems in the bud, we need to keep a watchful eye on our pets for any early signs of illness.
One of the most common signs of poor canine health is Halitosis, or dog breath as it's commonly known!
If your dog has bad breath it can be an indication of coprophagia or a sign of poor dental hygiene which may have resulted in gingivitis, or periodontal disease.
That's why it's important to brush your Cocker's teeth!
I recommend brushing puppy teeth from an early age so that he becomes perfectly happy with the feel of a toothbrush in his mouth.
However, if your dog's dental hygiene is good, but his breath is very bad, there may be something much more serious lurking. If you're at all worried about your dog's health, I recommend you take him to see the vet - just to be certain that your Cocker is healthy!
Cocker Spaniel Health - Ears

Although Cocker Spaniel ears are beautiful, their pendulous design doesn't always allow sufficient air to circulate around the entrance to the ear canal.
Because of this, Cocker Spaniels are prone to ear infection, which is not much fun for your dog as infections can cause considerable pain and discomfort.
In serious cases, and especially if left untreated, an ear infection could result in eventual deafness, so it's very important that you give a high priority to regularly cleaning your dog's ears to help fight infection and excess bacteria - keeping your Cocker's ears in tip-top condition!
Follow the links to learn more about your dog's ears and how to spot the symptoms of ear infection.
Cocker Spaniel Health - Anal Glands

Anal glands are two small glands just inside your dog's anus, just below and to either side of the anal opening. Learn how to tell if your dogs anal glands are impacted.
Problems with anal glands are fairly common in dogs, particularly where their diet is poor.
If the glands aren't working properly, or your Cocker's diet isn't nutritious enough, the glands may become impacted and/or infected, and will need to be cleared. Your vet or your groomer can teach you how to do this, so that when you're confident enough you can do it yourself.
Read more, and learn how to clean and express Cocker Spaniel anal glands.
Cocker Spaniel Health - Eyes

Cocker Spaniels are also susceptible to eye problems. That's why it's advisable to clean and check their eyes often - it doesn't take long and it's easy to do.
I usually give Max's eyes a quick check when I'm 'talking' to him or giving him a cuddle, but I give them a thorough check and clean them as part of his regular grooming sessions.
Please make sure your pet also has regular eye checks when you visit your vet, as he'll be able to pick up on potential health problems before you do.
Glaucoma, distichiasis and conjunctivitis, are just some of the problems that could befall your dog during his lifetime.
Although hereditary conditions may not be preventable, there are many other health problems that you can help prevent or minimize. Regular inspection and keeping your dog's eyes scrupulously clean will help to do this.
Follow the link to learn more about dog eye problems and how to spot and avoid potential problems with your Cocker's eyes.
Cocker Spaniel Health - Dog Poisoning

If we took care to lock away all substances that could be toxic to our dogs, accidental dog poisoning could become a thing of the past!
Unfortunately, many dogs are still accidentally poisoned in and around our homes every day and in many different ways.
In the home, there are many household cleaners that are potential dog poisons; bleach, kitchen and bathroom sprays, oven cleaners.
The garage also holds many potential substances which could be hazardous to our pets, such as rat poison, antifreeze (a particularly dangerous substance as it smells and tastes good to dogs), paint thinners, turpentine, and oil or petrol in cans - all just sitting around waiting for a bored Cocker Spaniel looking for trouble!
Even your garden and where you walk your dog can hold many hidden dangers as you may find many poisonous plants that could make your Cocker Spaniel very sick if he ate them.
It's not always easy to keep a close eye on what they pick up when they're off the lead, running in woods or fields, is it?
It's been know for dogs to eat poisonous mushrooms or plants that can be toxic to dogs and have become seriously ill - it's an all too possible scenario!
Even the food we eat can turn out to be a dog poison - foods such as chocolate, macadamia nuts, grapes and raisins!
Chocolate is a particularly toxic food for dogs, especially if it's quality chocolate containing high levels of cocoa.
Don't wait until it's too late - lock away anything that may accidentally harm your pet and keep your Cocker Spaniel safe!
Cocker Spaniel Health - Fleas And Ticks

I decided to cover dog fleas and ticks here rather than in the grooming section because fleas and ticks can harbour diseases and cause ill-health.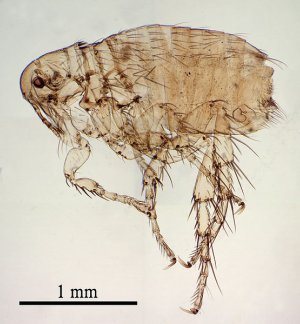 Fleas are horrid little parasites!
They're very small, but you can see them with the naked eye, particularly when they jump, however, you won't be able to see them in any great detail.
If you're already a dog owner you may well be familiar with fleas, however, if you're a new puppy owner, you may not have seen them yet so this is for you - this is what a dog flea looks like.
I recommend prevention rather than cure, so use a treatment each month to keep them at bay, but make sure you apply the flea medication correctly otherwise it may not be as effective as it should be.
If you prefer not to use chemicals on your pet, you might like to consider a natural flea control which you can either make yourself or pick up at any good pet store.
Some medications will continue to be effective throughout the entire flea's life cycle, others will simply kill the fleas - leaving the eggs, larva, and pupae to continue to grow.
Flea bites are no laughing matter. If you or your Cocker have been bitten by a flea, apart from leaving an itchy red spot, they can pass on disease and cause infection to set in.
Important Note:
Please check with your vet for puppies under 6 months of age before using any medication
I recommend you groom your pet regularly and if you see any signs of fleas, your first priority will be to get rid of the fleas on your dog before going on to consider how you're going to make sure there are none lurking around your home.
Depending on how long your Cocker's been 'hosting' these wee beasties, they're likely to be in your soft furnishings and carpets so you'll need to vacuum regularly to make sure you suck up all those little jumping bodies as they hatch!
And, as if that's not enough, if your Cocker is usually walked through fields and woods, which are ideal breeding grounds for dog ticks, you'll have to learn how to manage these little blighters too!
Typical Hereditary Cocker Spaniel Health Problems
Every canine breed has some hereditary health concerns and as a responsible owner you need to be aware of those that may affect your pet.
Cocker Spaniel health issues which may affect your pet are as follows:
Progressive Retinal Atrophy
Glaucoma
Cataracts
Familial Nephropathy (Fatal Kidney Disease)
Hip Dysplasia (Abnormal Development of the Hip Joint)
Auto-Immune Disease (This name covers a range of immune-related diseases such as, Hypothyroidism, Addisons Disease, Haemolytic Anaemia, and others)
Allergies
Responsible breeders will test for the above prior to breeding in a bid to stamp out these diseases.
Cocker Spaniel Health - Should I Have My Cocker Neutered?
Most vets will recommend we have our dogs neutered as they maintain that castrating a dog (or spaying a bitch) can prolong their life and can help to reduce canine health problems.
This article explores the benefits and pitfalls of neutering dogs as well as some of the myths surrounding castration and spaying.
For the record, Max, my Cocker Spaniel, has been neutered.

General Dog Illnesses And Symptoms
There are many dog diseases and illnesses that can befall your Cocker Spaniel - many more than we can cover here.
However, I discovered a website that contains lots of useful information about common dog illnesses and symptoms and I simply had to share it with you!
You'll find up-to-date information on dog diseases, their symptoms, and available conventional and, where applicable, alternative treatments.
Be an informed 'dog parent' and safeguard your dog's health!
If you're looking for reliable, accurate information and help with your dog health problems, why not visit Vet Pet Health Advice
The site is entirely written and run by a practising veterinarian, with your dog's health and happiness in mind.
Additionally, we must not lose sight of weight issues. Overweight dogs tend to be prone to health problems so it's important to keep an eye on your Cocker's weight, especially as he moves into his older years.
Learn more about Cocker Spaniel weight.
Cocker Spaniel Health Insurance
I thought I'd mention pet insurance.
Let's face it, with consultation, medication, treatments, x-rays, and surgery costs, (to name a few) vet bills can soon mount up and become very expensive - particularly if you don't yet have dog health insurance!
Imagine then, having to make the heartbreaking decision to have your pet put to sleep because you were unable to afford the vet fees! It simply doesn't bear thinking about, does it?
If you've recently bought a Cocker puppy, your breeder will have already insured the pup for approximately 6 weeks, so don't let it lapse, act now to ensure you have continuing pet health insurance.
There are several things you should know when considering renewing or taking out insurance for your Cocker Spaniel, so it's very important that you understand exactly what your pet insurance quote covers.
And don't forget to check the small print to see exactly what they cover to protect your Cocker Spaniel health.
---
Cocker Spaniel health is very important to us and is high up on our agenda, however, it's really important that when we believe our pet is unwell we don't try to diagnose our dog's symptoms ourselves.

Yes, we need to be aware of Cocker Spaniel health concerns, symptoms, and their remedies, but we must always consult a qualified veterinary if we're at all concerned about our pet's health.
More Relevant Titles in the Cocker Spaniel Health Series:

Grooming Cocker Spaniels For Better Health!

Dog food allergies can make your pet miserable

---
Photo Credits - In order of viewing:

1. Bigdog at Flickr.com
2. Julesinky at Flickr.com
3. Wikipedia