Healthy Dog Food

"Feeding Your Cocker Spaniel Best Dog Food
You Can Afford Will Improve His Health!"

Feeding your Cocker Spaniel healthy dog food can make a big difference to your pet's life.
By feeding him good quality, natural foods, such as raw meat and fresh organic vegetables, you will improve your pet's health and give him a zest for life!
If you can afford it, feed your Cocker the best quality food that money can buy - food that's farmed responsibly and which doesn't contain artificial chemicals or preservatives - such as organic dog food.
The terms organic and natural dog food are often used interchangeably, but they're not quite the same - natural food is not necessarily organic, but it is still the same high quality.
Healthy Dog Food Could Eliminate Food Allergies

Always check the ingredients labels and avoid brands where the main ingredients are listed as 'fillers' such as wheat or corn, as they may not contain enough nutrition for your Cocker Spaniel's diet.
Similarly, if it contains soy, gluten, added sugar or sweeteners, added salt, artificial colorings, additives or by-products - give it a wide berth!
Not only can these ingredients be difficult to digest and, over the long-term, be harmful to your pet, they can also cause food allergies.
If your Cocker Spaniel suffers from allergies, there are many specially formulated, commercial hypo allergenic preparations available, which may help to address the problem; alternatively, your pet may respond better to a diet of raw meats and vegetables.
Although a raw dog food diet can be a little more time-consuming to prepare than other diets, as well as being more expensive, the benefits will be quickly visible in your pet's improved appearance.
Did you know, for example, if fed on raw meat and veg, your Cocker is less likely to become overweight?
Why not treat your pet to a couple of raw dog food recipes and just watch that tail wag!
Healthy Dog Food Promotes A Healthy Cocker!

If your Cocker Spaniel has health problems, your vet may recommend a specially prepared prescription diet to help target the specific problem and improve his health.
Feeding your pet dog nothing but vegetables is often controversial, and thought by some to cause ill health.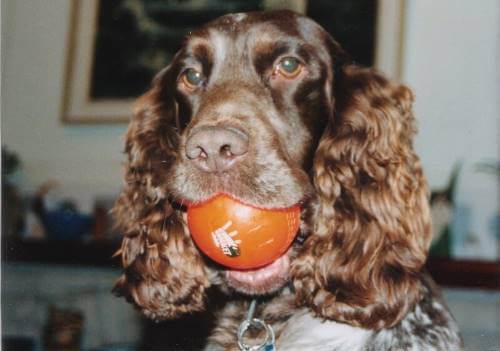 There are, however, many vegetarian owners who choose to feed their pets a vegetarian diet, and whose Cocker's appear to thrive on it - but beware, it's not suited to all dogs.
If you're considering changing his diet over to vegetarian, I recommend you discuss it with your vet first.
Like children, many behavioral problems can be explained by a poor diet so, if you have a Cocker Spaniel with behavioral problems, or he's hyperactive, it may be the result of a poor or insufficient diet.
Improve your Spaniel's diet by feeding him healthy food and you'll notice a huge difference in improved behavior.
The word 'holistic' in holistic dog food relates to taking care of the entire body as a whole.
One of the ways we can do this is by feeding our Cockers good quality ingredients - healthy dog food that will 'feed' the entire body!
Home-made Dog Food Versus Commercial

You may prefer to feed your Cocker Spaniel home made dog food, in which case, you'll find a few great home made recipes here.
However, if you don't have the time to prepare his meals from scratch, pre-prepared commercial food, including both organic and natural dog foods, is readily available and sold in most good pet stores.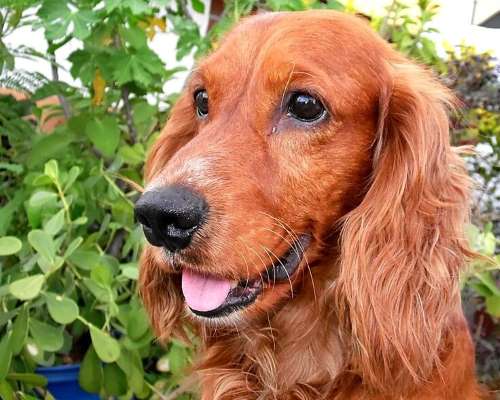 There's a wide variety of commercial brands available offering many different kinds of dog food to suit all types of cocker spaniel diet.
Some puppy and dog foods are better than others so it's best to do a little research. 
When it comes to choosing a quality brand of healthy dog food, there is no shortage of choice. In fact, with so many choices in nutritious preparations, it can sometimes be difficult to decide which is best for your pet.
It's always worth taking the time to compare top dog foods before making your decision - you only want what's best for your dog.
If you're looking for unbiased dog food reviews follow the link. This site will give you the whole scoop on all diets and preparations for your pet.
You'll find everything from easy-to-read dog food comparison charts, to eye-opening articles on labels and ingredients, to tips on how to spot healthy dog food at a glance.
I think we've established that the saying, 'You are what you eat' also applies to our pets!
By feeding your Cocker Spaniel puppy the best food you can afford, as soon as he's able to eat solid foods, you'll be setting him up for a long and healthy life.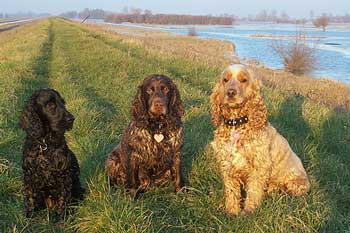 He'll quickly develop strong and healthy bones and teeth, his skin and coat will shine, and his eyes will sparkle!
Occasionally, some puppies and dogs develop food aggression becoming quite anxious when anyone (or another canine) is around their food bowl while they're eating. It's not the end of the world though as you can remedy food aggression - it just takes a little patience.
Even if your pet isn't showing any signs of food aggression, I recommend you read this article on how to prevent food aggression to help avoid the problem in the first place.
I hope this article on healthy dog food has been helpful to you, and has given you an 'appetite' to learn more - if you'll pardon the pun!
If you'd like to understand how elevated dog bowls could help your Cocker Spaniel's digestion, simply click here.


Like This Page?

Top of Page - Healthy Dog Food