Organic Dog Food: Why It's The Best!

By feeding your Cocker organic dog food you're giving him the best start in life! Organic foods undergo very little processing; it's all natural, just as mother nature intended. Read on to learn why organic is best!

What Is Organic Pet Food?
Organic dog food is natural food which has been processed in an environmentally friendly way.
Animals are farmed responsibly; without the use of antibiotics or growth hormones and free to graze and feed in the open air. 
Vegetables are grown naturally; free from artificial pesticides, insecticides, herbicides or fertilizers.
Why Choose Organic Dog Food?
There have been many dog food 'scares' and re-calls over the years and unfortunately, some tragic outcomes.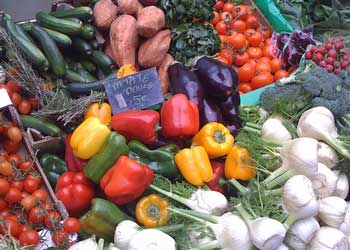 Healthy organic fruit and vegetables
This increasingly high number of dog food re-calls has highlighted the fact that there are some unscrupulous dog food manufacturers using questionable manufacturing processes, resulting in the production of poor grade, potentially harmful food for our pets.
It's no wonder then that many dog owners are looking for a safer alternative.
Some choose to buy ready prepared organic food, others prefer to make their own.
No matter what you choose, (commercial or homemade) an organic dog food diet should contain more lean meat than normal dog food as well as a good selection of organic fruits, vegetables, grains and herbs, more in keeping with the type of diet your dog would have eaten in the wild.
What Are The Benefits Of Organic Dog Food?
It goes without saying that food grown without the use of herbicides, artificial fertilizers, or pesticides, and that doesn't contain chemical additives or preservatives, has got to be good for your dog!
Common health problems such as 'dog breath', skin problems, allergies, and hyperactivity, can often be the result of a poor diet and simply changing your dog's diet may ease, if not eliminate, these conditions.
The main benefits of feeding your puppy or your dog organic food are as follows: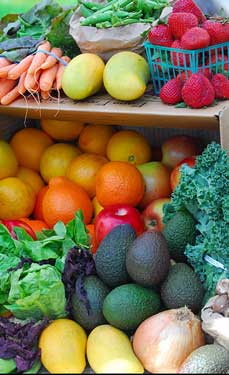 Organic is best!
Eating carefully prepared organic food will certainly improve your best friend's health but did you know it could also add years to his life!  We all know the benefits of eating healthily, so why should it be any different for your dog? 


Your pet will certainly look much better for having a healthy organic diet; his coat will shine, his skin will be clear, and he'll develop stronger nails, teeth and bones.


Your Cocker Spaniel will be able to maintain a healthier weight.

Because there are no 'fillers' in organic dog food, just natural goodness, your Cocker will feel fuller sooner, and for longer, which can mean he's likely to eat less - good news for owners with overweight dogs!


Food containing only quality natural ingredients is much easier to digest than ordinary commercially prepared dog food and less prone to upset tummies.


Organic dog food can help to reduce food allergies triggered by chemicals or artificial additives and preservatives found in commercially prepared dog food.


Good quality dog food always tastes better!

Natural Dog Food Diet: What Can I Feed Him?
There are many human foods your dog can enjoy.
If your meals regularly consist of 'meat and two veg' (organic, of course) feeding your dog table scraps is acceptable; they can form part of his diet and will help to keep him fit and healthy.
Organic Dog Kibble
However, if you regularly munch on burgers, pizza or chips, table scraps should be avoided because there won't be sufficient nutrients in these foods for your dog to stay healthy. Foods like these are also high in fat and carbohydrates.
You can feed your dog any type of organic meat such as rabbit, chicken, beef, and lamb - don't forget to cut off most of the fat, to keep your Cocker Spaniel trim.
Fish, such as salmon (which should always be cooked) or tuna, is a feasible alternative to meat and your Cocker may also enjoy an organic egg or two.
You can mix meat and fish with vegetables and whole grains, such as rice or corn, and oatmeal, to ensure your dog has all the nutrients he needs without resorting to vitamin supplements.
Don't add extra salt to your dog's diet. He doesn't need it and too much salt is not good for him.
If you make up a batch organic dog food, it will keep in the refrigerator for 3-4 days; alternatively you could freeze the food in smaller portions and simply defrost when needed.
Why not check with your vet? He may be able to give you a selection of nutritious recipes to allow you to give your dog variety and you the reassurance that he's getting the nutrition he needs.

Commercially Prepared Organic Dog Food
For whatever reason, (busy lifestyle, work or family commitments,) you may not have the time to prepare your dog's meals.
If you're short on time, but would still like your dog to 'go organic' you can easily buy ready-made organic dog food in good supermarkets or pet stores, just remember to check the ingredients label to understand exactly what you're paying for as they can differ widely.

Tasty Organic Dog Food Recipe
If you can't afford pheasants, here's a tasty chicken recipe that your dog will love. Not only is it a healthy organic alternative to shop-bought dog food, it's so easy to make too!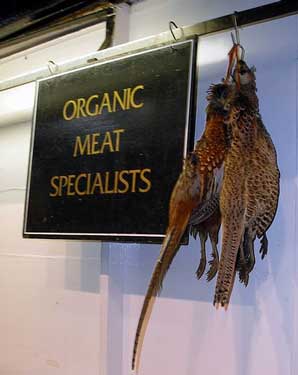 Buy organic meat from organic specialists
Ingredients:
1 pound of organic minced chicken
2 cups of whole brown rice
6 cups of water
1 teaspoon of fresh rosemary (preferably from your garden!)

1/2 pound of finely chopped organic broccoli
1/2 pound of diced organic carrots
Instructions:
Place the minced chicken, water, rice and rosemary into a large pan.
Combine all the ingredients - taking care to break up the minced chicken.


Put the pan on a high heat and bring to the boil.


When the mixture has reached boiling point, reduce the heat to the lowest setting and simmer for 20 minutes.


At this point, add the vegetables and cook until tender.


When the mixture is cooked and vegetables are tender, remove the pan from the heat and allow to cool.


Place in foil containers and refrigerate until ready to use.
Important note: If you decide to make your own dog food, it's best to talk it through with your vet to establish the ideal ratio of protein (meat, fish or eggs) to carbohydrates and fats (including essential omega oils) to be certain that your Cocker Spaniel's new organic diet gives him all the nutrients he needs to stay healthy.
Your vet may recommend additional vitamins and minerals as a daily supplement.

As with any change of diet, don't forget to change over to your Spaniel's new organic dog food gradually, over a couple of weeks, so as not to upset his tummy.
Photo Credits: Organic Dog Food
1. Richard Smith at Flickr.com
2. Skycladd - https://www.flickr.com/photos/45945083@N00/3520444592
3. Chris Metcalf - https://www.flickr.com/photos/73207064@N00/208810939
4. Andrew Sandberg at Flickr.com