Healthy Raw Dog Food Recipes

These raw dog food recipes are packed full of natural goodness and are so easy to make, especially as there's no cooking involved! 
A raw food diet for dogs can greatly improve their health and appearance so why not treat your pet to some of our tasty raw  food recipes and see the difference for yourself!

Is Raw Dog Food Best?

After countless dog food recalls, many conscientious pet owners are feeding their dogs a diet of raw food.
They're moving away from commercially processed and pre-cooked pet food and feeding their faithful companions natural raw dog food to improve their pet's health.
The raw food diet is also known as the BARF diet (bones and raw food) and consists of fresh raw meat, offal, uncooked bones, fish, eggs, fruit and vegetables, with a few vitamin and mineral supplements thrown in.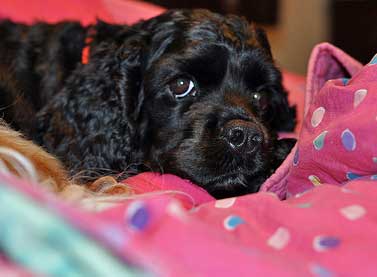 Raw dog food recipes
Oats or cornmeal may be added to the mixture if you wish and to ring the changes you can also use organic or brown rice (but the rice will need to be cooked and cooled before adding to your mixture). This is a matter of personal choice.
All our recipes are so easy to make as they don't need cooking. Simply mix the ingredients together and you're done!
If you'd like to learn more about the BARF diet before you try some of our raw dog food recipes, simply follow this link.
Raw Minced Beef And Vegetables
Ingredients:
1lb of raw minced beef
2 cups of chopped vegetables
4 ounces of offal (liver, heart, kidneys)
1/2 a cup of apple cider vinegar
1 small clove of garlic, minced or chopped (optional)
2 tablespoons of chopped spinach
1/2 a cup of plain yoghurt
3 medium eggs, including the shells
1 small handful of parsley (optional)
Instructions:
Place all your ingredients into a large bowl and mix thoroughly.


Separate into portion-sized batches and either freeze or keep in the refrigerator for up to 4 days.

Satin Balls
One of the most common raw dog food recipes (and one of the easiest to make) are Satin Balls. There are so many variations of the basic recipe; they're as limitless as your own ideas and your dog's tastes!

You can roll them into balls which is easier and much quicker or you can roll them out and cut them into squares, or use a shaped cookie cutter - it's your choice.
A word of caution though. Satin Balls are very fattening and should be used with caution. They're ideal for feeding to an under-nourished dog and will build up his strength and bulk very quickly.

Ingredients:

2.5 pounds ground beef (or a mixture of beef with poultry or pork)
2.5 cups of wholegrain cereal (without added sugar)

2.5 cups of rolled oats
3/8 cup olive oil or vegetable oil
3/8 cup molasses (black strap if you can get it, avoid sorghum)
3 eggs (lightly whisked)
3 packets of unflavoured gelatine
Instructions:
Mix all the ingredients together, as you would for a meatloaf, and then roll into small, bite-sized balls or small 'patties' by pressing with your thumb. (Patties are easier to store as you can stack them. If you don't intend to freeze them, I advise using a layer of grease-proof paper/parchment between them to stop them sticking).


Set on a cookie sheet and freeze, then package in freezer containers in usable portions.


Defrost overnight for use the next day.
As with all the raw dog food recipes on this page, these should be used as either occasional treats or as a food supplement.
As I mentioned earlier, Satin Balls are often used to 'feed up' skinny dogs so I don't recommend you feed your pet too many because they are very fattening - he will put on weight!

Cream Cheesy Chicken Wings

Ingredients:
1/2 a cup of cottage cheese
1/2 cup of carrots, grated or chopped
4 raw chicken wings (the bones in the wings are safe to eat as they're not cooked)

Instructions:
Mix all of the ingredients together in a large bowl.


Keep in an airtight tub in the refrigerator until needed.
You can add extra chopped vegetables, or a small sprinkling of herbs to this recipe if you wish.

Savory Turkey Dinner

Ingredients:
Most of these raw dog food recipes are so simple to prepare, just remember to buy extra meat and vegetables when shopping!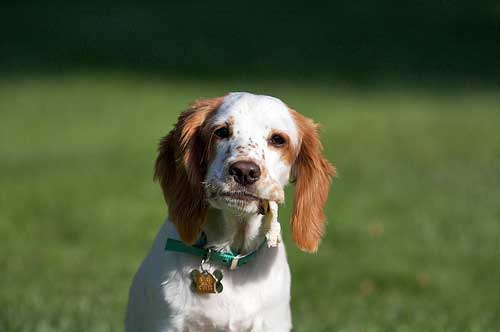 Can I go now Mum?
3 cups lean ground turkey, beef, or chicken


2 eggs, I recommend you include the shells


1-1/2 half cups of oatmeal



1 cup of chopped or grated vegetables, such as broccoli, potato (without the skins), carrots


1/2 a cup of plain cottage cheese

Instructions:
Mix all ingredients together and keep in the refrigerator for 4-5 days.

Chicken And Oatmeal Dinner

Ingredients:
1 cup of chicken or turkey
1/2 a cup of mixed raw vegetables
1/2 cup of oatmeal
2 tablespoons of natural yoghurt to moisten slightly

Instructions:
Combine all ingredients and refrigerate until needed.
The vegetables can be chopped or grated, or a combination of both.

The Dog's Dinner!

Ingredients: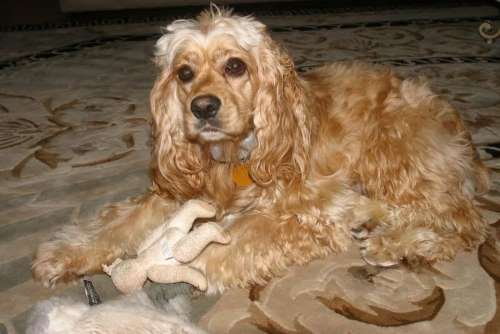 Is it dinner time yet Mum?
3 cups of cubed raw meat - beef, lamb, chicken, or turkey
3/4 of a cup of chopped vegetables - carrots, sweet potato, broccoli or spinach
Pinch of garlic powder or herbs (you can chop in some fresh parsley if you like!)

Instructions:
Add all ingredients to a large bowl and mix thoroughly.


Refrigerate until needed.

Herby Minced Meat And Vegetables

Ingredients:
2 cups of raw meat - chopped or ground
1 beaten egg
3 tablespoons of cornmeal
1 chopped potato (make sure it's peeled first and cut out any green bits!)

1 chopped or grated carrot
1 sliced stalk of celery
2 tablespoons of roughly chopped parsley
1 small tub of cottage cheese or plain yoghurt
Instructions:
Mix together all the ingredients and refrigerate until needed.
It's as easy as that!
Raw Food Diet for Dogs: Recipe 'Cooking' Tips

These useful tips are in no particular order of importance, except perhaps for the first one about hygiene.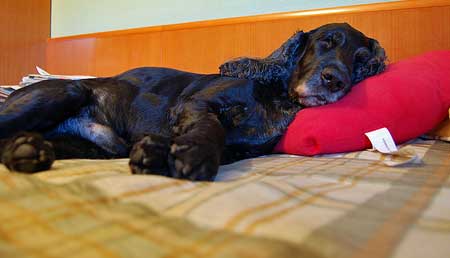 Zzzzzzz...
When handling raw meat it's essential to keep all kitchen surfaces and utensils scrupulously clean to avoid bacteria contamination.


The great thing about these raw dog food recipes is that you can prepare large batches in advance and freeze them in individual portions.


If you're short on time, why not use a packed of mixed frozen vegetables?


When you're cooking for the family, chop a few extra vegetables and refrigerate them or freeze them until needed.


When you're preparing raw food for dogs, you can always experiment a little with the 'seasonings', for example, you might like to add a sprinkling of dried herbs; fresh herbs are even better, especially if you grow your own!

However, when it comes to using garlic it's always optional. Garlic can cause health problems in dogs, but only when used in great quantities, whereas smaller quantities can be good for them.


Buy your meat in bulk, especially when it's on promotion, and freeze it until you need it, alternatively, if you ask your local butcher, I'm sure he'll set aside some juicy bones, scraps or end cuts of meat for you.

Raw Dog Food Recipes from our Visitors
Raw Food for Dogs with Troubled Skin
By: Patricia Goode
From: Marnes, Deux-Sevres, France
I have a 5 year old male cocker spaniel, called Eros, who has had a variety of skin problems.
Looking on the site I was delighted to come across the suggestion of home made raw recipes.
I would be very happy to try one or two to see if Eros likes them (and they reduce his skin problems) but as far as I can see none of the recipes actually give the amount the dogs should eat per day, per meal.
Would it be possible for the recipes to say how many meals each would provide, by weight of the portions or numbers of meals?
Up to now Eros has eaten the amount of dried food per day given on the packet. With fresh food I am at a bit of a loss as to how much one would need to give him each day.
Thank you.
Raw Dog Food Recipes: Reply from Pauline (Web Owner)

Hello Patricia,
Thank you for your question.
The reason I don't give recommendations for feeding your dog is that it will vary from dog to dog, depending on their weight, their age and their 'lifestyle'.
For example, if Eros is a really active cocker spaniel he will need more energy and so you would be able to feed him a little more without him becoming overweight.
A less active cocker would need less food daily.
My recommendation is always to chat with your vet first and ask for his advice.
However, to answer your question, the amount of raw food your dog needs to eat each day to stay lean and healthy is around 2 to 3 per cent of his ideal adult body weight.
Also, please note that his diet (ideally) should consist of between 40 and 60% meat and bones.
I'd love to hear how you and Eros get on!

Kind regards,
Pauline

Visitor Comments for Raw Dog Food Recipes
Coconut Oil for Skin Conditions
by: Anonymous
Hi, my cocker had severe skin problems that I treated by feeding him coconut oil.
I cooked meat and added cooked veggies, but his favourite was coconut rice pudding. Here's my recipe:
1 can Ayam coconut cream to 1 packet of quick Basmati rice. Mix together cook for 90 seconds. cool and serve.
Be careful not to feed them too much as they will have loose bowel movements. I gave Lucky 3-4 dessert spoons a day, start with 1-2 per day then increase slowly.
If you're unsure about giving coconut oil to your dog, Google coconut oil for dogs.
Skin Issues
By: Merle Ann
Hello, We have a 3-year-old female named Lady. You can read her story under "A Diamond in the Ruff". She has major skin issues.
We have her on dry holistic food but wish to suggest a particular shampoo that is wonderful. It is called "Dr Hypo" and can be found on Amazon.com. It is a little on the pricey side but you do not need to use much.
Our groomer has used this from the beginning and we highly recommend it. Hope that this suggestion will help.
Sincerely,
Merle Ann Fenske
Independence, CA - USA
Smelly Coat or Losing Fur
By: Elaine
I had this problem with my Clumber Spaniel. Finally, after several trips to vets and groomers, my new vet checked his blood for thyroid problems.
Turns out that was it.
He went onto thyroid medicine, antibiotics, and an anti-fungal, along with a medicated shampoo twice a week. He was clear within three weeks.
By end of the month, his fur on his tail returned.
Also, I give him a probiotic, as well as a dollop of plain yoghurt on top of his food with water added to dry food last. It helped digestion.
Plus, no smell of GAS anymore YAY!!
Raw Dog Food Recipes: Summary

A raw food diet isn't for everyone (despite its many benefits), but if you've the time and the inclination, there are many different recipes to try.
Important: The above raw dog food recipes do not constitute a complete raw food diet; they are simply examples of meals that your dog may eat.
You might also like to experiment with your own recipes too!
I feed my Cocker Spaniel both raw and cooked food, (not usually in the same meal unless it's cooked rice) and I also give him kibble from time to time. I don't see why you can't mix and match to suit your circumstances and the time you have available.
Just make sure that you speak to your vet before you change his diet so you can be certain your Cocker Spaniel is getting the exact nutrition he needs (at his particular stage in life) to keep him fit and healthy.
If you decide to experiment, and you come up with a really good raw dog food recipe, why not share it with us?


Photo Credits: Raw Dog Food Recipes
1. John Amato at Flickr.com 
2. Lowjumpingfrog at Flickr.com 
3. J Todd Poling at Flickr.com - https://www.flickr.com/photos/92755733@N00/2170753340
4. Sergis Blog at Flickr.com