Cocker Spaniel Rescue Centre: Why Should I Choose A Dog From Here?

Have you ever wondered why some Cockers end up in Cocker Spaniel rescue centres?
Despite what some people think, it's not always the dog's fault. Here are a few reasons to help you understand why some Cockers suddenly become homeless.
Why Do Some Cockers End Up In Rescue Centres?
There are many reasons why an adult dog would suddenly find itself in a Cocker Spaniel rescue shelter; for example,
Due to unforeseen financial circumstances, the family can no longer afford their pet.


The dog has been poorly trained or wasn't adequately socialized as a puppy, which has resulted in a 'badly behaved' pet that the owner is now unable to control.


The dog has been poorly trained or wasn't adequately socialized as a puppy, which has resulted in a 'badly behaved' pet that the owner is now unable to control.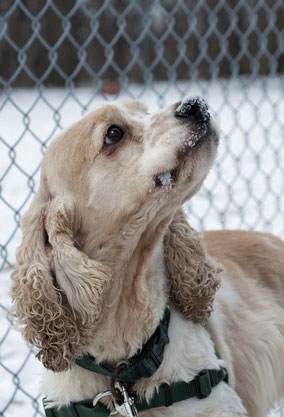 Please Choose Me!
The dog had had puppies that the family couldn't afford to keep. Unless you're a professional breeder, having your dog neutered is the sensible option!


The family moved abroad and didn't want the 'hassle' of taking the dog with them.


The owners are no longer able to exercise their pet, either because of illness or ageing.


The dog suffers from separation anxiety, and the owner doesn't know how to handle the problem. The dog has become so destructive that, eventually, the owner gives up and puts him into a Cocker Spaniel rescue centre.


A change in household circumstances, for example, increased work commitments or moving to accommodation that doesn't allow pets.



Sadly the owner dies.
Cocker Spaniel Adoption: Go Ahead, Make His Day!

Cocker Spaniel rescue centres have many abandoned dogs and puppies just waiting for the day he (or she) will be taken home to a loving family.
Cockers suddenly finding themselves in a rescue centre often become disorientated, frightened and confused. This could eventually lead to behavioural problems developing if they're not rescued and taken into a loving home.
This situation is so sad!
Most of these dogs are just ordinary, normal Cocker Spaniels - they're not 'bad' dogs - they simply need some love, affection, and a little understanding.
Is There A Stigma About Cocker Spaniel Rescue?

Surprisingly there still seems to be some stigma attached to pet adoption.
Many prospective owners believe that dogs arrive at Cocker Spaniel rescue centres do so for a reason. They believe the dogs have aggressive tendencies, severe behavioural problems, or they may be just plain unlovable.
They wonder why else would they be there and not in a loving family home?
Well, the reality is quite the opposite!
But, unfortunately, the stigma remains, and many of these poor dogs either end their days in a rescue centre or they're eventually put to sleep.
If you'd like to tell us your dog's rescue story, sad or heart-warming, we'd love to hear it. You can share it with us here.
Many Cockers are there because of family difficulties or their owner's lack of education or knowledge about Cocker Spaniels (or dogs in general) and not because they're bad dogs or have behavioural problems.
Many dogs often end up homeless, and it's so unnecessary!
All these animals need is loving care and understanding and, in some cases, perhaps a bit of training.
Before you make any decisions, I recommend you at least visit your local dog adoption or rescue centre to see what it's all about.
You could help to redress the balance by adopting a dog from your local Cocker Spaniel rescue centre.
Cocker Spaniel Rescue: Our Visitors' Stories

Many of our visitors have rescued a Cocker Spaniel and have many happy tales and some beautiful photos of their gorgeous dogs to share. 
If you'd like to 'join the party', you can share your story and up to four photos here.
Here are some of our visitors' stories for you to enjoy.
Cocker Spaniel Rescued from Abuse
I recently adopted a Cocker Spaniel rescued from the local dog pound. He had been badly abused and was very quiet and nervous. I have never owned a Cocker, but his kind eyes broke my heart.
I understand that much time will be needed to help him heal.

Any suggestions you might have towards helping him adjust to our home would be helpful. He is 6 years old and has had 12 of his teeth removed.
Also, he poops 5 times a day. Is this normal?

Reply from Pauline (Web Owner)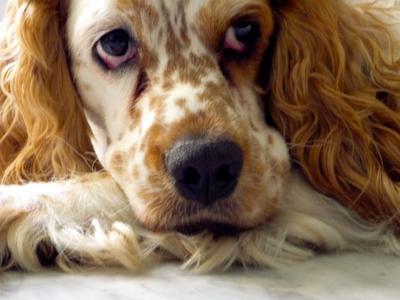 I love you, mummy!
Rescuing a Cocker Spaniel is commendable, but some abused adult dogs may have one or two problems. Unless you know the specifics of the dog's mistreatment, rehabilitation can often prove very difficult.
You are correct when you say that lots of time will be needed, and a lot of patience and love, but I suspect that those big brown eyes will help give you all the patience you need.
Provide A Calm Home, Bonding Time, And A Set Routine
If your dog is nervous, the best you can do is keep a calm and quiet household, with no sudden moves that could startle him.
Take time out to bond with him; have some quiet time where you sit quietly together. If your dog is happy to be stroked, do so, but don't touch him unnecessarily if he is nervous about humans.
Settle him into a routine; dogs like that as it helps to make them feel secure.
Your cocker spaniel may already be well-trained. However, I would practice basic puppy obedience training commands to help the bonding process. If your Cocker has never been trained, this is your chance to shine!
Allow your dog his own time and space, perhaps a crate, where he can feel safe. You can learn how to crate train your dog here if you decide to use a crate, and I recommend you do.
Depending on how seriously your pet has been abused, how timid your dog is, and his age, he might benefit from socialization training by getting him used to everyday household items to show him that they can do him no harm.
This may be challenging because the socialization window closes when the puppy is around 12 weeks old. However, it is not impossible, but it may take quite some time, and you may need to accept that there will be some things you will never be able to get your dog used to.
(For example, if he's been hit with a broom handle in the past, he will probably always flinch whenever a broom handle is close by, quite understandably. It's unlikely he'll ever forget that it harmed him!)
Where Cocker Spaniel rescue dogs are concerned, patience and kindness are key.
Pooping: Is Five Times a Day Too Much?
As for pooping 5 times a day and whether or not it's normal, it depends on what you feed him, how much, and how often. I always feed my dog dry kibble, which is specially prepared to give him all the nutrients he needs to keep him fit and healthy.
Follow the feeding instructions on the packaging to avoid overfeeding your dog because overfeeding can lead to pooping too much.
Tit-bits should be kept to a minimum because cocker spaniels are prone to obesity and can become overweight, particularly in their senior years! Training treats are okay while training your dog, but they should be offset against his food allowance.
Ensure that a supply of fresh cold water is available for him, especially after his meals.
You can feed your dog once daily, in the morning or evening.
Or, you can feed him twice daily, in the morning and again at around 5 or 6 pm; just remember to half the portions.
If your pet eats his meals regularly, it should help regulate his bowels.
The choice should be whatever suits your dog. If the problem continues, you may like to have a quiet word with your vet, just to be on the safe side.
Ellie, The Surrogate Mother
By: Agnes
From: Hertfordshire
Our Cocker Spaniel rescue dog, Ellie, came from Wood Green Animal Shelter in 1996. She was being walked back to the re-homing kennels when my son and I followed her along the path.
I wasn't looking to adopt a dog as I already had a Springer Spaniel, I had merely gone to buy some dog food, but when she turned around and tried to reach us, I was hooked!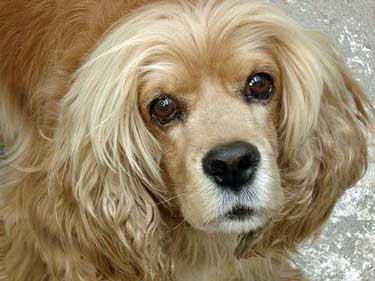 Hello, my name is Ellie!
I asked the walker about her, and he warned me that a spaniel would need a lot of exercise despite her being so pretty and delicate-looking.
When I explained I already had a Springer and was well aware of their needs, he immediately let me reserve her pending house checks, etc.
Unfortunately, Ellie became very ill with Kennel Cough a couple of days later. At one point, it was touch and go whether she would survive. 
I would drop my son off at school each morning and then go on to Wood Green to see Ellie, having to remove my clothes in the conservatory and shower before I could have contact with Snuff when I returned home!
I did this every day for six weeks until I could eventually take her home.
This was when we discovered that Ellie's previous owner had not been honest about why she was put up for adoption. She had obviously been badly treated as she would flinch if we moved too quickly or held something, which to her resembled a stick and would hide under the table.
Also, she wouldn't cross a doorway into another room. She would just stand and look at me, and if I approached her, she would back off. When I realised she had previously been shut away alone, I gradually and patiently encouraged her to walk through doorways. It wasn't long before she ran through the house and upstairs to my bed!
She was more frightened of men, and it took her some time to trust the males in the family.
However, Ellie immediately formed a firm friendship with Snuff, and when two years later, she had her litter.
Ellie was allowed to mother all ten puppies. She would clean them and worry about them if they wandered too far from the whelping box as soon as they could move around, and Snuff allowed her to sleep with her lovely family. She would not be left out!
We kept two of Snuff's puppies, and the four lived happily together. We would all go on holiday to Scotland, and they had a wonderful life in the country.
We had Ellie from ten months old until she died at the age of fifteen. She was such a joy, a loyal and loving friend to the family and to Snuff, Boomer and Belle.
I still miss her very much and wouldn't hesitate to get another dog from a Cocker Spaniel rescue centre.
Our Lady Love, A Diamond in the 'Ruff'!
By: Merle Ann
From: Independence, CA USA
After losing our two black cocker spaniels, Duke and Duchess, only 18 days apart in March of 2012, we promised ourselves that we would look for another around Christmas time.
After checking at our local dog shelter and not finding any cockers, we branched out 180 miles to where we had previously lived.
Lady is so very sweet!
The Apple Valley Shelter had been recently built. It was a beautiful new facility, and it was our first time there since we had moved.
After passing kennel after kennel, we stopped short. There was the most scraggly-looking dog you could ever have imagined! You had to look closely to see that she was even a cocker spaniel.
She had just arrived that day and was on hold for 4 days to see if anyone would come in to claim her. We could put a hand through the gate to pet her, and her sweetness tugged at our hearts.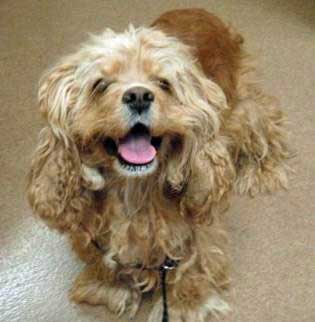 Say Cheese!
It was a long four days, and at an appointed time, we could call in to see if anyone had claimed her or if others were interested in adopting her.
Fortunately for us (and her), no one came for her, and no one else had shown any interest in adopting her. We were the only ones who could see the diamond in the ruff.
She would be ours after another 24 hours and a trip to the vet to be spayed.
We drove back the 180 miles to be there when she came out of surgery, not knowing if she would accept us. We saw her for the first time once she was out of surgery, and with no gate between us, she pottered over and melted into our arms. The rest is history!
We took her to our groomer the next day and had her completely shaved down. She had burrs between her toes, hair extending six inches beyond her paws and mats everywhere.
To our amazement, Lady was fully housebroken and knew some basic training commands.
She wasn't chipped, had never had a litter of puppies, and was estimated to be two years old. Her unkempt appearance and overgrown coat showed that she had been on the run for quite some time.
Our dog, Lady, loves people and is very trusting. You'd never know she was a Cocker Spaniel rescue!
Her only issues are that she needs to socialise with other dogs and has a few barking problems. However, her training is coming along very nicely.
We've had Lady for 10 months now, and except for an occasional terrorising of the cats (in fun play), she has made herself at home with us.
We would love to know why this sweet girl was on the run and why her previous owners never came for her, but their loss is our gain, and we will love her all her days.
We Found Our Cocker Spaniel Rescue at the Launderette
By: Teri Porto
From: La Puente, CA
We acquired a little terrier mix several years ago and thought we had it made. Tini ruled our hearts and our home.
However, all that changed when early one morning, I stopped at a local launderette because, in the doorway, I saw a beautiful golden cocker spaniel.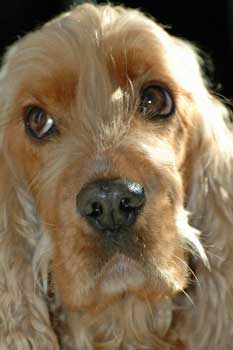 How could you possibly resist those eyes?
She was scared out of her mind and, I am sure, was wondering where her owner was.
She leapt into my arms, and I was smitten. My friend and I asked the lady running the launderette if the dog was hers, and she said it wasn't.
Before you could say lost but found, I took her home to convince my husband, brother and mother that we needed just one more dog. She was so sad, so cute and seemed so vulnerable. What could they say?
Well, it turned out that one look at her was all they needed, and she was ours.
The first thing my husband did was get her a new bed. However, the experience of being abandoned left a deep impression on her. She moved onto her new bed but sat with her back toward us!
She spent a week sitting like that. It was as if she wondered what she'd done to deserve being left alone.
The sad face tore at our hearts, but with extra love from our family and Tini to lead the way, Teddy Bear came to be ours.
She has now been a member of our family for over two years and is such a loving companion to our other dog Tini. They've spent the past two years as rivals and friends until last year when Teddy Bear lost her closest friend. Yes, Tini passed away.
It broke our hearts.
Teddy Bear now rules our home; she will always have a loving forever home with us. No more will she face the disappointment of being left alone.
Dillon, My Cocker Spaniel Rescue Dog
By: Karen
From: Manchester. UK
Meet my handsome boy, Dillon, who I got when he was 2. He's a very affectionate cocker spaniel who loves playing with my 15-year-old cat, Dexter.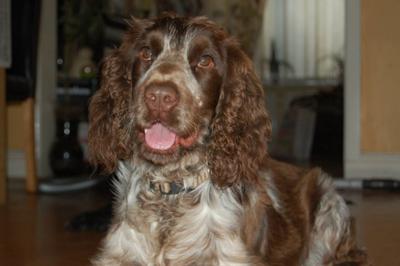 Meet Dillon, a chocolate roan Cocker Spaniel rescue dog
Dillon is a chocolate roan show cocker spaniel. He's an unusual colour, and I'd like to know if anybody has a cocker spaniel the same colour.
I love the breed, but I recently had to have my beautiful little cocker, called Molly, put to sleep at 5 years old.
She contracted a disease called "AHIA", which attacks the immune system.
The condition is often seen in cockers, but I had never even heard of this disease. It came as a bolt out of the blue, so please visit the website "Mishas Hope" for more information on this dreadful disease. It could be a lifesaver!
I only wish I could have known about this earlier, but my vet said Molly had a very severe case of this, and even after a blood transfusion, they couldn't save her.
It was so fast. Molly was full of beans the day before, and the next day she was gone. That's how quickly it can strike. If I can save just one other dog (and owner) from going through this, it would be great, so please look it up.
I was devastated when this happened, and getting my Dillon has eased my broken heart.
Bracken, The Rescued Sprocker
One day, I was out walking with my four dogs when a man stopped me and said he knew of a family local to us with a 14-week-old black cocker spaniel that they couldn't cope with.
He asked if I would like to take it on since I already had a cocker.
Well, I took the details, and my husband and I went to see the dog, which turned out to be a beautiful liver-coloured, 5-month-old Sprocker (cocker crossed with a springer)!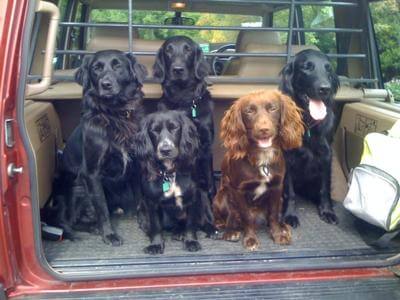 Hmmm, I Wonder Which One's Bracken?
She was lovely but manic, and the family clearly couldn't manage her.
She wasn't getting enough exercise or mental stimulation. From our short visit, I could tell that, although with the best intentions, the dog wasn't getting consistent training and instructions.
On top of all that, the children weren't interacting well with her.
So how could I refuse?
In the 20 minutes or so it took for me to load all her things, which her previous owner gave us (bed, bedding, crate, food, bowl, lead etc.) into the car, the dog had been sitting in my husband's arms, and they had already formed a strong bond.
So, we brought her home, and our other four dogs (two flat-coated retrievers, one collie cross and a working cocker) accepted her almost immediately.
There was a little argy-bargy over the next few days as Bracken, as we re-named her, settled into her place in the pack, but the transition was very smooth.
We called her Bracken because she came to us in November 2010. Her first walk with us was on our local moorland common. She blended in so well with the winter colours because her beautiful, shiny brown coat is almost the same colour as winter bracken!
So one year on, she's becoming the most gorgeous, loyal, lovable girl imaginable.
She still tends to be on the manic side, but she absolutely loves her cuddles and is incurably greedy!
She loves her people, especially my husband, and will do anything for a bit of food or, indeed, a tennis ball!
Her training is coming along really well, she's a bright, willing learner, and hopefully, she'll be out with my husband on her first shoot by the end of this season.
We all love her and her funny little ways and couldn't imagine our little pack without her now.
My Long Ears!

Title: My Long Ears!
By: Pareesa Irani
From: India
I'm 7 years old. I have wanted a small pet for quite some time. It could have been a bird, a squirrel, a kitten, a puppy, even a teeny weeny fish would do! Or maybe more.
One day my dad and I were walking when it started to rain. We were running to our car when we met a gentleman who took us to his shack.
It was cold and raining. When we went inside, I was horrified to find a young, tiny puppy tucked under a pile of wet hay. He looked miserable, cold, and shivering.
I felt so sad for the puppy and made up my mind to take him home. I convinced my dad to let me keep it, and I took the puppy home.
It was night time and bitterly cold, so I gave him some bread soaked with warm milk. He gobbled it up, snuggled in my arms, and went to sleep happy and contented.
This is my Cocker Spaniel rescue story - I hope you enjoyed it.
My Cocker Spaniel Rescue, George

Title: My Cocker Spaniel Rescue, George
By: Stacey Baker
From: London

I rescued George from somewhere in London. I can't remember where because it was 8 years ago. George was POORLY trained, and he had been abused.
Eleanor (my child), Chris (my husband), and I went to look around a Cocker Spaniel rescue centre, where we found George. We discovered that George had nearly died after being beaten and left at the side of the road!
Apparently, this very kind couple coming back from their honeymoon saw him lying there and decided to stop and pick him up. He was wearing a collar, so they knew he was called George, but on the other side, it had written, I don't want George back.
So the couple picked George up and took him to the Cocker Spaniel adoption centre.

We had just moved to London from America and wanted a dog to keep our dog company. So we looked around, and Eleanor fell in love with George. Chris liked this dog called Tilly, who was a Springer Spaniel. So we took both of them!
George has grown up to be a great dog and has a lot planned. He is now 10 years old and is still looking fit and healthy! And he loves playing with my children (I had another child called Harry).
They all get on well, so don't think rescued dogs are horrible and badly behaved.
Please save dogs. They need you to rescue them from a life of misery.
Oscar, Our Cocker Spaniel Rescue Pet

Title: Oscar
By: Lori
From: Frederick, Maryland
We adopted a cocker spaniel rescue to keep our little girl, Maggie, company. Maggie was raised with two sisters who have both gone to the Rainbow Bridge.

We found Oldies But Goodies Cocker Spaniel Rescue and fell in love at first sight with Oscar, a 5-year-old tri-coloured boy. 
He is a joy! 
They were indeed scared at first, but he soon became one of our children and a loving member of our family. This has been the best experience I have ever had: no dealing with the usual puppy stuff that is very difficult when both doggie parents work.
Rescue a cocker if you want unconditional love; you will not be sorry.
My Excellency: Divine Intervention

Title: My Cocker Spaniel Rescue Story: Divine Intervention
By: Gail Dawson
From: Prescott Valley and Quartzsite, AZ
Two months before my husband passed away, he agreed we should get a dog. He wanted a spaniel like the one he had as a boy.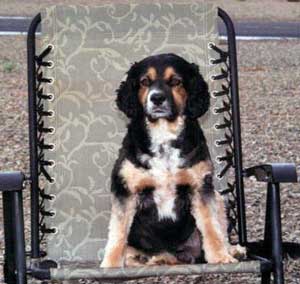 We visited the local dog shelters every two weeks to ask if they had any spaniel breeds to adopt, but we were told repeatedly that they never had spaniels in the dog shelter.
He wanted a male, and it would be named Brownie Junior, no matter what colour it would be since his childhood dog was called Brownie.
When my husband passed away, it took me two weeks to get affairs in order. When I went online, I noticed a mixed spaniel in one of the local shelters that repeatedly told us they never had/have spaniels. I found out that this particular spaniel was in this shelter the same day my husband passed and was there for two weeks.
I checked "Brownie Jr." out, and we instantly bonded. I have been blessed with "Jr." for a lovely 2 1/2 years, a Cocker/Cavalier King Charles mix. Now I'm looking for a playmate for him. I am a full-time RVer, and I plan to move into an apartment within the next year.
I walk him two times daily, and he loves socializing with other dogs from my family and friends and at the dog park.
I think my cocker spaniel rescued me!
Cocker Spaniel Rescue Dog: What Do I Need To Know?
Hi, I have a few questions for you.
I found an 8-year-old male Cocker Spaniel on New Year's Day. I took him to a Cocker Spaniel rescue shelter to be looked after as he was almost frozen to death.
He is currently ill, but once he's better, he will be able to be adopted.
It was a sign that he needed love and a good home when I found him, and I will give it to him if nobody claims him.
What information can you offer me regarding expectations for an 8-year-old Cocker male? I would appreciate any information you can give me as I have never had a pet before.
Thank you, Rhea.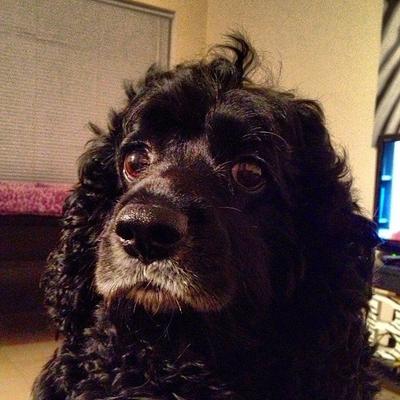 Hi, my name's Bianca!
Reply from Pauline (Web Owner)
Hello Rhea, I guess you may never know how your Cocker Spaniel ended up 'lost' unless the owner comes forward to claim him. You must be prepared for the possibility of this.
The shelter's vet will check him to see if he's healthy and without parasites (dog fleas and ticks etc.) and if he's chipped or tattooed.
Once the dog is well enough, the staff at the shelter will assess him for behavioural problems, if any. They may even have the resources to re-train him if required. 
They will also assess his temperament to help decide which type of home or owner would best suit him.
Luckily, adult cocker spaniels don't take half as much looking after as young puppies. However, like puppies, they do need a routine.
If you're going to adopt this dog, you'll need to buy him a dog bed and if you intend to use a crate for him, a pet crate and a couple of cosy dog blankets. You can learn about crate training a dog here.
He'll also need a few essential dog grooming tools to help keep him looking good, a couple of toys or chew ropes, a suitable collar with an identification tag, and a lead.
He'll also need food and a couple of bowls for his food and water.
There will be other things your dog will need, such as flea medication, worming treatments, and pet insurance, but you can buy those later.
Your cocker should be fed once or twice daily and given fresh water daily. I recommend feeding him kibble (small biscuit-type dog food) as it's a complete meal and is clean and odourless.
He'll need about one hour's exercise daily to keep him healthy and out of trouble - a tired dog is a contented (usually well-behaved) dog!
He was likely taught puppy obedience when he was younger, so he should be well-trained. 
However, you can test him to see if he understands the basic commands. If he does, that's great. If he doesn't seem to understand, why not teach him? You can learn more about how to train your dog here.
These are the basics to help you care for your new rescue dog.
While waiting for him to recover, why not trawl my website to see what hints and tips you can pick up? Browse the titles on the navigation bar at the top of each web page.
For starters, I recommend you read the puppy care guide. Because it's meant to be advice for puppies, you won't need to follow all of it, but it will give you an awareness of what you must do for your adult cocker.
You've shown great kindness and compassion towards this dog, and for that, I applaud you and wish you lots of luck and happiness in the future!
Cocker Spaniel Rescued from Craigslist
I recently rescued a poor, miserable Cocker Spaniel girl from Craigslist!
She's called Maddie, and I was told she was seven, but she's somewhere between ten and twelve years old.
When I first saw her, she had a growth covering one eye, her teeth were falling out, and she was so dirty. I couldn't bear to leave her in that condition, so I brought her home.
I had her groomed and cleaned up. She had 16 teeth pulled out, and another 2 fell out while the vet cleaned them.
The vet also discovered she had an infection in her jaw and a double ear infection. Unfortunately, she is now deaf, most likely from long-term ear infections.
I don't feel so good Mum!
The good news is she's now a happy little girl and so sweet. She's also very thankful to be out of pain. She's recovering now, and she's such a lovely dog and so polite!
I'm going to keep her and give her the home she deserves.
She dances around the house and is starting to give kisses. She is so wonderful. She looks great, and friends and family have noticed how the swelling in her face has reduced, making her look like a totally different dog!
The photos were taken the day I brought her home from surgery. I did not take photographs of her the day I got her. I didn't even think of it. I was just scrambling to get her on pain medication and antibiotics and then on to the groomers!
I was able to get all of this done from the Saturday that I picked her up at 4 pm to the following Monday morning for surgery. I put poor Maddie through a lot in 72 hours, but she still loves me.
She cuddles with me every night before bed and loves to get treats.
She's still not allowed any hard bones due to the infection in her jaw, and the gums had to be re-pulled back over the exposed bone. The doctor stated it could be Christmas time before her jaw and gums are completely healed.
She's eating normally, which is a good thing. She's on high-end dog food to work on her coat and will have a bath this weekend.
Paying for this has really put a financial strain on me, but I just had to help her. I simply couldn't leave her.
Captain of Everything
By: Jo
Indian Rocks Beach, Florida, USA
When my husband and I decided to get a dog, we started looking at designer dogs. We found a breeder who introduced us to the prospective parents of our 'new puppy'.
The countdown began as we waited for the birth.
Meanwhile, my husband kept talking to me about how much he had loved his Cocker Spaniel, Erin, who had passed away before we met. He really wanted a male cocker!
Our Captain is watching over the harbour!
I, on the other hand, wasn't so keen. I had heard that cockers could develop cocker rage, have ear problems, tend to go blind early, and frequently pee when over-excited.
Not quite what I wanted to sign up for!
I wanted a female dog because I believed they were inherently more gentle than males.
To make a long story a little shorter than it is, the day before we were to pick up our puppy, I went by the local Cocker Spaniel rescue centre, and there he was!
A miserable-looking, 3-year-old blond cocker was in a cage in a room with smaller dogs because he was traumatised by the larger dogs' commotion and barking.
His owners were divorcing and couldn't provide for him.
He sat still while I spoke to him and gently took the cookie I offered. I fell in love!
The following day he had a makeover at the groomers, turning from grim to glamorous!
Since we did not like the name he came with, we started trying out new ones, but nothing worked until my husband asked if I thought this sweet dog would like our boat. I laughed and said he would probably be the Captain. There it was! His new name.
Our Captain is 8 years old and has been a joy. He came to us housebroken, with excellent training; sit, down, stay. He never wanders, even if we accidentally leave the door open. He is well-behaved off-leash and at the dog park.
We own a retail store, and he comes to work every day. In fact, he is a local celebrity, and people come in just to say hello to him.
We love our dog wholeheartedly and hope that the adorable designer puppy got a wonderful, loving home.
Wally, Our Beautiful Cocker Spaniel Rescue Dog
By: Alan Wall
From: Blyth, Northumberland, England
Our story started when we lived in South Africa, and we got a golden cocker spaniel rescued from a building site in Skilpadfontein, which was unwanted by the site manager.
He said it was about two years old.
We really loved him. His name was Higgi, but unfortunately, he became sick after seven months.
Our beautiful Golden Cocker Spaniel Rescue Dog
He had had hookworm, among other things, before we got him. We tried our best to save him and had him at the vets on numerous occasions and eventually in the large animal hospital in Odesteport Pretoria.
He died, and we cried our eyes out and wanted another cocker as he had been such a loving dog.
We went to Waltloo dog shelter in Pretoria. We could not see another cocker and were about to leave when this terribly thin, smelly, tick-ridden cocker appeared, wagging its tail (all our previous dogs had docked tails).
The wife immediately said, let's have him, and I said no because he looked terrible. My wife pointed out his wagging tail and said his eyes were pleading with us to take him home.
Well, we got him the next day and took him home. We called him Wally, and he was our beautiful, loving cocker for many years.
When we decided to return to the U.K. in 1999, he came with us along with his big brother, Rommel, another rescue dog (a Weimaraner).
Wally eventually died in 2008, aged seventeen and a half and will forever be in our hearts.
Wally and Rommel were the first dogs from South Africa (certificates to prove it) to come into the quarantine kennels in Rowlands Gill in Northumberland.
Our Cocker Spaniel Rescue, Lady Love: Update
By: Merle Ann Fenske
From: Independence, California USA
In the fall of 2013, I wrote about Our Lady Love, a Diamond in the "Ruff".
Here's an update:
Lady has been with us now for almost five and a half years. She has remained the sweetest companion, and we love her dearly.
Her personality has blossomed, and she is a professional couch potato! A real slug. But she visits our dear neighbour "Grandma Alice" and her pet Nikki, who is about 12 years old, and they are the best of friends.
Zzzzzz
They have a 2-acre yard to run and play in and stalk birds, bunnies, gophers and other animals that make their way through the yard.
Lady has become a great camper when we take our RV out for a weekend or longer and spend two weeks driving from California to Texas and back for Christmas.
We are planning a trip to the Grand Canyon and another to Texas in July.
She still is cautious around larger dogs, and at times, she barks at sounds, but overall she's settled into our home and family.
She and one of our three cats, TaTa, have become snuggle buddies and can always be found napping together. Lady loves to lay in the warm California sun while I am in the garden or sitting on the porch.
She is about seven years old and has earned her "life of leisure," She is the perfect companion for a nearly retired couple in their early sixties who live in a very rural community.
I hope you enjoyed the update to Lady's story. We love reading about all of your stories, as well.
God Bless!
Just A Very Lucky Guy

Title: Just A Very Lucky Guy
By: Chris
From: Howard, Queensland

My cocker spaniel rescue story is this.
Monnie came into my life when he was about 9 years old. His previous owner had passed away. He'd been left at an RSPCA shelter and had severe behavioural problems (separation anxiety).
He had been with another family before my meeting him, but they couldn't cope with him. So, they brought him back to the shelter. Yep, old Monnie could certainly bung it on, but he settled into our routine with the help of our two other ageing cockers (who have now passed on - very sad).
Well, now he is my constant companion and is a great comfort during times of stress, but old Monnie is now 13 and slowing down - I guess I won't have him much longer.
Still, it's been great to have given this old gentle dog a loving, warm and comfortable home, and the rewards have been so rewarding.
When your loving old dog has passed away, my remedy for helping you deal with the feeling of loss is to return to the rescue shelter and get another. So far, I've lost about seven Cocker Spaniels!
For me, Cockers are simply the best!
Do You Have A Success Story About A Rescued Cocker Spaniel?
If you have a great story to tell, why not share it with us?

We'd love to hear it!
Cocker Spaniel Rescue Centres
For our American visitors, this Cocker Spaniel Rescue site may have something for you!
And for our British visitors, here's a list of rescue centres in the UK, alternatively, you might like to visit this site. It re-homes cockers and springers.
Cocker Spaniel Rescue Not For You?
You may decide that Cocker adoption isn't for you. It may be that you've been unable to find something to suit you and your family from a Cocker Spaniel rescue centre.
Or, you may prefer to buy a puppy from a professional breeder. If this is your choice, take a look at these two articles: How to find a good breeder and Questions to ask your breeder.
Whatever you decide to do, I also recommend this informative article about Getting a  new puppy to help you get the best out of your pet.
Photo credits for Cocker Spaniel Rescue:
1. Mkoudis at https://www.dreamstime.com/stock-image-cocker-spaniel-1-image13022891