Breeder Puppy Contract and Paperwork: Don't Leave The Kennels Without It!

Breeder Puppy Contract and Paperwork
A breeder puppy contract may not sound as exciting as bringing home your gorgeous new Cocker Spaniel puppy, but it is an essential part of the buying process. The contract sets out your and your breeder's rights during and after the sale.
A professional breeder will always give you a puppy contract. Beware of any breeder that doesn't supply one; you may be dealing with a puppy farmer. Don't leave the breeders without one!
An explanation of what is usually included in a breeder puppy contract and associated puppy paperwork follows.
Breeder Puppy Contract and Essential Puppy Paperwork
Cocker Spaniel puppies are not cheap (or any other breed, for that matter!), so you'll need the reassurance that you're getting what you have paid for.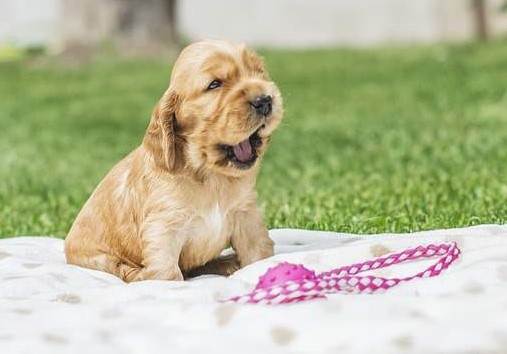 Are you taking me home today Mum?
Your breeder will supply you with a puppy contract, and a receipt to confirm under what guarantees your purchase has been made. The puppy contract will protect you should anything go wrong.
What follows is a guide to what's involved in the process of a puppy sale and what you should ask your breeder for at the point of purchase.

Breeder Paperwork
Receipt
The breeder usually requires a holding deposit from you to reserve a puppy. Deposits are generally not refundable, so you'll need to be sure about your choice of breeder and puppy before parting with your hard-earned cash.
You will be given a receipt; however, if you're not offered one, ask for a receipt, and remember to ask for a full and final receipt once you've paid the balance.
Don't leave the breeder's premises without asking for a receipt.

Breeder Puppy Contracts
A breeder worth his or her salt will always offer a formal contract as part of the buying process. If there is no contract, ask the breeder why they don't offer one.
No puppy contract could mean you're dealing with a puppy farmer!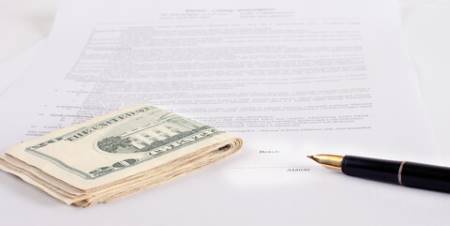 Before you sign on the dotted line - read the puppy contract!
A breeder puppy contract is a legal document that aims to protect the breeder and purchaser. This puppy contract must be signed by both parties to be viewed as a legal document.

It will list the details of your puppy, for example, its name, breed, sex, and colour, and how much you paid for it.
It will also list any warranties the breeder has given. For example, what the breeder is willing to do should you give up your puppy.
There will also be conditions of sale; for example, one of the conditions may be that you agree not to breed from your dog. The breeder may require you to have your dog neutered within a specified period.
The breeder's name, address and contact details are likely to be included on the breeders contract, as well as your own.
This is an important document. If you're not offered a copy of this (unsigned) at the outset, be sure to have a signed copy before you leave their premises with your puppy.
Don't leave the breeder's premises without it.
Puppy Health Insurance
Unfortunately, there is no 'Doggie National Health Insurance'.
If your Cocker Spaniel needs treatment, veterinary costs could quickly spiral out of control, leaving you unable to pay the vet bills.
Reputable breeders will insure the puppy, usually for approximately 6 weeks, but it will be up to you to ensure the insurance is renewed before it lapses.
Your breeder will give you a copy of the insurance cover note to take home. This will give details of what circumstances the insurance covers.
DON'T ever consider buying a puppy that the breeder does not insure for you.
What you need to know BEFORE you choose pet health insurance for your new puppy.
Pedigree Certificate
The Pedigree Certificate is a document that historically shows the puppy's family tree, preferably five generations. It confirms the name of the puppy's parents and ancestors in several columns.
The first column will show the name of the sire (father) and the name of the dam (mother) underneath.
In the next column, the parents of the sire and dam will be listed (4 names).
In the column next to that, the parents of the parents will be listed (8 names) and so on.
The breeder must sign the document to confirm that this accurately records the puppy's pedigree.

Kennel Club Registration Certificate
The breeder will often wait until all puppies have been sold and given names before registering them with their new owners' details.
The Kennel Club is efficient and should return the certificates to the breeder in a few weeks.
Litter Registration Form
If the breeder hasn't yet received the certificates, you can ask to see the litter registration form. This will list the names and addresses of the sire and dam and will give details of all puppies in their litter.
The form will also show the registration numbers of the puppies' parents and the date of the mating and will be signed by both owners.
The registration form is usually completed by the breeder and sent to the Kennel Club when the puppies are born.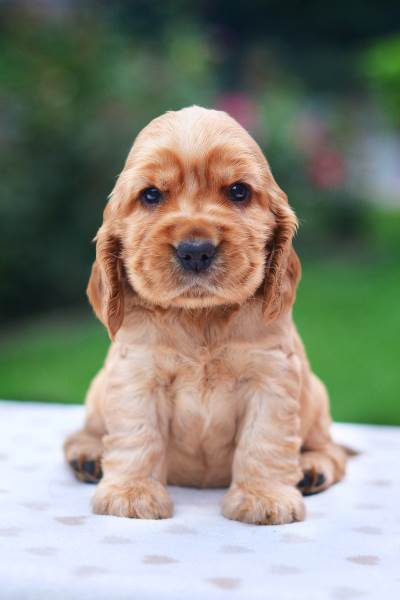 Time to go and see my new forever home, Mum!
If the Kennel Club registration certificate or the litter registration form aren't available, or you have suspicions about any of the paperwork, ask the breeder if you can contact the Kennel Club for confirmation over the telephone before you leave.

If the certificates are available when the puppies are ready to leave, it's advisable to check that the names and dates on the registration certificate match those given on the Pedigree.
It's also advisable to check that the breeder's details on the registration certificate are indeed those of your breeder and that they're not selling the puppies on behalf of someone else!

Vaccination Card
Your puppy must be vaccinated against the following infectious diseases:
Canine Distemper
Hepatitis
If there isn't a vaccination record in your puppy pack, please check with your breeder.
If your puppy needs to be vaccinated, it's essential to take him to your chosen vet as soon as possible, preferably on the day you plan to bring him home.
These diseases can be fatal, so you must vaccinate your puppy following your vet's recommendations.
It's normal for the breeder to have their vet administer the first round of vaccinations when the puppy is about eight weeks old before they leave for their new forever home.
In this case, they will include a vaccination certificate in your puppy pack so that the vet you register with will have a record of the puppy's vaccinations so far.
Your puppy will need further vaccinations, usually at around 10 weeks of age.
Puppy Pack
A good breeder will always issue the buyer with a detailed puppy pack.
This pack will contain everything you need to know about caring for your new puppy, such as advice on feeding, exercising, toilet training, some simple training commands, perhaps some photos and details of the sire and the dam, advice on socialization, etc.
The puppy pack will also include the Breeder Puppy Contract.
Where the puppy has been given vaccinations, the breeder will confirm this and give details of which vaccine product was used. The vaccination card will be stamped and dated. You must show this to your vet when you get your puppy home.
If the puppy has been wormed, paperwork and details will be included.
Our breeder also included a small diary with detailed entries on important dates, e.g. birth date, date weaned, first vaccinated, first wormed, etc., and we found this information invaluable.
Information in a puppy pack will prove handy to you, especially if you've never owned a dog.

Bringing Your Puppy Home
Now that you have the paperwork, it will almost be time to bring your puppy home.
However, one or two tasks are left to make sure your puppy's move to his new home is as comfortable as possible.
Click here for practical tips and advice on bringing home a new puppy.


Photo credit for Breeder Puppy Contract And Paperwork:
1. https://www.dreamstime.com/stock-image-enter-contract-image18304321#
2. Katrina S at https://pixabay.com/photos/dog-puppy-szczniaczek-animal-2583924
3. Katrina_S at https://pixabay.com/photos/coker-spaniel-english-puppy-2634079