Puppy Mills: How To Spot Them!

Puppy mills, also known as puppy farms, breed puppies simply for profit. Conditions are often horrific and the pups' health very poor owing to cruel neglect.  Read on to learn how to know when you're buying from a puppy farm.
Why You Shouldn't Buy From A Puppy Farm
Please don't buy from puppy mills. You may not know it, but many puppies bought from these places have serious health issues as a result of sheer neglect. Many of these puppies don't even reach the age of six months!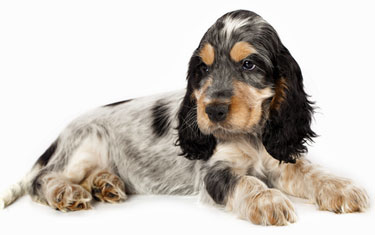 During this time you are likely to have shelled out considerable amounts of cash on vet bills and had to endure much sadness and heartache watching the pain and suffering of your little puppy. 
Please don't think that by buying a puppy from one of these farms you'll be helping to rescue an ill-treated and unhealthy puppy. You won't be. Instead, you'll be allowing farms like these to thrive and continue their cruel breeding practices.
If you follow my advice below it will help you to avoid accidentally buying a puppy that's been born and raised in one of these horribly cruel breeding kennels.
Luckily, this little fella above wasn't bought from a puppy mill. He comes from a good breeder, and it shows!
How To Avoid Buying From Puppy Mills

Puppy farmers are eager for your money and will go to extreme measures to try to pull the wool over your eyes. So, how can you be sure you're buying from a responsible breeder?
Be Sure To...
Puppy Mills: Obvious Warning Signs!
When you arrive at the breeders premises, take a look around you. There may be some obvious warning signs that you could be dealing with a puppy farmer, for example: 
The breeder is offering many different breeds of puppies;


The pups are crated, or kept elsewhere and brought to you one puppy at a time. You need to see all puppies together (even if most of them are ear-marked as sold) so that you can see them interact with each other. 


The mother is either very young or looks unkempt and in poor health, indicating that she's not properly cared for and is over-breeding;


The seller isn't very knowledgeable about Cocker Spaniels;


The breeder doesn't ask you questions to assess your suitability as an owner for one of their puppies, indicating that money would seem to be the main issue.


Puppy farmers tend not to name their breeding bitches. Warning bells should ring if the mother doesn't seem comfortable around her owner or doesn't seem to recognize her name. 


Be cautious if the breeder recommends or is willing to let the puppy go to their new home before it's 8 weeks old. The breeder may well save money letting the pup go early, but its development will almost certainly suffer. 


If the seller asks you to collect your puppy from anywhere other than their kennels (for example, a shopping mall car park or a service station), refuse.

The same applies if they offer to deliver the puppy to your home. It's likely that they don't want you to see their premises. Ask yourself why?

Don't Buy From A Pet Shop!
Although the pups may look healthy, you can't be certain where pet shop puppies have been bred, nor can you be certain of their pedigree.
They're very often being sold on behalf of one or more puppy mills or they've been bred by inexperienced individuals who don't have the welfare of the puppies at heart; they only want to make money.
"The advertisement listing Cocker Spaniel puppies for sale may have been placed by a professional breeder, a puppy farmer, or a pet shop owner - the question is, how will you know which one you're replying to?"
If You're Replying To A Newspaper Advert...
If you're replying to an advert, read it very carefully.

Does the advert give lots of detail?
Are the puppies described with love and affection?
Does the advert confirm that the puppies have been wormed?
Have they had their first vaccination?
Will the puppy be insured, and if so, for how many weeks?
Is the breeder registered with the Kennel Club and has the puppy's birth been registered?
Do they offer a puppy pack and help after the pup leaves the mother?
Will the puppies be part socialized?
Will the breeder sell only to a good home?
Do they profess to be professional Cocker Spaniel breeders?

...or...,

Did the advert simply give the bare facts?
If you decide to answer an advertisement, answer the advert that contains the most information, and one that gives a kind and loving description. It shows that the breeder cares a great deal about the puppies and probably won't let them go indiscriminately.

Alternatives To Buying A Puppy
You might like to consider adopting a rescue dog (or if you're very luck, a puppy!) from your local Cocker Spaniel rescue center.
Breeders are very often on the look-out for caring homes for their dams when they've reached their breeding limit. If this sounds of interest to you, you might want to register your interest with one or two local breeders.
Avoiding Puppy Mills: Conclusion
Vigilance and careful questioning will help you to separate the puppy farmer from genuine, responsible Cocker Spaniel breeders.

Take your time, ask your questions, and make your assessment. Don't be rushed or 'backed into a corner'.
Never accept a puppy without having first seen where it was bred, the mother and its siblings,  and if they offer to deliver your puppy, be firm and insist you call to collect it.
If any of this appears to be a problem for them, thank them and move on, you're very probably dealing with a puppy mill owner!
You can read more about puppy farms here, (including a video of a puppy mill raid in Tennessee). 

Good luck!
Have Your Say About Puppy Mills!
If you'd like to have your say about a puppy farmer or if you've had dealings with a breeder, or you know someone who has, why not share your story here?

Enjoyed this page? Click 'Like'!

If you enjoyed this page, please click on the 'Like' button below and tell your friends about us. Thank you.

Top of Page