7 Good Reasons To Avoid Puppy Farms

Puppy farms (also known as puppy mills) breed thousands of puppies every year. These pups never receive the love and care that would be offered by responsible breeders and they're often kept in such diabolical conditions that many don't survive to reach a loving home.

What Is A Puppy Farm?

Puppy farms are where bitches, often many different breeds, are bred en-mass, in horrendous conditions...and when the bitches can no longer breed......they are needlessly destroyed!

Puppy mill owners are in it purely for the money!

7 Good Reasons For Avoiding Puppy Farms

Please don't buy your Cocker Spaniel puppy from one of these awful puppy 'factories'...no matter how tempted you might be. You may feel you're saving a little puppy from a life of misery, but in doing so you will be helping puppy mills to stay in business.
I know it's difficult, but if you need any further convincing, here are 7 good reasons why you shouldn't buy your puppy from one of these terrible places: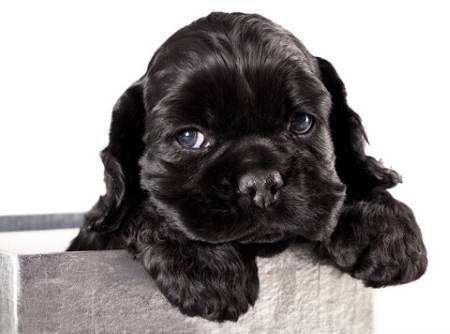 Healthy puppy from a good breeder, not a puppy mill!
1. Dirty & Inadequate Kennels
Puppies and bitches are often kept in highly unsatisfactory conditions; cramped and dirty kennels, with inadequate runs, where poop and pee are not cleared away.

2. Poor Diet
The bitches and her puppies are often fed a poor diet, resulting in limited nutrition reaching the pups at a time when their little bodies need it the most to help them grown big and strong. 

3. Overworked Mother

The bitches will often be overworked. They'll have many litters and won't be allowed adequate time to rest and recover from giving birth between litters.

4. Inadequate Exercise
The bitch and her puppies won't be given adequate exercise, if any, and puppy mill owners certainly won't take time out to play with their pups. Time is money!

5. Lack of Socialization & Training
Serious Health And/Or Behavioral Problems
Many puppies reared in these appalling conditions die within days of arriving at their new home.
Those who are lucky enough to survive may be so poorly socialized through lack of human contact that they may soon show signs of stress and behavioral problems.

It's unlikely that the puppies will have been give any form of socialization. They will have had minimum contact with people and in particular, children, and will have missed vital development stages that may not be able to be repeated.

It's almost certain that the pups won't have had any training of any kind, including potty training or crate training.

6. Puppy Farmers Will Sell To Anyone
Puppy mill 'breeders' aren't interested in finding out what kind of homes the puppies are going to, nor will they want to answer all of your questions; they're more likely to be interested in the sale, and will sell to anyone who can pay the price.

7. They're In It Simply For The Profit!
Pedigree English Cocker Spaniel puppies are not cheap, but puppies from one of these 'breeding factories' will usually be much cheaper. 
Let's face it, they can afford to sell their pups for less because they don't spend a lot on giving them the best start in life. It's highly unlikely that the puppies will have been wormed or vaccinated and their pedigree may also be questionable.

Any money spent on their puppies, necessities such as food, vaccination, health care, is kept to a very basic minimum to allow them to make a bigger profit.

If the puppy is very cheap, this may be a tell tale sign that you're dealing with a puppy farmer. 
Insist On Visiting Their Premises
Many puppy farmers don't want you to visit their premises, and will often offer to deliver your puppy. In no circumstances agree to having a puppy delivered. Apart from wanting to choose your own pup, you need to see the environment in which they've been raised, as well as the puppy's mother.

Farms (and puppy mills) are very definitely NOT the places to buy your Cocker puppy; please find a selection of reputable Cocker Spaniel breeders to choose from.
Alternatively, why not consider adopting a cocker spaniel from a cocker spaniel rescue center?

Tennessee Puppy Mill Raid
If you need any further convincing to stay away from these places, please watch this heartbreaking video of a puppy mill raid in Tennessee!
The raid is carried out by Stephanie Shain who is the Director of the Stop Puppy Mills Campaign for the Humane Society of the United States.

How To Avoid These Puppy 'Factories'

It's not always easy to spot the puppy 'factories' but this article will help you to work out whether or not you're dealing with a puppy mill owner.

Have A Horror Story To Tell About Puppy Farms?
There are many sad and heart-wrenching stories about puppies who started their little lives in a puppy farm.

Many of these little mites die before finding a loving home, or within weeks of being sold, and many end up in rescue centers, or worse!

Their pain and suffering is tragic yet...these places continue to remain open.

If you have a sad or moving tale to tell, (even better if it has a happy ending!) why not spread the word by sharing your story and help stamp out puppy farms?
Your Moving Stories About Puppy Farms
Click on the links below to see some moving stories about puppies bred in puppy farms.

They were all written by other visitors to this page.
Enjoyed this page? Click 'Like'!

If you enjoyed this page, please click on the 'Like' button below and tell your friends about us. Thank you.

Top of Page