Cocker Spaniel Puppy Games


Play Hide And Seek With Your Dog!

Who would have thought puppy games would have included hide and seek.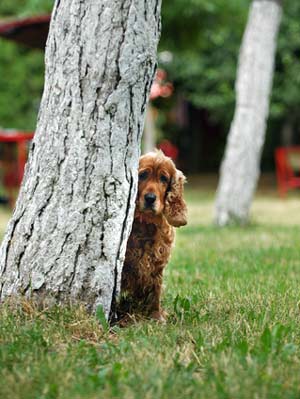 This is the same as the children's game of hide and seek but it's much more fun to play with your Cocker Spaniel puppy!
Before you begin any puppy play, always ask him to 'Sit' and 'Wait' - this not only helps to reinforce your puppy obedience training but also teaches him discipline.
Now, go and hide somewhere in the house. Make it easy for him at first; let him see where you 'hide'.
Call him to you and wait.
If he doesn't find you after a couple of minutes, call him again.
When he finds you let him have a treat and give him lot's of praise.
After a couple of successful games, you can move into another room to hide - but don't make it too difficult for him just yet.
It's enough at this stage that he finds which room you're in.
When your puppy begins to find you easily, make the game more challenging for him by hiding behind a door or furniture in another room.
Hide and seek is a good game for your puppy to play as it will teach him to respond more quickly to your recall command.
If he doesn't find you after a couple of minutes, call him again.
'Hide and seek' will have him (and you) tired out in no time - it's a great game to play before bedtime!

There are lots of great games you can play with your Cocker Spaniel, not only are they fun but they'll also help to stimulate him both mentally and physically!
We've noted a few for you to help you get started - as if you really need that - doesn't puppy playtime just come naturally?
If you'd like to see more puppy games, you can simply click on the links below.
Enjoyed this page? Click 'Like'!

If you enjoyed this page, please click on the 'Like' button below and tell your friends about us. Thank you.

Photo Credits for Hide & Seek Games - In order of viewing:

1. Serban Enache at http://www.dreamstime.com/stock-photos-hide-seek-image974623
2. Yoko69 at Flickr.com
Top of Page