Puppy Games - Fetch It!

Teach Your Cocker Spaniel How To Play Fetch It!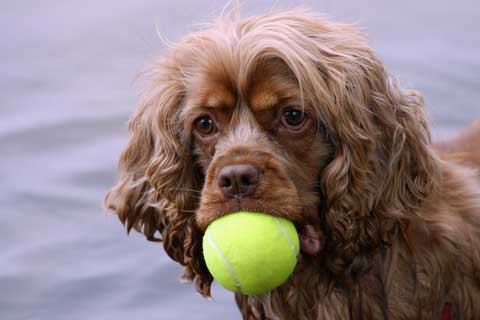 Playing puppy games with your Cocker Spaniel can be great fun and puppy play can be a good way of teaching your Cocker discipline and control.
Puppy play also gives you an opportunity to reinforce your puppy's newly learned obedience training commands.
'Fetch It!' is one of the best games you can play with your dog - I guarantee he'll love it!
Before you teach your Cocker this game, I strongly recommend that he's fully mastered the 'Drop It!' command so that he returns the ball when you ask him to.
How to play 'Fetch It!' With Your Cocker Spaniel Puppy
First, ask your puppy to 'Sit' and 'Wait' - using these puppy obedience commands will help to reinforce his obedience training.


Next, choose a toy or a ball and show it to your puppy.


Throw it a few feet away from him, and ask him to 'Fetch It!' You can choose to use the words, 'fetch it', 'fetch', 'go get it', or 'bring it' - the choice of wording is to suit you, but whatever you decide, you must make sure you continue to use it; remain constant in your choice of command to help your puppy get the message.
Your Cocker may instinctively run over to the toy, he may pick it up or he may even bring it back to you.

If he does any of these, reward him at each stage of play to let him understand that he's getting it right.

For example, praise your puppy if he approaches the toy, if he mouths it, if he picks it up and, if he returns it to you, praise him big style!


Although Cocker Spaniels are natural retrievers, you may need to work on this a little at first - be patient!

If your puppy picks up the toy and runs off with it, it's important not to chase him - learn why here.

If he picks it up but refuses to give it back to you, stop the game and walk away.

Remove the toy when he's lost interest in it and put it away - don't let your puppy keep the toy.

Return to the 'Drop It' command and practice until your Cocker Spaniel puppy drops the object as soon as you ask him to.

When your puppy has fully mastered the 'Drop It' command you can begin again with the 'Fetch It' game.
That's it - how easy was that?
More Puppy Games and Puppy Play!

Puppy playtime can be such fun and there are many great games you can play with your Cocker Spaniel.
We've jotted a few down for you to help you get started - although I'm sure that's not necessary! However, if you'd like to see more games, simply click on the links below.
Enjoyed this page? Click 'Like'!

If you enjoyed this page, please click on the 'Like' button below and tell your friends about us. Thank you.

---
Photo Credits - In order of viewing:

1. Lyn Adams at http://www.dreamstime.com/stock-images-playing-fetch-image5444514
2. Mr B1138 at Flickr.com
Top of Page