Homemade Dog Food

Feed Your Cocker Spaniel Good Home Cooked Meals
And Watch Him Shine!

More and more Cocker Spaniel owners are choosing homemade dog food over commercial dog food and, whilst it may be a little more time consuming than opening a packet or a tin, the additional benefits your dog will receive make it well worth the extra effort.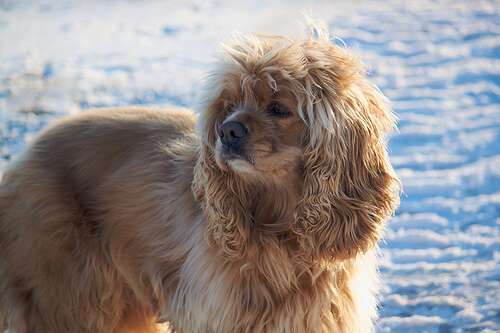 If you've never looked at the dog food ingredients listed on commercial dog food packaging you may be shocked to learn how much 'filler' such as corn is used and how many artificial chemicals, colourings, and preservatives the food contains.
In the past, there have been many recalls in the world of manufactured dog foods; for some dogs these recalls came too late.
In 2007, many pets became sick, and many died.
Eventually, it was discovered that some pet foods were contaminated with melamine which was causing kidney failure and killing our pets. 
Fortunately, many dog food manufacturers have learned from such mishaps and are continually improving the quality of their ingredients and manufacturing processes; however, many have yet to get it right - which is one of the reasons why the homemade dog food diet has increased in popularity.
By making your own homemade dog food you know exactly what goes into it - nothing but fresh, good quality ingredients to help your dog maintain a shining coat, healthy skin and clear eyes, strong bones and teeth, and lean muscle.
Homemade dog food, made with fresh, good quality ingredients, will help your Cocker to live a happier and healthier life - it can also help him to live longer too!
"A diet of fresh, quality dog foods will help to maintain a shining coat, healthy skin, clear eyes, lean muscle, strong bones and teeth,
but don't take our word for it - try it for yourself!"
What Goes Into Homemade Dog Food?

The short answer is - the best quality ingredients you can afford!
Basically, a homemade dog food diet is made up of proteins, in the form of human grade meat or fish as the main ingredient, a small selection of fresh vegetables for vitamins and minerals, and oatmeal, pasta, rice or potatoes for carbohydrates.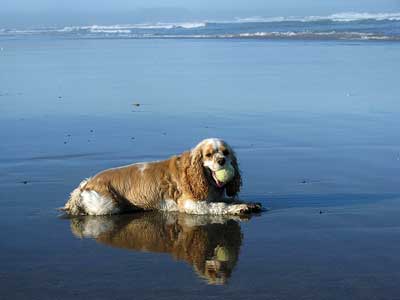 Proteins can be found in meat and fish such as, lamb, beef, rabbit, turkey, chicken, pork, salmon, sardines, and tuna.
Eggs are also packed full of protein. Max, our Cocker Spaniel, an occasional egg or two in his diet, mixed with a little white or brown rice - he's not interested in the nutritional value; to him, it simply tastes good!
Essential fats and oils can be found in oily fish, nuts, grains, vegetables, and most meats. However, too much fat in the diet can lead to overweight dogs so if you are to keep your Cocker Spaniel trim, it's important to monitor his intake of fats closely.
Fresh, healthy vegetables such as potatoes (peeled), carrots, cauliflower, Brussel sprouts, cabbage, spinach, parsnips, peas, asparagus, celery, and broccoli will provide your dog with essential vitamins and minerals.
The meat, or fish, and vegetables can be mixed with whole grains or oatmeal to provide a satisfying, well-balanced, nutritional meal.
Don't be tempted to add salt to your Cocker Spaniel's diet - he doesn't need it; too much salt in his diet is not good.
At the beginning of the week, make up a batch of homemade dog food and keep it in the refrigerator - it should last for up to 4 days. Alternatively, you could freeze portion-sized batches and defrost each day as needed.
Find a selection of tasty homemade dog food recipes here.
Types Of Homemade Dog Foods

If you want to make your own dog food, there are many types to choose from.
There's the organic dog food diet where the ingredients used are natural, and food is processed in an environmentally friendly way. Livestock is farmed responsibly, usually free-range and without the use of antibiotics or growth hormones. Vegetables are grown without using artificial pesticides, insecticides, herbicides or fertilizers.
The natural dog food diet is similar to the organic diet, except the ingredients are not necessarily organic.
It's made from ingredients derived from plant or animal sources, preferably in their unprocessed state or prepared with the minimum of processing, and without the use of chemicals, to enable the food to retain all its natural goodness.
Then there's the raw dog food diet, which is sometimes also known as the 'BARF' diet. It consists mainly of raw meat and bones, such as beef, lamb, chicken, duck and rabbit, and offal. The diet can include a small amount of raw fruit and vegetables. Eggs, including the shells, cottage cheese and plain yoghurt, may be included in a raw food diet as they are excellent sources of calcium.
The word 'holistic' in holistic dog food relates to taking care of the entire body. One of the ways we can do this is by feeding our dogs good quality ingredients that will 'feed' the entire body. That well known phrase, 'You are what you eat' is a great example of a holistic diet.
Holistic dog foods contain high quality ingredients - foods that are natural and don't contain chemicals, artificial preservatives, colourings or flavours. Natural dog food is another term for holistic dog food and is often used interchangeably.
Tips For Preparing Homemade Dog Food

Before making your own homemade dog food, it's important to understand that there are many everyday foods that can be poisonous to dogs and should not be included in your dog's diet.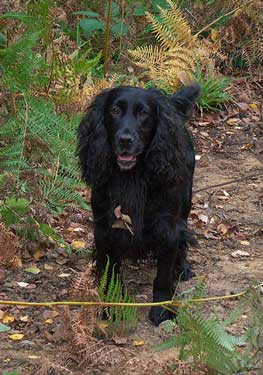 Additionally, cooked bones should never be fed to your dog as the cooking process makes them brittle and prone to splintering, which could choke your dog or damage his digestive system. If you'd like to feed your dog a juicy bone, make sure it's uncooked.
When preparing your dog's food ensure all work surfaces and kitchen utensils are kept scrupulously clean - use anti-bacterial spray if you can.
Don't change your Cocker's diet over to homemade food immediately; begin by mixing his existing diet with a little of the new food that you've prepared and gradually increase the homemade food and decrease the commercial dog food until the transition has been made.
Why not
share a couple of your favourite homemade dog food recipes
with us?
Important Note About Homemade Dog Food:

It's important to note that not all dogs are the same, so if you plan to make any changes to your pet's diet you need to understand that different breeds and sizes often have differing nutritional needs.
No matter what size of dog or breed you own, simply tossing together scraps of meat and leftover dinner from family meals will not necessarily constitute a healthy and nutritious diet.
We strongly recommend you visit your vet for advice before making any changes to your dog's diet. Your veterinary practice may be able to help you plan your Cocker's meals - they may even have homemade dog food recipes for you to try - just make sure you rotate the recipes to help you give your dog a variety of foods and a well-balanced diet.
Related Titles
If your Cocker Spaniel has an ailment, your vet may suggest you try a prescription dog food diet to help combat the problem.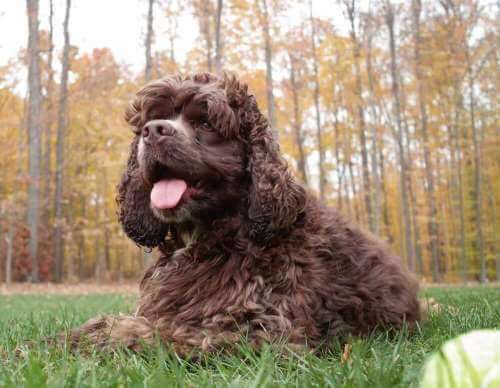 A raw dog food diet (the BARF diet) can help to improve your Cocker's health and give him a lovely glossy coat - try a couple of raw dog food recipes and see the difference for yourself!
A vegetarian Cocker Spaniel? Learn more about the vegetarian dog food diet.
Dog food allergies are a nuisance - why not try a diet of hypo-allergenic dog food to combat the allergy?
Your Cocker Spaniel's diet should be varied to ensure your best friend gets all the nourishment he needs to keep him fit and healthy.
It can, and it does sometimes happen - learn more about food aggression in dogs here.
If your pet is unfortunate enough to suffer from anxiety when he's feedding, learn how to prevent dog food aggression here.

Elevated dog food bowls are raised from the ground to help your Cocker's digestion. They can also improve his posture and as an added bonus, the floor stays cleaner too!

Like This Page?

---
Cocker homepage

>
Healthy dog food
> Homemade food for your dog
Photo Credits - In order of viewing:

1. Tuchodi at Flickr.com
2. Jeremy McWilliams at Flickr.com
3. Tom Hart at Flickr.com
4. Skinbops at Flickr.com