The Best Puppy Names for Cocker Puppies!

Looking for cute puppy names but don't know where to begin? Do you need the inspiration to help you choose something special for your new Cocker Spaniel?
You're in luck! Our database will help you find something extraordinary for your new Cocker puppy. Just scroll down and click on any of the links.
Go ahead and take a look - we don't bite!
Cocker Spaniel Puppy Names

Puppy names come in all shapes and sizes, just like Cocker Spaniel puppies!
Deciding on a unique name for your new Cocker pup is an exciting time, so don't rush it; take your time and enjoy yourself!
Many of today's dog names are unisex, with a few exceptions. Still, if you prefer traditional names for boys and girls, I've categorized them into lists of puppy names just for boys and those exclusive to little girls.
Hi, my name's Brandy!
Many websites list thousands of names for puppies, but they can be overwhelming!
You'll probably want to take your time when finding the perfect name for your little fur-ball baby. Choosing something unique that fits your puppy's personality and character is a good idea.
Putting these lists together seemed to take forever, but I hope you feel it's been worth it! Just follow the relevant links as you read your way down the page.
Whether you're looking for traditional, unique, or unusual dog names, I'm confident you'll find the perfect name for your Cocker Spaniel puppy in our database!
If you'd like some tips on choosing puppy names, you might want to bear these helpful suggestions in mind as you work your way through our directory.
Happy Browsing!
Cool Dog Names For Cool Dudes!

Cool Dog Names
If your dog's a cool dude, and I'm sure he is, these are for you!
Who wouldn't enjoy browsing through hundreds of cool-sounding puppy names?
You'll find lots to choose from; cool puppy names suitable for either sex, names for boys only and cool names just for girls (little girls can be cool dudes too, you know!)
Click on any puppy pictures below to find something to help you name your new pup.
Some of my Personal Favourites for Cool Boy Puppies!
Archie
Axel
Bennie
Baxter
Benson
Captain
Caesar

DJ
Digby
Elliott
Grady
Harvey
Jenson
Jasper
Lincoln
Mason
Miles
Mason
Paddy
Rembrandt
Robinson
Rosco
Sanders
Sandy
Taylor
Westley
Watson
Winston
Cute Puppy Names

Let's face it, all puppies are cute! There's no disputing that fact, so it's hardly surprising that owners look for cute names for their Cocker Spaniel puppy.
Because I'm often asked to come up with examples of cute names for puppies, I canvassed our visitors for their opinions.
I also added what I considered cute puppy names and separated them into three categories; unisex, names just for boys and those for girls.
Take a peek and see what I came up with, and let me know what you think.
Click on any photos of cute Cocker Spaniel puppies above!
Unique Dog Names

When searching for unique names for both girls and boys, I came across so many that I felt sounded unique, or at the very least, unusual, but I'll leave that up to you guys to decide.
Many may be used for both sexes, but for the traditionalists among you, you'll find separate pages of unique names for boys and girls.
Admittedly, some are more original than others, but I discovered many that would ideally suit our Cocker Spaniels' personalities.
Popular Names For Boys

Choosing a name for your little boy while he's still very young could mean you lose out on matching his name to his personality. This is because his character won't have had time to develop yet, so you'll have nothing to match it to.
If you wait until you get him home before you name him, his personality will begin to shine through.
Good breeders encourage prospective owners to make regular visits to bond with their new puppies before they take them home. This would allow you to get to know your puppy better and watch his personality develop before you bring him home.
So if you're keen to name him before you get him home, this is for you!
Your puppy's emerging personality may give you just the inspiration you need! However, at the end of the day, choosing puppy names is entirely a personal choice; it's your choice, so go for it!
Puppy Names For Girls

Don't despair if you've reached this far and still not found anything you like for your little girl, although I find that hard to believe with so many scrumptious names!
But, just in case, you'll find the linked pages below are packed to the brim with some really sweet-sounding names for your precious little girl.
I guarantee you'll find what you're looking for!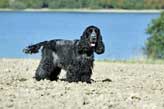 Unique Dog Names for Girls
Personally, I like feminine-sounding names for little girls, like Jasmine, Sasha, or Purdy. Still, as I said earlier, it's a personal choice.
Follow a couple of the links and browse through the names; you'll find so many precious ones you'll probably have a hard time picking just one. 
Have fun!
My Favourite Names for Little Boy Puppies!
Austin 
Bailey 
Benji 
Buttons 
Casey 
Danny
Dillon
Fergi 
Harley 
Major
Mr Darcy
Pickles 
Roscoe

Chester 
Blue
Ceaser
Brodie
Cassidy
Biscuit
Fargo
Fisher
Frankie
Gatsby
Goldy
Harley
Ivy

Sorbet
Chrissy
Derby
Pepper
Patches
Jade
Wilson
Indigo
Paisley
Shadow
Shamrock
Spice

Pickles
Pernod
Rashi
Ravel
Ritchie
Springer
Thyme
Toffee
Tatum
Vivkers
Watson
Winston

My Favourite Puppy Names for Little Girls!
Bracken
Bramble
Chloe
Gracie
Hailey
Hanna
India
Jessie
Misty
Molly
Paige
Pepper
Poppy
Pumpkin
Sadie
Shelby

Oprah
Orchid
Paris
Peaches
Queeny
Rainbow
Amie
Blanca
Bella
Camilla
Crystal
Daisy
Donna
Elisha
Emily
Espirit

Fahra
Forest
Flora
Gabby
Gloria
Gucci
Rags
Rosie
Scarlet
Sweet Pea
Tabatha
Hailey
Hydra
Isabella
Isis
Jade

Jessica
Kaitlin
Kissie
Lady
Lyndsey
Matilda
Millie
Moxy
Natalie
Nessie
Neutron
Tiffiny
Unity
Velvet
Wags
Zowie

Why not try a few on for size?

Tips for Choosing Puppy Names

As you browse through the pages, I recommend you note all those names that appeal to you. I guarantee you will forget if your memory is anything like mine if you don't!
I don't have a name yet!
Try to keep your list to around 15 if you can, because if you're not careful, you may have to short-list your short-list!
Try each one for size; say it out loud, and add it to your list if you like the sound of anything in particular. When you've a decent selection, you and your family will be ready to make your choice.
If you simply can't decide on one special puppy name, why not place your family's favourites into a hat and ask Grandpa to pick one out?
There's no rush; take your time and enjoy!