Elevated Dog Food Bowls
Elevated dog food bowls are said to reduce stress on arthritic pets and help improve their posture and digestion.
Not only that, but they can be quite stylish too. Read on to learn what these dog bowls can do for your Cocker Spaniel.

Elevated Dog Food Bowls 
Raised Dog Food Bowls Can Aid Your Pet's Digestion
Raised dog feeders are raised feeders which are designed to improve your pet's posture and aid digestion.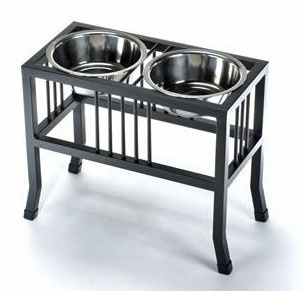 Elevated dog food bowls
This type of feeder is also said to relieve stress on your pet's joints by lifting their head above ground level when eating, helping to relieve any strain on the dog's neck and joints.
There are many different styles of elevated food bowls available; some are simply practical (like the one in the picture on the right) and others are more stylish in their design. (See below)
The more stylish bowls can be made from beautiful woods, slate, or stone, and are often designed to look more like a piece of furniture.
They certainly wouldn't look out of place in a trendy kitchen or stylish hallway!
Advantages Of Using Elevated Dog Feeders
Aside from looking rather stylish, there are many advantages of using raised dog food bowls. They can:
Raised dog bowls can help your pet's digestion
help to maintain a healthy posture;


make it more comfortable at feeding time and reduce the amount of stress placed on the neck and back muscles, particularly useful if your dog is arthritic;


aid digestion by eating from a raised food bowl;


help to reduce air swallowed whilst eating, which in turn helps to reduce wind. Now that's got to be good!


Many elevated feeders come with very sturdy stands, making them less likely to be tipped over than ordinary floor-level food and water bowls.

However, there is one small (potential) disadvantage to using elevated dog bowls which I feel I should mention.
How To Get The Right Size Feeder For Your Dog
If you decide to invest in elevated dog food bowls for your pet, it's important to make sure you order the right size for your pet.
You can do this by measuring your Cocker's wither height (the distance from the ground to the top of his shoulder) then subtract 15 cm (6 inches) to give you the correct height of elevated dog feeder for him.
A Word of Warning!
I feel it's important to give you (but particularly larger breed owners) a word of warning about elevated dog food bowls.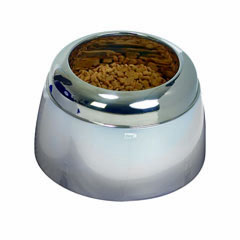 This is a rather lovely dog food bowl!
They have been said to pose a small risk factor for dog bloat. Now, not all dogs are susceptible to bloat, but some are quite prone to this condition.

That's why I don't recommend using raised dog feeding stations for breeds prone to bloat as these type of feeders could increase the risk.
Luckily for us, however, Cocker Spaniels don't tend to suffer from dog bloat (although it's not unheard of) so if you think these stylish bowls would look good in your home, go ahead and try them.
If you'd like to learn more about dog bloat simply follow the link.