Benefits of crate training your puppy
Benefits of Crate Training Your Puppy
Crate training your puppy not only provides your pet with a safe retreat, but it can also help with separation anxieties and potty training, to mention a few! Read on to discover more great benefits of crating your puppy.

Why Should I Crate Train My Puppy?

Crating training your puppy can be highly beneficial to both puppy and owner.
Unfortunately there are many inexperienced dog owners who think that crating a dog is cruel and are often quite upset by the idea, when in fact it's quite the opposite.  
Crate training your puppy is one of the kindest things you can do for a pup.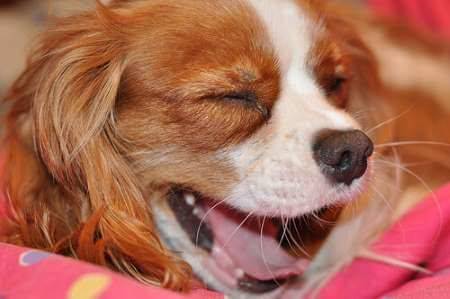 For security, you can't beat crate training your puppy!
Let me explain.

Dogs love small spaces. Period.
Just watch them, you'll often see them curl up under the coffee table, under a chair, or in the corner of the sofa; in fact they'll claim any cosy-looking corner as their own!
A crate will provide that cosy area for your puppy and he'll soon view his cage as his special 'den'; his own personal space and a safe haven.
It's often not until the breeder, or someone experienced in crating puppies, points out the many benefits crating can provide, that sceptical owners realize that dog cages aren't cruel boxes in which to lock away puppies, but that they provide a safe and secure place for our Cocker Spaniels.
Benefits of Crate Training Your Puppy
There are many good reasons why crate training your puppy is a good idea and the following are some good examples:

Security For Your Cocker Spaniel:
Crate training your dog helps to provide a safe and secure area for your pet; his own safe 'personal space' where he can go when he's tired or when he simply wants a bit of peace and quiet.

Potty Training:
If your pup isn't yet fully house-trained, crating your puppy will give him a helping hand. 
Dogs instinctively try to avoid soiling their den, so if your puppy is crated, he'll try to hold it until he's taken outside.

It's Calming & Relaxing:
The very act of caging your pup can help to calm him and settle him down, meaning he's less likely to get overly stressed and suffer separation anxiety.

Peace of Mind:
Puppy crate training makes for a less stressful life for you too. Knowing that he's safely crated will give you peace of mind.
It will also give you the opportunity to get those household chores done!
No more chasing around trying to catch up with a mischievous little Cocker Spaniel!

Crating Your Puppy Minimizes Damage:
Confining your pup to his cage when you're not free to keep an eye on him will help to minimize any damage to your home.
Puppies love to bite and chew, it's what they do, but sometimes puppy chewing can get out of hand, especially if you're not around to keep an eye on them!
This where a crate really comes in handy as it will save your furniture or your favourite slippers from being chewed to bits, not to mention your sanity!

Crate Training and Travel

If you're puppy is crate trained, he is likely be happy in pet carriers when being transported or when you're travelling.  
Unfamiliar surroundings and new noises may make your dog feel uneasy, but his familiar crate and blankets will give him comfort and security.

Out And About With Your Dog

I love my crate, it's my safe place, but I like this bench too!
Travelling By Car
It's illegal in the UK to have a dog in the car that isn't tethered. It makes sense when you think about it, both for the driver and the dog!

A crate is ideal for transporting your pet from one place to another by car and can either be placed on the back seat, or in the boot if you have an estate car.
This will keep your pup safe inside the car until you're ready to let him out, and because your dog won't be loose in the car, it will be much safer for you or the driver should you need to brake suddenly.

Travelling By Air

If you ever need to take your Cocker Spaniel abroad, and your only option is to fly, he'll need to be crated during the flight.
Flying is stressful enough for any pet, even one used to a crate, so imagine how he'd feel if he'd never been crated before.
If you do plan to fly, please note that for the crate to be suitable for air travel it must meet the (strict) regulations for airline approved dog carriers, otherwise your dog may not be allowed to travel.
Trips To The Vet
There will be many times when you need to take your puppy to the vet.
Hopefully, they'll all be for regular routine check ups , and a small plastic or material covered crate will be ideal for your puppy's trips to see his vet.
Vets also use wire crates for pets who need to stay overnight, or whilst being treated, so if your Cocker Spaniel is not used to a crate, a stay at the vets could cause him a great deal of unnecessary stress.
Boarding Kennels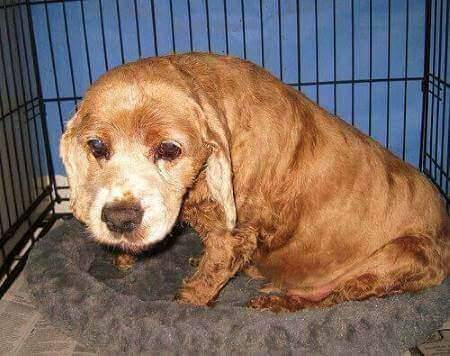 I love my crate too! This is my safe space.
We can't always take our pets with us on holiday (more's the pity) and this is when we have to make the heart-breaking decision to leave them in boarding kennels for a couple of weeks.

Whilst your dog will be well looked after while you're away, he'll feel much happier if he's already used to being in a crate.
If you can't bear the thought of leaving your precious Cocker Spaniel in kennels, you might like to consider a dog sitter staying in your home, or having your pet looked after in their home. It may be more expensive, but in my opinion it's well worth it.

Staying In A Hotel
Unfortunately not all hotels will accept dogs, however those that do will be more relaxed about you leaving your Cocker in the room, for example, while you have your meal if they know he's crated.
Crate Training Your Puppy Is Not Cruel
I hope I've convinced you that crate training your puppy isn't cruel and that it's simply providing the perfect environment that any dog will love.


Photo Credits for Benefits of Crate Training Your Puppy:
1. Juplife at https://www.flickr.com/photos/juplife/5115381723/
2. Neil Conway at https://www.flickr.com/photos/neilconway/5899227816/
3. JeffreyW at https://www.flickr.com/photos/jeffreyww/5230119211/