Crate Training A Puppy

There are many benefits to crate training a puppy, both for the dog and the owner. Not only do I hope to convince you of them here, I'll also show you the best way to crate train your puppy so that he takes to his new home without any stress or trauma.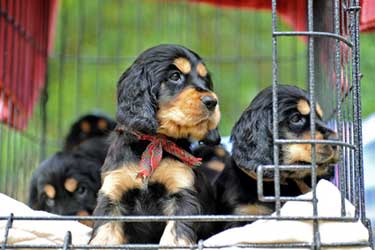 There are many people who are upset by the idea of crating a puppy. They believe it's cruel when in fact it's quite the opposite; crating is one of the kindest things you can do for a puppy.
Let me explain.

Dogs love small spaces. Period.

Just watch them, you'll often see them curl up under the coffee table, under a chair, or in the corner of the sofa; in fact they'll claim any cozy-looking corner as their own!

A crate will provide that cozy corner for your puppy and he'll soon view his cage as his special 'den'; his own personal space and a safe haven.


Benefits of Crate Training a Puppy

There are many benefits to crating a puppy, for both owner and dog.
For example, a crate can keep your puppy out of mischief, safely and in comfort, leaving you free to get on with your day without worrying about him.
It's a safe place for your puppy to rest and play and it can help reduce separation anxiety.
Crating can also help with potty training too because dogs don't like to mess in their own den and will try to hold off peeing for as long as they can.
It can help to keep destructive behavior in check, reducing damage to your home from a puppy that loves to chew...everything in sight!
I could go on, but I won't. If you'd like to learn more about the benefits of crate training, you can follow the link.


7 Simple Steps To Crate Training A Puppy

This is where you can learn the nuts and bolts of how to successfully crate train your puppy.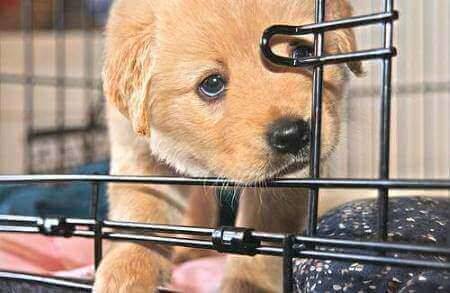 Before you begin, I recommend you check out these basic rules first. They'll help you to stay on track and get it right and that's important, because if you get it wrong, your puppy is likely to reject his crate.
When you've read that you can learn how to crate train your puppy with this step by step guide.

The rules for crate training a dog are very similar, and if your adult Cocker Spaniel has never been inside a crate before, or has had negative experiences in one, (perhaps a rescue dog?)  and you'd like to train him, I recommend you begin from scratch.


Crate Training A Puppy - Choosing His Crate

Dog crates come in lots of different sizes and can be made from many materials; steel wire, plastic coated steel wire, wood, fabric and hard plastic.
They'll either have one door or two, a handle so that they can be carried, and many will fold down flat for portability and easy storage when not being used.
When you're choosing your pet's crate it's important to get the size right.
Your Cocker Spaniel should have enough room to stand up, turn around, and lie down when he's fully grown - you don't want him to be cramped, do you?
Learn how to choose the perfect dog crate for your pet.


Dog Carriers

A crate can also make a good dog carrier, depending on his size, and there many different types of carrier. They're ideal when you need to take your puppy to see his vet or to boarding kennels and if you're visiting friends or relatives, or even if you're going on holiday and taking your pet with you, a dog carrier will keep him safe inside the car.
There are many stylish pet carriers to choose from, including designer dog carriers, and they're available in prices to suit all pockets too!


Enjoyed this page? Click 'Like'!

If you enjoyed this page, please click on the 'Like' button below and tell your friends about us. Thank you.

Top of Page
Top of Page