Poisonous Plants
Poisonous plants can be harmful to our dogs. Unfortunately, our Spaniels won't know which plants are safe and which are toxic; there's no 'doggie radar' to warn them off.  So it's down to us to understand which plants can harm our pets and protect them from accidental poisoning. 
A to Z of Poisonous Plants
You wouldn't want your puppy to eat anything that could harm him, would you? Of course you wouldn't, so here's a list of many toxic plants to help you keep your Cocker Spaniel safe.
No poisonous plants here!
'A'
African Violet
Aloe
Anemone
Amaryllis
Apple core
Apricot stone
Asparagus fern
Aubergine leaves
Avocado leaves and skin
Azalea
'B'
Belladonna
Black-Eyed Susan
Bleeding Heart
Bluebell
Bottle-brush flowers
Boxwood
Bracken
Buttercup
'C'
Cactus
Cherry Laurel
Christmas Tree needles
Chrysanthemum
Clover
Columbine
Common Privet
Creeping Fig
Crocus Bulbs
Cyclamen
'D'
Daffodil
Dallas Fern
Day Lillies

Deadly Nightshade
Delphinium
Desert Azalea

Devil's Ivy
Dichelostemma
Dieffenbachia

Dogwood fruit
'E'
Earth Star
Easter Daisy
Easter Orchid
Elephant Ears

Elderberry leaves
English Hawthorn

Euphorbia
'F'
Foxglove
Flax
False Bittersweet

False Hellebore
Feather Geranium
Field Horsetail
Field Pennycress

'G'

Garden Chamomile
Garden Hyacinth
Gardenia
Garlic
Geraniums

Giant Aster
Gerber Daisy
'H'
Hemlock
Holly Berries
Honeysuckle
Horse Chestnut
Horse Nettle

Hyacinth bulbs
Hydrangea flower buds
'I'
Impala Lilly
Impatience

Indian Hemp
Indian Rubber Plant

Iris bulbs
Iris Plants
Irish Moss

Ivy
'J'
Jacob's Ladder
Jade Plant
Japanese Aralia

Japanese Holly Fern
Japanese Moss
Japanese Yew

Jasmine
Juniper needles, stems, berries
'K'
Kalanchoe
Kaffir Lily
Kiss Me Quick

I couldn't find many poisonous plants beginning with 'K'!  If you know of any, please drop me a line and let me know.

'L'
Laburnum
Larkspur
Laurel
Lily of the Valley
Lobelia
Lupin
Lantana
Lady of the Night

'M'
Marsh Marigold
Maiden's Breath

Milkweed
Mistletoe berries
Mock orange fruit
Mother-In-Law's Tongue
Morning Glory
'N'
Narcissus bulbs
Nightshade
Needlepoint Ivy
Nicotiana
Nephthytis
Nasturtium
Naked Lady

'O'
Oak (acorns and leaves)
Oleander
Onion
Orange
Orange Day Lilly
Oregon Holly
Ornamental Pepper
Oilcloth Flower


'P'
Pear core and skin
Peony
Periwinkle
Philodendron
Pine Needles
Poinsettia
Poison Hemlock
Poison Ivy
Poison Oak
Poppy
Pot Mum
Potato plant (shoots and eyes)
Primrose
Privet Shrub

'Q'
I couldn't find any poisonous plants beginning with 'Q'!
If you know of any, please drop me a line and let me know.


'R'
Ragwort
Red Clover
Red Maple
Rhododendron
Rhubarb Plants
Red African Violet

'S'
Scarlet Pimpernel
Snapdragon
Snowdrop
Solomon's Seal
Spider Plant
Stinging Nettles
St James Wort
Swiss Cheese Plant
'T'
Tiger Lily
Tobacco Plants
Tobacco Leaves
Tomato Plant (all parts, except for the ripe fruit)
Tulip bulbs
Taro
Taro Vine

'U'
Umbrella Plant
Umbrella Tree

Urbinia

'V'
Venus Fly-trap

Verbena
Virginia Creeper
'W'
Weeping Fig
Wandering Jew
Water Hyacinth

Wild Cherry
Wisteria
'X'
I couldn't find many poisonous plants beginning with 'X'!
If you know of any, please drop me a line and let me know.


'Y'
Yew
Yellow Pine Flax
Yellow Oleander

Yarrow
Yukka

Reactions And Symptoms To Poisonous Plants

Poisonous plants can contain many different types of toxins, resulting in different reactions and symptoms.

Common Reactions To Toxic Plants
Reactions to plants that are poisonous can vary from very mild to severe, but the most common reactions are:

swelling of the mouth, lips and tongue, which can make breathing difficult,

throat irritation,

drooling,

itching,

mild skin rash,

vomiting and diarrhoea,

abdominal pain, cramps,
asphyxiation.
Reactions to Eating Highly Toxic Plants
Highly toxic plants can cause other, more serious reactions, such as:
tremors,

seizures,

heart,

respiratory problems,

kidney problems,

coma,

and in limited but serious cases, death.
The list of poisonous plants below isn't exhaustive, but it contains many common plants that could harm your Cocker.
Take a look through and see if you have any in your yard, garden, or your home.
Keep your Cocker Spaniel safe!
About Poisoning:
The above list is not a definitive list of toxic plants, there are many, many more. The information provided is intended for use as guidance only.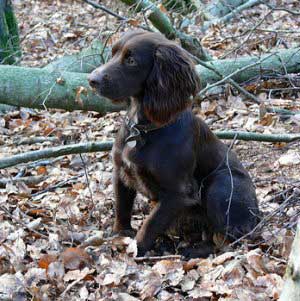 If you think your Cocker may have swallowed any part of a plant that you think is poisonous, whether or not it's listed above, please speak to your vet immediately. Time is of the essence!
If you know the name of the plant, tell your vet, (or better still, take a sample of it with you when you visit) explain which part(s) of the plant have been eaten and let him know how your dog is reacting, ie, what are his symptoms.
Your Spaniel may not have been poisoned, but may have an allergy or sensitivity to a particular plant. Your vet will be able to make a quick diagnosis and offer effective treatment.
Please don't get caught out.
Should your Cocker Spaniel come into contact with, or swallow any plant material that may be poisonous, be sure you know what to do in an emergency. It could help to save his life!