Applying Flea Medication

Your dog's flea medication must be applied in the right way if it's going to be fully effective. Don't waste your money. Learn how to use flea control treatments properly and help keep your dog safe from those bloodsucking parasites.

How To Apply Dog Flea Treatments

Before Application
Before you apply any flea medication, I recommend you read the manufacturer's instructions carefully, as well as following the general guidelines below.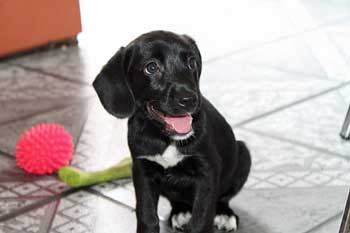 You might also want to check with your vet to be certain that you're using the most effective type of flea medicine for your Cocker Spaniel.


Give your dog a bath! Flea treatments are more easily absorbed if your dog's coat is clean.

Applying Flea Medication
Apply the treatment directly to your dog's skin (not his coat) otherwise it won't be as effective.
To avoid your dog's coat absorbing some of the liquid, you might want to split the contents of the pipette between two applications.

Part his coat with your finger and thumb or two combs, (whichever's easiest for you) and apply the liquid around his neck area or in a line down between the shoulder blades.

Empty the remainder somewhere equally out of his reach.
After Application
Keep your Cocker Spaniel indoors until the medication is dry and has been absorbed by his skin otherwise he may rub it off after his first roll in the grass or the dirt. It's what Cockers do, isn't it?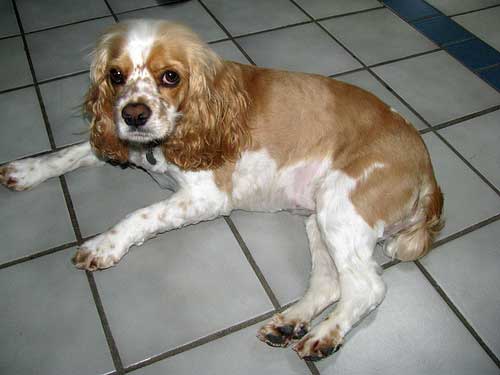 I'm a flea free zone!
It's probably also a good idea to keep him out of water for a couple of days to allow it to get into his system, even with alleged waterproof applications.


Don't let your children stroke or pet the dog immediately after applying the medication, for obvious reasons.


Always wash your hands thoroughly after applying flea treatment to your dog.
If you have any concerns or questions about a flea infestation or dog flea medicines, I'm sure your vet will be only too happy to assist.

Dog Flea Medicines: Summary
Dog fleas not only make your Cocker's life a misery, they can also cause him serious health problems too!

If left untreated, the odds of a flea infestation breaking out in your home are pretty high and getting rid of these little blighters will prove difficult without a thorough, well-considered, plan of action.
Whilst it's important to treat your dog for fleas as soon as you notice any sign of them (dried blood, eggs or the fleas themselves) it's especially important that any flea medication is applied correctly for it to be fully effective, otherwise you will be wasting your hard-earned cash!
Always read and follow the manufacturer's instructions for applying the medication and continue with regular treatment (in accordance with the manufacturer's and your vet's recommendation) to keep your Cocker free from parasites.


Enjoyed this page? Click 'Like'!

If you enjoyed this page, please click on the 'Like' button below and tell your friends about us. Thank you.