Dog Names - 'C'

Want lots of cool dog names for your gorgeous new Cocker puppy?  We can help you! Discover hundreds of cute puppy names in our extensive database.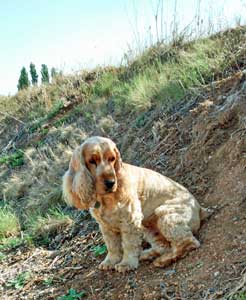 If you've not yet brought your little puppy home you'll have plenty of time to look through our directory.
You'll find lots of cute puppy names to help you chose something very special for your new little boy or girl cocker.

Whether you want something unique, cool or cute, you'll find it here.

Enjoy your search and many long happy days with your new puppy!

Puppy Names for Cocker Spaniels

C.C.
C'est Moi
Cabana
Cabaret
Cabernet
Cabo
Caboodle
Caboose
Cadbury
Caddy
Cadence
Cadet
Cadillac
Caesar
Caeser
Cagney
Cain
Cairo
Caitlin
Cajun
Calamari
Calamity
Caleb
Cali
Caliber
Calico
California
Calista
Callahan
Charisma
Charity
Charles
Charlie
Charlotte
Charmer
Charo
Chase
Chaser
Chatter
Chaucer
Chauffeur
Chauncey
Chavez
Chaya
Chaz
Checca
Check
Checkers
Cheddar
Cheech
Cheeko
Cheeks
Cheerleeder
Cheeta
Chef
Chekhov
Chelsea
Chelsy

Coby
Cochise
Coco
Cocoa
Coconut
Cocopuff
Cody
Coffee
Cognac
Coil
Cola
Colby
Cole
Colin
Colleen
Collette
Collins
Colonel
Colt
Colton
Columbo
Columbus
Comet
Commander
Compadre
Conan
Condor
Confection
Confetti

Cool Dog Names

Callie    
Calloway    
Calvin    
Calypso
Camelot    
Camembert    
Cameo    
Cameron    
Camilla    
Camille    
Camper    
Camus    
Candace    
Candice    
Candy    
Cane    
Canis    
Caper    
Capo    
Capone    
Capote    
Cappuccino    
Capri
Caprice    
Capricorn    
Captain    
Caramba    
Caramel    

Cheops
Cher
Cherish
Cherokee
Cherokees
Cherry
Cherub
Chester
Chestnut
Chew Chew
Chewbacca
Chew-Chew
Chewer
Chewy
Cheyenne
Chi Chi
Chianti
Chic
Chica
Chica
Chi-Chi
Chiclet
Chico
Chicory
Chief
Chiffon
Chill
Chiller

Confucius
Conga
Congo
Conjurer
Conner
Connolly
Connor
Conrad
Constable
Constantine
Consuela
Cookie
Cookie Monster
Coonie
Cooper
Coors
Cooter
Copper
Coquette
Coquihalla
Coral
Corazon
Cordial
Cordoba
Corey
Cori
Corico
Corky

Cocker Spaniel Names

Caramelo    
Care-Bear    
Cargo    
Caribou   
Carina    
Carisma    
Carissa    
Carl    
Carla    
Carley    
Carlisle   
Carlos    
Carlton    
Carly    
Carmen    
Carmichael    
Carnation    
Carnegie    
Carob    
Carolina    
Caroline    
Carraway    
Carrie    
Carrissa    
Carson    
Carter    
Cartwright    
Caruso   

Cha-cha    
Chalet    
Challenger    
Chambray    
Chamois    
Champ    
Champagne    
Champion    
Chance    
Chandler    
Chanel   
Chang    
Chantilly    
Chaos   
Chaplin    
Char    
Chara    
Charade
Chilli
Chimo
China
China-Doll
Chinchilla
Chin-chin
Chip
Chipmunk
Chipper
Chips

Cimarron
Cinder
Cinderfella
Cindy
Cinnamon
Circe
Cirtron
Cisco
Citron
Citrus
Clackers
Claire
Clancy
Clapton
Clarence
Clark
Classy
Claude
Claudius
Clavell
Clay
Clayton
Clementine
Cleo
Cleopatra
Cliche
Clifford
Clinton

Cool Names for Cool Cockers!

Casablanca
Casanova    
Casbah    
Casey    
Cash    
Cashmere    
Casino    
Caspar    
Casper    
Caspian    
Cassandra
Cassidy    
Cassie    
Cassis    
Cassius    
Castaway   
Castro    
Catalina    
Catamaran    
Catherine    
Caviar    
Cayene    
Cayenne    
Ceaser    
Cecil    
Cecily    
Cedar    
Cedric    
Ceecee    
Cee-Cee    
Celeste    
Celsy    

Celtie    
Cerberus    
Cha Su Bao
Chablis    
Chiquita
Chivas
Chloe
Chocolata
Chocolate-chip
Chocolo
Choctaw
Cholo
Chomper
Choo-Choo
Chopin
Chopper
Chopsticks
Chorizo
Chow Mein
Chowder
Chris
Chrissy
Christian
Christine
Christoff
Christopher
Chubber
Chubby
Chubfish
Chumley
Chump
Chunk

Chunky
Churchill
Chutney
Chutzpa
Ciao
Cider
Cidiac
Cierra
Clipper
Clive
Clone
Cloud
Clover
Clueless
Clyde
Coal
Cobbler
Corona
Coronet
Corrie
Cortez
Cory
Cosell
Cosmic
Cosmo
Cosmos
Costello
Count
Countessa
Courtney
Didn't find exactly what you were looking for...?

Want More Dog Names for your Cocker Spaniel!

| | |
| --- | --- |
| To view more puppy names, for example, beginning with the letter 'D', simply click on the photo to the right and you'll be taken straight to all those beginning with that letter - it couldn't be more simple! | Dogs Names - 'D' |
Enjoyed this page? Click 'Like'!

If you enjoyed this page, please click on the 'Like' button below and tell your friends about us. Thank you.

Top of Page