Puppy Names for Girls - 'N'

If you're looking for cute puppy names for puppy girls, congratulations, you've found the best selection on the Web!
Cute Puppy Names for Girls

    Nacho   
    Nada     
    Nadia     
    Nairobi   
    Nala      
    Namesake     
    Nana     
    Nanette     
    Nanny     
    Nanook       
    Nanuk      
    Naomi     
    Naomie       
    Napa   
    Naples     
    Nappa    
    Nappy   
    Narnia     
    Nasa     
    Nat      
    Natalie     
    Natasha   
    Nate    
    Nativity     
    Navajo    
    Navar   
    Navarro     
    Navell     
    Navigator    
    Naz       
    Nazareth      
    Nebo     
    Nell     
    Nellie    
    Nellybelle         
    Nemesis

  Nemo      
    Neon     
    Nessie      
    Nestle       
    Neutron     
    Nevada      
    Newsprint    
    Newt    
    Newton     
    Niagara      
    Nibbler      
    Nibbles    
    Nickles     
    Nicky          
    Nicola      
    Nicole       
    Nicolette      
    Nietzche    
    Nifty     
    Niggs      
    Nightingale      
    Nightmare    
    Nika      
    Nike     
    Nikita      
    Niko    
    Niky        
    Nina    
    Ninja     
    Nintendo     
    Niobe       
    Nip     
    Nipper     
    Nirvana    
    Nissan    
    Nita

 Nitro     
    Nix       
    Noela     
    Noelle       
    Nofrills     
    Nog     
    Nogales     
    Noisemaker    
    Noisette    
    Nomad    
    Nonchalant     
    Noodles          
    Nookie     
    Nora     
    Noreen     
    Nori     
    Norma     
    Norway     
    Nosferatu    
    Nostalgia     
    Nosy       
    Nougat     
    Nova     
    Novella     
    November     
    Nubbin     
    Nubby     
    Nudge    
    Nugget    
    Nutmeg     
    Nuts     
    Nutty          
    Nux     
    Nymph         
    Nymphette

Didn't find what you were looking for...?
Need More Cute Names for Girls?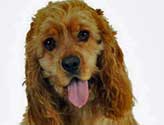 Cool Dog Names for Girls
You should have a good selection of puppy names to choose from by now, but don't be too hasty - there's still lots more to view in our database.
Simply click on the photo of this cute Cocker puppy for more, or alternatively, you can go on to the next page of dog names.

Choosing Your Puppy's Name
Our directory of female dog names can help you to choose that perfect name for your new little girl! There's thousands to choose from, so why not take a peek - I'm certain you'll find a special name for your little girl here!
But before you make a decision, you might like to consider some of the following:

Do you want to choose a name that reflects her character? Or is her coloring so startling that you've just got to choose something similar? Many owners are now considering 'human' names such as Bella, Jessica, or Crystal - which are all so delightful!
Whatever name you decide upon, use it consistently and often to allow your puppy to get used to hearing it and it won't be long before she recognizes her own name instantly.
If you'd like some excellent tips on choosing your puppy's name, simply follow this link.

I hope you find our database useful and give you the inspiration you're looking for - good luck!

Enjoyed this page? Click 'Like'!

If you enjoyed this page, please click on the 'Like' button below and tell your friends about us. Thank you.

Top of Page