Potty Training Your Puppy

"No-one Ever Said That House Training Puppies
Was A Walk In The Park!"

Our free on-line guide to potty training a puppy, takes a no-nonsense, practical approach, and whether you're house training puppies or toilet training dogs, we'll help you get it right first time!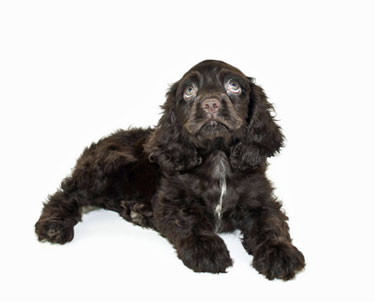 Puppy potty a training is about teaching your pet to do his toilet outside, in a designated part of the garden, and not inside your home.
Puppies instinctively try not to soil their den.
This useful fact can be used to your advantage when potty training your puppy, especially if you plan to crate train your puppy because when crated, your Cocker will try to hold himself for longer than he would if he wasn't crated.
However, there are no guarantees. There will always be the occasional little 'accident' - especially if your puppy isn't crated - he will do his toilet whenever and wherever he can.
At this young age, he doesn't know any different, so it's up to you to teach him your house rules. Establish a simple puppy toilet training routine and stick to it - if you do, it will be much easier for both of you!
Follow the steps in the routine shown below and you'll be successfully toilet training puppies in no time!
"How Will I Know When My Puppy Wants To Pee?"
The simple answer is, you won't!
However, your puppy's toilet needs are fairly predictable, and you can build your routine around those needs as follows:
Take your Cocker puppy outside as soon as he wakes up, no matter how long he's slept for.


Approximately 10 minutes after drinking, take your puppy outside again and give him the opportunity to do the business.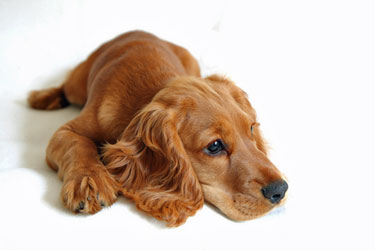 He may need to poop 15 - 20 minutes after eating, so keep an eye on him and 15 minutes after his last meal, take him outside.

Frequency of feeding is especially important when you're potty training your puppy. If he's fed at a regular time (or times) each day, and not fed between meals, except for occasional training treats, your puppy will begin to do his toilet to a regular pattern.

If you overfeed your Cocker he may need to poop more often, and at unpredictable times, which will make house-training your puppy that little bit more difficult.

Overfeeding also produces overweight dogs.


Your puppy will need to go out after playing, exercising, or training sessions.


In times of stress or excitement, ie. when visitors call, it may be advisable to take your puppy outside. This can help to prevent any little puddles suddenly appearing on your best rug.


If your puppy receives a shock (a loud bang, for example) or is given a sudden fright, he may need to pee, so once again, take him outside - if it's not already too late!
In addition to the above times, when you're potty training your puppy, I also recommend you take him into the garden 45-60 minutes after the last time he did his toilet - just to be on the safe side.
Potty Training Puppies - Watch For The Tell-Tale Signs!

When potty training your puppy, always watch him closely when he's out of his crate.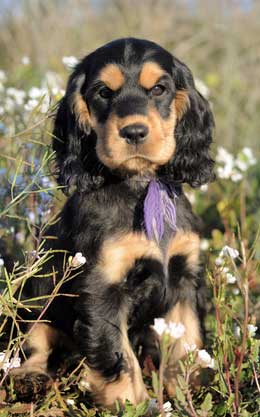 If you don't, you'll be allowing him the opportunity to pee or poop somewhere in the house, which could cause a set-back in any puppy house training progress you've made so far.
Whilst I admit that potty training a puppy isn't always easy, if you watch closely, you'll see that puppies give off little tell-tale signals when they need to empty their bladder or bowels.
Those tell-tale signs to watch out for are:
intense sniffing of the floor,
circling (turning in small tight circles),
squatting,
holding the tail high,
crying or whimpering,
going to the door, and perhaps scratching at it.
As soon as you see any of these signs, pick up your puppy and take him outside to his toilet area immediately.
Whilst potty training your puppy, try not to leave him alone for any longer than a couple of minutes.
If you leave your puppy unsupervised, you can almost guarantee that he'll have a little 'accident' while you're gone.
By leaving him on his own, you're setting your Cocker Spaniel up to fail!
As your puppy's internal 'plumbing' develops, he'll be able to hold himself for longer and you will be able to increase the time between his routine daily activities and taking him outside to his toilet area.
Potty Training A Puppy - Establish His Toilet Area

When potty training your puppy, the objective is to teach him to do his toilet in the same place each time - in your chosen area of the garden - and eventually, for your puppy to do his toilet on command.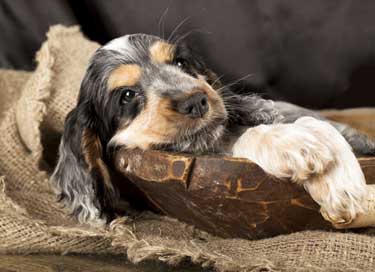 First, choose a section of your garden that you're happy for your Cocker Spaniel to use as his toilet area.
This area should be far enough from the house so that there aren't any smells, but near enough for your puppy to reach it in time.
To begin potty training your puppy, put your Cocker on a lead and take him into the garden to your chosen 'potty' area.
Don't leave your puppy alone outside; stay with him. Don't play with him, or make a fuss - if you do, he'll become more interested in you than in doing his toilet.
Choose a word or phrase to encourage your puppy to perform, for example, "do toilet", "get busy" or "do wee wee/do pee pee".

Whatever words you choose, you need to be comfortable about using them in front of others, so choose something you won't be too embarrassed to use!
As your puppy begins to pee, say your chosen words and when he's finished, praise him and give him a treat as a reward.
The treats may be gradually phased out to avoid overfeeding your puppy.
You can then simply reward your Cocker with praise.
If your puppy doesn't do anything within 10 minutes, take him back inside but keep a watchful eye on him as he may try to pee indoors - probably on your best rug!
Better still, crate him and take him back outside again in 15 minutes.
When Potty Training Your Puppy...Accidents Will Happen!

Despite your best intentions when potty training your puppy, there will be some little 'accidents' indoors! But, please don't scold your puppy for any accidents in the house.
It's your fault if your puppy soils indoors - you weren't watching him closely enough, or you failed to take your puppy outside to his toilet area at the right time.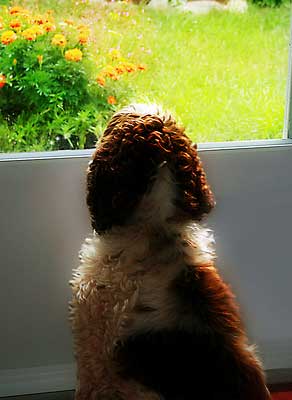 If you weren't there to let him out, it's not his fault.
Many years ago, when dog owners weren't as enlightened as they are now, it was considered acceptable, almost encouraged, to rub your puppy's nose in his own mess if he soiled indoors!
This was supposed to 'teach him a lesson' but I can assure you, that school of thought never helped with the development of potty training a puppy.
Thankfully, toilet training dogs and puppies has moved on since then!
It's now widely recognised that for 'punishment' (read show of disapproval) to be effective, you need to catch your Cocker in the act, otherwise he won't understand why you're unhappy with his behaviour. He's more likely to become afraid of eliminating in front of you!
Your Cocker Spaniel puppy may even become secretive about his toilet and sneak off to do it under the kitchen table or behind the sofa.
Imagine how confusing this is for your puppy if one minute he's being praised for doing his toilet (outside in the garden) and the next he's being scolded for doing the same thing - albeit inside the house.
If you catch your puppy in the act, or he's showing signs that indicate he may be about to do his toilet, shout loudly (a loud, firm tone but without emotion) - your puppy will probably be shocked into stopping in mid flow.
Pick him up (you won't have time to put him on his lead) and take him into the garden to his toilet area. When he begins again you can praise him and reward him with a treat.
Potty Training A Puppy - Clearing Away Little 'Accidents'

If you discover a little 'accident' in the house whilst potty training your puppy, unless you caught him in the act, don't make a fuss about it.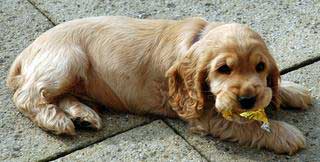 Simply clear it away immediately as the lingering smell of urine will only attract your puppy and encourage him to go there again.
It's important to note that even though your floor may smell and look clean to you, your puppy will still be able to smell the ammonia in his pee.
That's why it's important to use a biological odour eliminator spray, or a mixture of biological washing powder and vinegar; both will eliminate the odour.
Don't use an ammonia-based cleaning product as the smell could encourage your puppy to pee.
Potty Training A Puppy - During The Night

Potty training your puppy doesn't stop just because it's night-time!
If you take your puppy outside just before you go to bed, you've a better chance of your puppy staying dry overnight. However, don't expect too much from him at this stage, he's still very young and won't have full control over his bladder.
Crating your puppy overnight can help with house-training puppies, but you'll need to let him out during the night to relieve himself.
An alternative to getting up at 3:00am in the morning to take your puppy out, is to section off part of the room which houses your puppy's crate and lay polythene by the door, or in one corner of the room, with newspaper laid on top.
Place a tissue, previously soaked with your puppy's urine, in the middle of the newspaper.
This may encourage your puppy to do his toilet exactly where you want him to!
You could also use puppy training pads - simply place one onto the newspaper in place of the tissue.
There are some owners who believe using newspaper or puppy training pads is not the way to train puppies as it teaches them to 'go' inside, on the newspaper, as well as in the garden. It's thought that this can confuse puppies and undermines the potty-training puppy routine.
However, I believe it's simply a matter of personal choice.
I found that by establishing a strict puppy house-training routine, mentioned earlier, I only needed to lay newspaper at night, and there were many mornings when I found the newspaper dry!
When potty training your puppy, I recommend you get into the habit of taking him to his designated toilet area as soon as you get up - before your Cocker has the chance to pee indoors.
No-one said toilet training dogs was going to be a walk in the park!
Potty Training Your Puppy - On A Leash

Some puppies won't do their toilet when out on a walk, but will wait until they get back to their own garden, because this is where they have been taught to do it from the very beginning.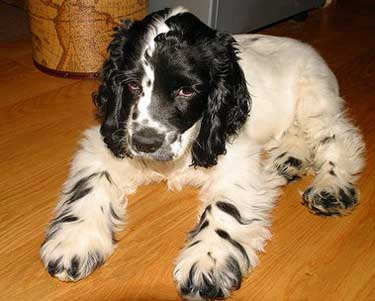 If this happens to you, set your alarm clock and get up very early one morning, and take your Cocker out for a walk when you know he's due to pee.
Stay out as long as necessary, your puppy may not be able to hold himself and may have to do his toilet out of desperation.
If this happens, praise your puppy and reward him with extra treats - he'll soon get the message!
If your puppy fails to do anything during his walk, when you bring him home take him to his toilet area immediately. If you don't, you can almost guarantee that your puppy will relieve himself as soon as you are indoors.
If he still doesn't pee, take him inside, but keep a watchful eye on him. Take him outside every 15 minutes until he performs!
"Although house training puppies may sometimes seem a little difficult....the process doesn't have to send you Potty!"
Remember, while potty training your puppy it's important to establish a regular routine of garden visits, use your chosen phrase as encouragement, and praise and reward your puppy each time he 'performs' in the right place.
Watch out for those tell-tale signs, and don't punish your puppy for any accidents in the home.
Follow this routine when house-training your puppy and you'll find your Cocker Spaniel's fully house trained in no time!
Potty training a puppy shouldn't take too long. Your Cocker should normally be fully house-trained between 4 and 6 months old, but don't worry if it takes a little longer as no two puppies will develop at the same rate.
---
I hope you've found this article on how to potty train your puppy useful and that it's worked for you.
If you've not yet crate trained your puppy, I highly recommend it, for lots of reasons.
Why not read this article explaining all about crate training your puppy and its many benefits, before you make your decision.
Related Titles:

---

Like This Page?