Dog Runs

Having A Run In Your Yard Will Help Your Cocker Spaniel
Burn Off All His Pent Up Energy!
Dog runs will give our Cocker Spaniels some of the exercise they need to keep fit and help prevent them becoming overweight.
Luckily, they love to be outdoors (that's a bit of an understatement!) and what better way of allowing them additional (unsupervised) exercise than in a run?
As an added bonus, you can get on with your daily chores and be content in the knowledge that your pet is enclosed and safe from harm.
Even if you have plenty of time to walk your best friend, an outdoor pet run will provide plenty of fresh air and the opportunity for your Cocker Spaniel to exercise all day long if he wants to!
What Is A Dog Run?
A run is a large wire-metal fence that forms an outdoor enclosure to keep your pet secure and will stop him from running off.
Whilst the terms 'runs' and 'pens' are often used interchangeably, runs tend to be larger than pens and can allow your pet to get a good run about rather than simply wandering around in a pen.
The above picture shows a large public run for dogs in a park in California - lucky dogs!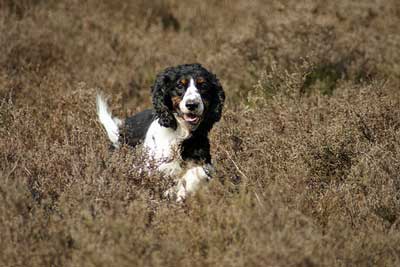 Whilst we may not have the space for a run of this size, most of us with yards will have enough space for a modestly-sized run.
In addition, the run will usually contain a dog kennel which will offer your pet protection and shelter from the rain and cold should the weather turn bad.
The run will probably have a lockable gate for security and ease of access and are available in varying heights to accommodate different breed sizes - just make sure the fencing is high enough to prevent your Spaniel from jumping out and escaping!
It's important to remember to leave your pet with a bowl of fresh, clean, water to avoid dehydration and if you live in a sunny climate, I recommend you leave the bowl in shade or inside the kennel, otherwise it may quickly evaporate.
A few of your Cocker Spaniel's favorite toys such as a ball, a chew toy, or a rope, may help to keep him occupied and out of mischief!
Main Benefits Of Dog Runs
There are many benefits to owning a pet run, including:
They are particularly useful if your garden is less than secure and there's a distinct possibility of your Houdini Cocker (or Houndini!) escaping and running off!


The run will allow your Cocker to exercise, play with his toys, do his business, and generally have a good old sniff about in a safe and secure environment.


Your Cocker Spaniel is also less likely to get bored outdoors, making inappropriate behavior less likely.


Runs keep your pet's toilet in one area, making it easier to clean up after him and keeping the rest of your garden clean and in good condition.


You'll be able to get on with your day without worrying where your Spaniel is, or what he's getting up to!

With plenty of room to play and exercise, plus all that extra fresh air, it's got to be better than being cooped up inside all day, don't you think?
---
A run may be a great thing to have, but it's not a substitute for walking your pet - he'll still need to be walked to satisfy his migrating instincts, and a change in scenery and smells will give him the mental stimulation he needs.
If you'd like to buy your Cocker Spaniel a run or a pen, they're widely available on-line or from large, reputable pet stores.
Alternatively, you may like to build your own, it that's the case you can learn how to build a dog run here.
---
Relevant Titles:
Choosing Kennels made much easier - there's more to think about than you might imagine.

Cheap Kennels are available - you just have to know where to look!

Enjoyed this page? Click 'Like'!

If you enjoyed this page, please click on the 'Like' button below and tell your friends about us. Thank you.

---
Photo Credits - In order of viewing:

1. Urban Outbacker at www.flickr.com
2. Ronnie Meijer at www.flickr.com/photos/sweetron1982/4521004642
Top of Page