Dog Pens

What Is A Puppy Pen? How Can It Benefit Me And My Spaniel?

Dog pens are available in a variety of shapes and sizes, although the smaller ones are usually rectangular.
A typical pen would be around three to four foot high and may have a covered top to stop the pup from escaping.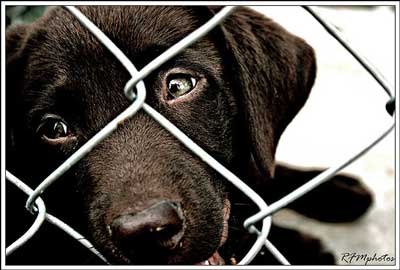 Puppy pens are available in steel wire, plastic, wood, plastic coated wire, waterproof nylon, or a combination of wood and wire.
They can also be built using a combination of concrete and steel wire or wood.
The nylon pens are usually built around a robust steel frame and may sometimes be padded for extra comfort.
Its nylon material is usually waterproof and may also incorporate a zipped entrance.
If you choose an open topped puppy pen, make sure it's high enough so your pet can't jump out of it, but low enough for you to be able to reach over to attend to your Cocker Spaniel.
Some of the larger pens will incorporate a door to allow the owner easy access.
Some wire pens may not have a base and may need to be staked into the ground to stabilize them.
Those with a base are usually quite strong and probably won't need staking.
Puppy pens are suitable for either indoor or outdoor use and, depending upon the style and size of the pen you choose, it may conveniently fold flat to allow easy portability or storage.
"Why Not Treat Your Cocker Spaniel
To A Dog Pen To Keep Him Safe?"

Outdoor Dog Pens
If you have a lot of outdoor space, but your garden is not fully secure, a larger pen is ideal as it will allow your Cocker to exercise freely and safely in the fresh air.
A pet run will allow your Cocker Spaniel to exercise more and by their very design they also allow him to get a good run and get his heart and lungs pumping.
There are bespoke exercise dog pens available with a cover specially designed to give cool shade in the sun; others may not have any cover at all.
Either way, it's very important not to leave your pet directly in the sun for too long as he may overheat or become dehydrated.
If you want to give your Cocker Spaniel a little protection from the elements, as well as extra security, you could put a small kennel in the corner of his pen.
If you have a gently shaded spot in your garden, that would be an ideal place for your dog's pen - especially in a hot and sunny climate.
Your Cocker Spaniel will benefit from a little sunshine each day, but be sure to check on him from time to time and don't forget to leave him a bowl of fresh clean water to help keep him hydrated.
A couple of his favorite toys will help to keep him occupied and stop him from getting bored.
Indoor Dog Pens
Indoor pens are usually smaller because of the lack of available indoor space in most of our homes - unless of course, your home is palatial!
However, they're still very useful!
They're great for confining a puppy to a specific area and will help to keep him out of mischief while he's inside the home - especially if you need to leave him unsupervised for a little while.
TIP: You might want to place a plastic liner on the carpet under your puppy's pen to minimise the impact of any little 'accidents' in your absence.
Most of the indoor pens will fold flat and are easily transported into the garden, temporarily.

Teach Your Puppy To Enjoy His Pen
If you're lucky, your puppy will take to his pen immediately and without any fuss.
If you're unlucky, he may cry to be let out, in which case, you'll have to train him to enjoy his pen.
Your pup needs to learn to enjoy being in his pen.
You can begin the acclimatisation process by sitting in the pen with him and playing with him for a while or practice a couple of training exercises and reward him with a few small training treats.
Next, play a few more puppy games, but this time with your puppy inside the pen and you outside of the pen; play with him through the mesh or over the top of the pen.
When he's happy with that, leave him alone with a couple of his favorite toys and a few training treats scattered on the floor of his pen. Stay out of sight, but keep an eye on him.
By teaching your puppy that good things happen to him whilst he's in his pen, he'll soon settle down quietly and begin to enjoy it.
Acclimatising a puppy to a pen is similar to acclimatising him to a dog crate. If you'd like to learn more, simply follow this link to crate training your puppy.
It may not always be convenient to walk your Spaniel and this is where the pen comes in very handy.
They're great in these circumstances as they allow your pet to get plenty of fresh air and exercise, in a safe and secure environment - they give you peace of mind.
However, it's important to understand that, whilst dog pens can be used to exercise your Cocker, they're not meant to be a substitute for regular walks or runs in the park.
---
Related Titles In The Kennels And Dog Houses Series
Choosing kennels
Cheap Dog Kennels
Dog houses Give Your Cocker Somewhere Safe To Retreat To!
'Dog Runs - How To Build A Run'
Enjoyed this page? Click 'Like'!

If you enjoyed this page, please click on the 'Like' button below and tell your friends about us. Thank you.

---
Cocker homepage

>
Dog kennels
> Dog pens
Photo Credits - In order of viewing:
1. RFM II at http://www.flickr.com/photos/12639226@N08/2762320200
2. Katie Bradie at http://www.flickr.com/photos/cliche/4726158819/
3. Kevin Severud at http://www.flickr.com/photos/68907151@N00/15860669
Top of Page