Dog Names - 'Y'

Just taking a break!
If you're searching for special dog names for your Cocker Spaniel, but just can't find what you're looking for, we can help!
We have thousands of great names for Cocker Spaniel puppies in our database, simply scroll down to see a selection of them!
No matter what you're looking for, whether it's names for male or female puppies, I'm sure you'll find lots here to wet your appetite.
Have fun and enjoy your search!


Cool Dog Names for your Puppy!

Yabba
YabbaDabba Doo
Yachtsman
Yackomo
Yahoo
Yak
Yakko
Yakky
Yale
Yam
Yamasee
Yambo
Yancy
Yandy
Yang
Yani
Yankee
Yanni
Yapper
Yara
Yardley
Yarno
Yasmin
Yasmir
Yasser
Yawney

Yaya
Yeager
Yeller
Yello
Yellowstone
Yelp
Yen
Yeoman
Yesterday
Yestra
Yetti
Yikes
Yin
Yipper
Yippie
Ykulele
Yo
Yoda
Yodel
Yoga
Yogi
Yogi Bear
Yogurt
Yoki
Yoko
Yolana

Yollie
Yonder
Yonkers
Yorgy
York
Yorkie
Yosemite
Yoshi
Yoshie
You Too
Yowler
Yo-yo
Yoyo
Yuki
Yukon
Yul
Yule
Yum
Yuma
Yummy
Yumyum
Yuppie
Yvette
Yvonne
Didn't Find What You Were Looking For?

We understand that you want to get this right - your puppy is very special to you - so if you didn't find enough names that you felt were potentials, and couldn't create a decent shortlist, you can always scroll to the bottom of this page for more titles.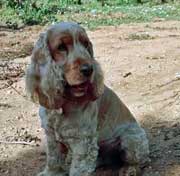 For example, you might want to browse through lots of unique female names, especially if you've a unique little girl. On the other hand you may think your little lady is cool, in which case these cool names for girl dogs may be just the ticket!

The same also applies if you have a little boy Cocker!
Alternatively, you can go to our final page, puppy names beginning with 'Z'.


More Cocker Spaniel Names:

If you're still after more cute puppy names you might enjoy looking through some of these additional titles:
Here you'll find hundreds of puppy names for Cockers that particularly suit the Cocker Spaniel, both boys and girls.

Our database is packed full of cute names for puppies (both male and female) and to make it easier for you, I've separated them into names for boys and names for cute little girls too.
You'll also find a really cool selection of names for Cocker puppies! Again, for your convenience, I've separated these into cool names for boys and, because girls are cool too, cool names for girls.
There are many more in our database, just keep clicking on the links in the puppy names series.
Fingers crossed!

Enjoyed this page? Click 'Like'!

If you enjoyed this page, please click on the 'Like' button below and tell your friends about us. Thank you.

Top of Page