Dog Names - 'J'

Want lots of unique dog names for your new Cocker puppy? Our database of cute puppy names for little boys and girls is just what you need. Check it out!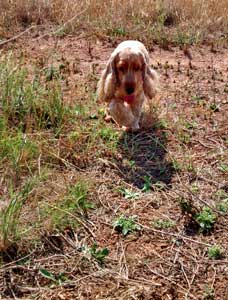 With a new pup, one of the first things we do is search for perfect names, something special and which fits our puppy's personality and character!
So, if you're looking for a cool selection of Cocker Spaniel names for your new baby, you've come to the right place!
You can choose from thousands of fantastic puppy names below.
It doesn't matter what type of personality your pup has, or whether you have a little boy or girl, I just know you'll find something that's perfect for your Cocker puppy here!
Happy searching!

Cocker Spaniel Names

    J.B. 
    J.F.K. 
    J.R. 
    Jabba
    Jabber
    Jabberwocky
    Jack
    Jack Daniel
    Jackaroo 
    Jackeline 
    Jackie 
    Jackpot 
    Jackson 
    Jacob 
    Jacquelyn 
    Jacuzzi 
    Jade 
    Jaffa 
    Jag 
    Jagger 
    Jaguar 
    Jai 
    Jaida 
    Jailbait 
    Jakayla 
    Jake 
    Jakey Boy 
    Jakie 
    Jakob 
    Jalai    

    Jalapeño 
    Jaliyah 
    Jalopy 
    Jamaica 
    Jamal 
    James 
    James Dean 
    Jamie 
    Jamieson 
    Janelle 
    Janie 
    Janus 
    Jared 
    Jarreau 
    Jasmin 
    Jasmine 
    Jason 
    Jasper 
    Java 
    Jaws 
    Jaycee 
    Jazz 
    Jazz-Bo 
    Jazzman 
    Jazzy 
    JD 
    Je T'aime 
    Jeb 
    Jed 
    Jedi     

    Jeeves 
    Jefferson 
    Jeffy 
    Jekyll 
    Jelly Bean 
    Jelly Belly 
    Jemima 
    Jenkins 
    Jenna 
    Jennifer 
    Jenny 
    Jenson 
    Jerky 
    Jerrico 
    Jerry 
    Jersey 
    Jesse 
    Jessie 
    Jessy 
    Jester 
    Jet 
    Jethro 
    Jetta 
    Jewel 
    Jezabel 
    Jigger 
    Jigs 
    Jigsaw 
    Jill 
    Jillian     

Top Puppy Dog Names

    Jim 
    Jimbo 
    Jingle 
    Jingle-Bell 
    Jingles 
    Jinx 
    Jinxy 
    Jip 
    Jitterbug 
    Jive 
    Jives 
    Jo 
    Jobe 
    Jo-Bear 
    Jock 
    Joe 
    John 
    John Boy 

    JoJo 
    Joker 
    Jonathan 
    Jonny 
    Joop 
    Jordache 
    Jordie 
    Jorel 
    Josh 
    Joshua 
    Jowls 
    Joy
    Jubilee 
    Jude 
    Judge 
    Judo 
    Jughead 
    Julep    
    Julian 
    Julie 
    Juliet 
    Julius 
    Jumbo 
    Jumper 
    June 
    Junior 
    Juniper 
    Juno 
    Jupiter 
    Justice 
    Justine 
    Justus 
Didn't find what you were looking for...?
Want More Cocker Spaniel Names...?

To see more puppy names for your pooch, simply click on the photo to your right and you'll be taken straight to all those names beginning with 'K' - it couldn't be more simple!

Enjoyed this page? Click 'Like'!

If you enjoyed this page, please click on the 'Like' button below and tell your friends about us. Thank you.

Top of Page