Dog Kennels

Outdoor dog kennels allow our pets to enjoy fresh air and exercise and a safe place to shelter from inclement weather -  that's got to be much better than being cooped up inside all day!  Learn what to look for when buying your Cocker's first kennel and where you can buy one for the cheapest possible price.

Being In The Dog House Is Fun!

If your yard or garden is enclosed and totally 'dog-proof' your Cocker Spaniel may be left outdoors to play and exercise freely and safely and his kennel will offer him somewhere safe to retreat to when he's tired.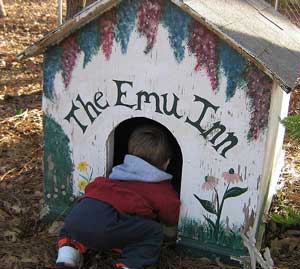 Dog kennels (also known as dog houses) are designed for use outdoors and should be well-insulated to protect your dog and keep him warm in winter and cool in the summertime.

When Choosing A Dog Kennel...
When you're ready to choose your dog's kennel, don't just buy the first thing you see - give it a little thought first, for example:
What type of climate do you live in? If it's hot he may need a kennel with open sides, or a wire kennel, to allow the air to circulate and keep him cool.

If you live in a cold climate perhaps wood would be a better option as it will help to keep your pet insulated against the cold.


Think about where you're going to site his kennel and whether or not it will fit the available space, and which direction it will face. Take care not to place it in direct sunlight if you live in a hot country.


Check to see if the roof of the kennel is detachable, or at least hinged, to help to make it easier to keep clean and bacteria free.


Don't choose a kennel with too large an entrance otherwise it may be more open to the elements than it needs to be. A smaller entrance (slightly bigger than your Spaniel) will help to keep the rain and wind from entering and should keep him cosy and warm inside.

So Many To Choose From!
Dog kennels come in many different shapes and sizes ranging from the traditional to those customized to match the family home, complete with windows and realistic-looking brick work!

They're built using many different materials, but wood and plastic are the more common. Prices range from being reasonably priced to very expensive.


Wooden Kennels

Personally, I believe kennels made from wood are better as they tend to blend in more naturally with their surroundings.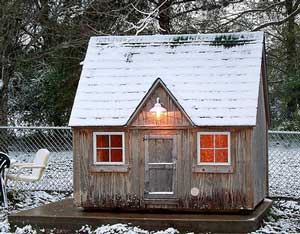 Dog kennels with a pitched roof can look cute, but the underside of the roof is a perfect home for a wasps nests.
Instead, you might like to choose a kennel that has a flat roof, but with a slight pitch to allow rainwater to run off easily. You don't want the water to 'puddle' on the roof.

Wood is a good insulator, but depending upon your local climate you may need to add a little insulation to your Cocker's kennel to help keep it warm.

Wooden houses are more difficult to clean than the plastic as dirt and bacteria become ingrained in the wood, making them difficult to remove.
If you paint the inside of a wooden house it will help to make it much easier to keep clean.

If you prefer not to paint it, you could simply treat the wood instead, but make sure the treatment used is safe for pets.

Cedar wood doesn't rot easily and it's also a natural insect repellent (including fleas!).
Alternatively, cedar chips are available to buy and can be scattered in the bottom of the kennel, but the chips need to be replenished every now and then to keep things fresh.


Plastic Dog Houses
Plastic kennels are usually cast in a single mold using PVC which makes them reasonably strong and watertight.
They're easy to keep clean and sterile and they won't rot - meaning they last a lot longer than the wooden ones.

However, not all plastic houses are molded. Some are made up of panels and are often delivered in flat-pack form, ready for self-assembly at home. These may not be waterproof so I recommend you check the manufacturer's claim before buying.

Some manufacturers use double-layered panels when constructing their plastic kennels which can result in a much warmer product; however, on the down side, they can get too hot in summer.

Plastic houses come in many different colors and styles; castles, Wendy houses, and you can even buy a replica of your own home - complete with white picket fence if you wish!


Is It The Right Size For Your Dog?

The size of dog kennel you choose will depend on your Spaniel's size. It should allow plenty of room for your pet to stand, sit, turn around comfortably, lie down and stretch out fully.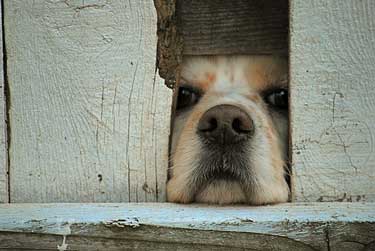 To make sure you buy the right size for your dog, measure him from the tip of his nose to the base of his tail and then add 30 cm (12") - that should give him the space he needs to stretch and be comfortable.

If you're buying a kennel for your puppy, it's best to select one to suit the size he'll eventually grow to as an adult but if you're to avoid him using one end as a sleeping area and the other as a toilet, you'll need to section off the kennel with cardboard so that it 'fits' your puppy.

As he grows you can gradually increase the size of his living space by moving the cardboard before eventually removing it altogether.


Where To Find Cheap Dog Kennels
If you're on a limited budget you can still find good quality, cheap kennels - you just need know where to look!

Find The Cheap Dog Kennels On-Line
There are plenty of cheap dog kennels for sale - you just have to look in the right places!
Spend a few minutes surfing the internet and it won't be long before you find a decent selection of good quality kennels at reasonable prices. You need to be careful though because some of the cheaper ones are often made with inferior materials and may not be as strong as you'd like them to be.
    Look carefully at product illustrations - does it look well made?
    Does it look strong and sturdy?
    Read the literature that describes it - is it waterproof?
    Can it be easily cleaned?
    Is the roof hinged for easy access?
    What claims do the manufacturers make?
    Does the manufacturer give a guarantee or warranty; if so, for how long?
E-bay and Amazon (and local on-line classifieds) are great places to find most things these days but like everything else you need to do your homework before you buy.


Why Not Build Your Own?
Dog kennels don't have to be expensive especially if you're handy with a hammer and a few nails so if you're suitably skilled in the DIY department why not build your own?


Second Hand Kennels

If you're happy with a second-hand kennel, you might want to keep a watchful eye on the 'classified ads' section of your local newspaper, or public notice boards in your local library or council offices.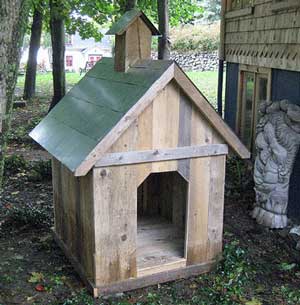 Check notice boards in your local vets, church, recreation halls, etc. anywhere where people gather.
Some of the larger supermarkets often have a notice board where you can place an advert for free - why not advertise for one?

Find a local handyman and ask him to quote you a price - you never know, it still might work out cheaper than buying a ready made kennel!

Speak to as many people as you can - friends and family, other dog walkers, or your local veterinary surgery - someone, somewhere, may have an unwanted dog kennel either for sale, or even better, free to a good home!


Dog Kennels and Houses: General Tips

When you've found your ideal kennel here's a few handy tips to help you out:
Lift the kennel off the ground a couple of inches (bricks or wooden battens will do the trick), this will allow the air to circulate underneath and help to stop a wooden base from rotting, it also creates a barrier between the cold ground and your pet's warm body.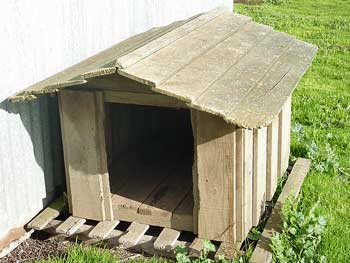 Line the base with a couple of blankets to help keep him warm and make his kennel a little more comfortable.


Don't forget to leave a bowl of fresh drinking water for him, but don't leave it were it will easily evaporate - tuck it just inside of his kennel.


Don't allow children to play in his kennel. Kennels are meant to be a safe retreat for our pets and as dogs can sometimes be territorial a child playing in a dog kennel could very easily get bitten.


Never use a dog house as a punishment because it will only lead him to associate his kennel with being punished.


No-one likes to see a Cocker Spaniel chained to a kennel, so make sure your garden or yard is safely fenced off, that way you won't need to worry about his safety.
Good luck, I hope you find exactly what you're looking for, and at the right price, and more importantly. I hope your Cocker loves his new outdoor dog kennel!


Other titles you might find interesting:

Dog Runs are an excellent source of exercise if you can't walk your dog for a day or two.
Learn how to build your own dog run and let your Cocker get some real exercise in the yard.


Enjoyed this page? Click 'Like'!

If you enjoyed this page, please click on the 'Like' button below and tell your friends about us. Thank you.

Top of Page
Top of Page