How To Avoid Dog Eye Problems

Discover Common Eye Problems Affecting Cocker Spaniels And How To Keep Your Dogs Eyes Clean And Healthy
Our Cocker Spaniels can sometimes develop dog eye problems which, if left untreated, could seriously affect their eyesight and subsequently, their health.
This page lists common eye problems in dogs, and in particular, problems specific to the Cocker Spaniel.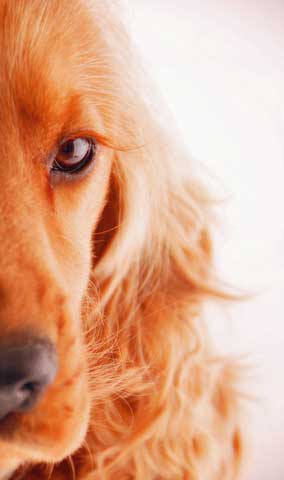 There are a few things you can do to help keep eye problems at bay, thus keeping your Cocker Spaniel's eyes and eyesight safe and healthy.
Inspect and clean your Cocker's eyes every day.


Avoid getting soap or shampoo in your dog's eyes when bathing him.


Don't use any drops in his eyes unless your vet has specifically prescribed them for him.


Don't allow your Cocker Spaniel to ride in the car with his head out of the window - yes, we've all done it! - but it can be dangerous.

Dust, grit, or insects can easily be blown into his eye and become trapped and cause damage.

The wind can also have a drying effect, causing irritation, infection, and other dog eye problems.


If your pet has something embedded in his eye, a thorn for example, never try to remove it yourself - take him to see his vet immediately!
Dog eye problems range from very mild irritations to severe conditions that need immediate professional medical treatment.
If you're in any doubt about the condition of your dog's eyes, please consult your vet immediately.
How To Spot Potential Dog Eye Problems
Canine eye problems, such as infection, allergies, or disease, are easily spotted, early signs are as follows:
Your Cocker Spaniel may begin squinting;


He may develop 'gunk' around his eyes. A small amount of 'sleep' in the inner corner, especially early morning after sleeping, is okay, but any more than that is potentially a problem, so please visit your vet;


Your dog's eyes may become red and sore-looking - they may also appear inflamed;


Your Cocker develops crusting around one or both eyelids;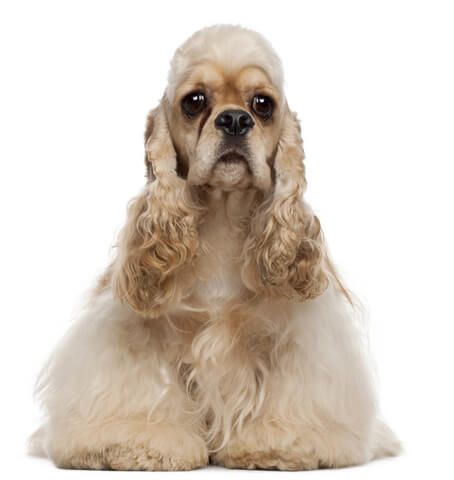 His eyes are always watering causing excess tears;


Your dog has a bulging or sunken eye;


They appear 'cloudy' or 'milky';


A third eyelid becomes visible;


They begin producing mucus;


In serious cases, his vision may begin to deteriorate. If your Cocker Spaniel suddenly begins to bump into things or he can't find treats that you've thrown onto the floor for him - these could be signs of diminishing eyesight;


Increased irritability and pain. If his eyes are irritating him, or they're painful, he may paw at them or at his face.
Keeping Your Cocker Spaniel's Eyes Clean And Healthy
Keeping your Cocker's eyes clear and clean will really help to avoid dog eye problems and infections.
While grooming your Cocker Spaniel, remember to take the time to clean the fur around his eyes, and give the eye area a quick inspection for potential problems.
Use a cotton-wool ball soaked in a solution of 1 cup of distilled water and half a teaspoon of salt.
Be gentle, and take care not to touch his eyes with your fingers or the cotton-wool ball. Use a separate cotton ball for each eye to avoid possible cross infection.
I can't emphasize this enough, if you notice any of the above signs in your dog, it is very important that you take your Cocker Spaniel to see his vet without delay.
Dog Eye Problems - Excess Tearing
Many dog eye problems can result in excessive tears which may stain the hair around the eyes - this is particularly noticeable in dogs with lighter colored coats.
Tearing could be caused by bacteria, infection, an allergy or irritation, an ear infection, cutting teeth, or it could be the sign of a blocked tear duct.
In any case, I recommend that you visit your vet to find out exactly what is causing any excess tearing.
Our Cocker Spaniel (Max) has a blocked tear duct which causes his tears to overspill out of the inside corner of his right eye.
Apparently this is quite a common problem in Cocker Spaniels.
Our vet has suggested a small operation under anesthetic, but doesn't recommend subjecting Max to the trauma of an operation for a blocked tear duct alone.
There are products available on the market which help to remove tear-staining.
Your vet can recommend something for you, but should you find a specific product that you particularly like the look of, please check it with your vet first.
There are 'recipes' easily available on the internet for removing tear staining, but I don't recommend them unless they've been sanctioned by your vet, as some of them use extremely harsh chemicals, for example, human hair bleach (peroxide), diluted in water.
If you're not familiar with these chemicals, or if you get the ratio of ingredients wrong, you could cause serious damage to your dog's eyes.
To help you identify various dog eye problems we've listed below some common ailments and diseases.
Common Dog Eye Problems In Cocker Spaniels
Glaucoma
Glaucoma is a condition where there is an abnormal increase in pressure inside the eye.
A normal healthy eye produces a clear fluid (aqueous humor) which nourishes and maintains the shape of the eye.
Whilst the eye produces and drains this fluid, maintaining the correct pressure and keeping the eye healthy, if there is a problem with drainage, the pressure inside the eye is increased and can cause enlargement of the eyeball and eventual blindness.
Symptoms include pain, red eyes, sensitivity to light, protruding eyeball.
Treatment can involve temporary medicines or surgery depending upon the type of Glaucoma (primary or secondary), but your dog may still eventually lose his eyesight despite treatment.
Dog Eye Problems - Conjunctivitis
This is an inflammation or infection of the membrane connecting the eyelid to the eyeball (conjunctiva), which can become irritated as a result of an allergy to pollens or grasses, or from infections caused by bacteria, fungi or a virus.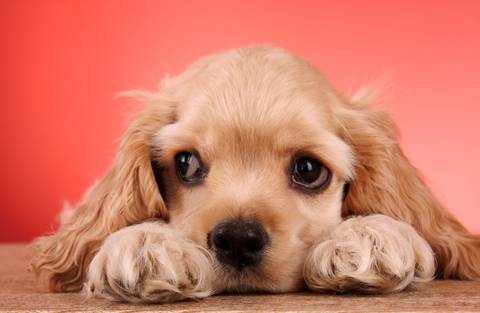 Where the white part of the eye is also inflamed, it is sometimes known as 'pink eye'.
Conjunctivitis is one of the most common dog eye problems and can be very painful.
Apart from redness and swelling of the eyelid, symptoms include weeping of the eye, or a yellowish-green discharge.
Your dog may rub his affected eye on carpets or with his paw for relief.
Conjunctivitis caused by an allergy is not contagious.
However, conjunctivitis caused by infection may be contagious to other dogs so it's important to ensure extra cleanliness to avoid passing this on to other dogs, especially if you have other dogs in your household.
Your vet may prescribe antibiotic eye drops or ointment depending on whether the problem is the result of an allergy or an infection.
The bacteria that causes conjunctivitis in dogs is not the same as the one that affects humans, so dogs can't pass conjunctivitis on to humans.
Dog Eye Problems - Entropion
Entropion is a condition where the bottom eyelid rolls inward and causes hair to rub against the eyeball, causing considerable irritation. It can be present in both eyes.
Entropion can be hereditary, in which case it usually develops before 6 months, but it may also be congenital; ie., present at birth.
Entropion should be treated with surgery.
Distichiasis
Distichiasis is a condition where abnormal hair (Distichia) grows from the oil glands of the dog's eyelid and can cause irritation on the eyeball.
There may be no visible symptoms if the hair is fine and soft; however, where there is irritation, your dog's eyes may become red and/or inflamed.
He may squint and try to rub his eyes with his paws to relieve the irritation.
There are several treatments available for Distichiasis, and which one your vet chooses will depend on the severity of the dog eye problem.
The abnormal eyelashes may be removed manually, by surgery, or by using a form of electrolysis.
This may be followed up with a course of antibiotics to prevent infection after any surgery, and to help clear up any ulcerative infection caused by the distichiasis.
Dog Eye Problems - Ectopic Cilia
Ectopic Cilia is similar to Distichiasis but, instead, the hair grows from the inner surface of the eyelid.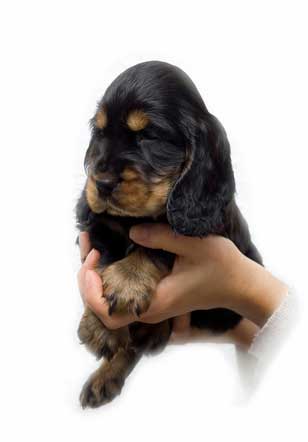 This can be very painful for your dog and can cause corneal ulcers.
Dog eye problems can manifest as squinting, tearing or discharge, ulceration, clouding of the cornea.
Your Cocker may paw at his eyes in an attempt at relief from the irritation.
This condition may be treated in the same way as for Distichiasis.
Dog Eye Problems - Eyelid Tumours (Cancers)
Eyelid tumors are usually found in middle-aged to older dogs and can be treated successfully with surgery.
However, if the tumour isn't removed while it's small, it can grow large and destroy the eyelid.
Conjunctivitis and discharge are common in dogs with growing eyelid tumors.
Dog Eye Problems - Cataracts
A cataract causes the eye to become cloudy in appearance and impedes vision. If left untreated it will lead to blindness; however, cataracts can be removed quite successfully by surgery.
A cataract in one eye only may be caused by a physical trauma, but cataracts in both eyes is usually a hereditary problem, and is often seen in Cockers.
It's important, therefore, when buying a Cocker Spaniel puppy, to check that there is no history of cataracts in either parents or their grandparents.
Prolapsed Third Eyelid Gland - PTEG
Also known as 'Cherry Eye'
Your Cocker Spaniel has a third eyelid which protects the eyeball.
This third eyelid also contains a tear gland. In some dogs, the tear gland bursts out of its normal position and appears in the inside corner of the eye as a red swelling.
If your Cocker Spaniel develops PTEG, your vet will probably recommend surgery to suture the gland in place. After surgery however, your dog may be at risk of developing a dry eye problem.
Dry Eye (Keratoconjunctivitis Sicca or KCS)
Dry Eye is a condition where your pet's eyes don't produce enough tears to lubricate the eyeball.
This causes the eyes to become dry and irritated, and can lead to infections, injured corneas and, in serious cases, blindness.
Symptoms of dry eye include, redness and obvious irritation, squinting, lack-lustre eyes, dislike of light, and discharge.
This condition is usually treated with antibiotics and corticosteroids.
Lenticular or Nuclear Sclerosis
As our Cockers grows older, the lenses of their eyes can become hardened and turn a cloudy blue-grey, and can resemble a cataract.
This is called Lenticular or Nuclear Sclerosis and does not usually interfere with the dog's vision until it becomes quite pronounced later on in life.
No treatment is necessary for Lenticular/Nuclear Sclerosis.
This dog eye problem will not affect your pet's eyesight until the very late stages, by which time his eyesight would probably have deteriorated to that point due to old age anyway.
Progressive Retinal Atrophy (PRA)
This is an inherited dog eye problem to which Cocker Spaniels may be prone, and which leads to eventual blindness.
Early symptoms include dilated pupils, night blindness and difficulty in low light.
Your dog may display a hesitancy to walking down steps or stairs, and a slight glowing or shining to the eyes.
There is no treatment for progressive retinal atrophy.
Dog Eye Problems In Cocker Spaniels - Summary
As you can see from the above, there are many potential eye problems in dogs, so it's important to inspect your pet's eyes regularly to ensure they remain clear and healthy.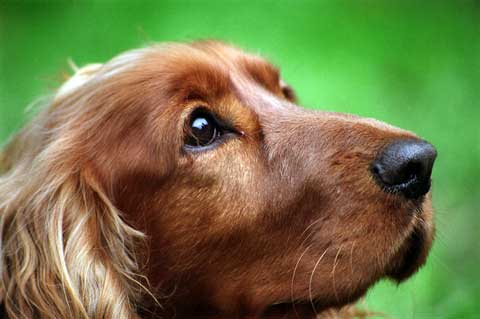 As caring Cocker Spaniel owners, we need to be observant if we are to spot the signs of dog eye problems early.
By doing so, we can often minimise any discomfort and/or damage by making sure we get our Cockers to the vet as early as possible for prompt diagnosis and treatment.
You can easily check them daily as you pet him, but a more thorough examination can be incorporated into his grooming routine.
Like our own, your dog's eyesight is very precious.
If you should discover any of the above symptoms, or you have any concerns or questions about dog eye problems, please consult your vet immediately: don't try to diagnose the symptoms yourself, leave that to the professionals.

Like This Page?

---
Cocker Homepage

›
Cocker Spaniel Health
› Dog Eye Problems
Return to top of page