Dog Crates And Dog Cages

Dog crates are den-like cages that keep our pets safe and comfortable and they have many uses, such as helping with potty training, reducing separation anxiety, and they make great pet travel crates too! Learn more about dog cages and how to choose the best one for your Cocker!


Why Use A Dog Cage And What Are My Options?

Cages and crates are used to give our dogs a safe and comfortable place to retreat to should things get a bit too hectic (for example, when the kids get too boisterous!) or when our pets simply want to rest away from the hub-hub of family life.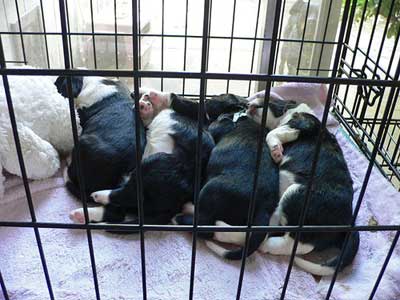 I'm often asked why we should keep our pets in a cage (many people mistakenly think it's cruel) and my answer is always the same - for lots of good reasons!
But for me, the best one is that the cage will quickly become a 'safe haven' for our puppy because they enjoy having their own private space where they can feel safe and secure.
A pet crate can offer exactly the security your Cocker needs. They come in many different sizes and shapes and are available in a varied choice of materials such as plastic, wire, wood and also fabric.
You can even find designer dog crates, should you want something really special!
All cages will have a large entrance door at the front, sometimes a smaller one at the rear, a handle added portability and some of the larger dog crates will also have a removable tray in the bottom to aid cleaning.


Wire Dog Crates

The heavy gauge steel wire (and plastic coated wire) cages are very popular, particularly if the crate is to be used as your pet's main bed.
Wire crates conveniently fold flat for portability and easy storage, and they often have a separate plastic base with a channel around the edges to keep any spillage or 'little accidents' contained.
They're ideal for transporting your cocker spaniel in the car and can be either placed on the back seat or in the boot of an estate car or hatch-back.
Whilst they're good for keeping your pet safely contained in the car, they're not really suitable for carrying a fully-grown Cocker Spaniel.
Nor are they suitable for air travel as they're unlikely to meet the strict regulations for airline approved dog carriers.


Plastic Dog Crates

Plastic crates are excellent for transporting pets, especially those that have small wheels on the base to allow them to be pulled along easily.
They're great for use in the car and for air travel as they're strong and will protect your pet against knocks during transit.
They're also very often used as indoor pet beds and can be used as a temporary confinement while you're busy with something else.
Most plastic cages are rigid structures, although some of them may have quick release clasps for portability and easy storage.
They're much easier to keep clean and bacteria-free than any other style of crate.


Wooden Dog Crates

Wood is very often the DIY enthusiasts' material of choice.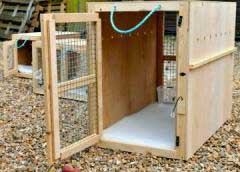 Cages made from wood are as solid as the wood will allow and, of course, the joinery skills of the DIYer!
Because wood is pretty good to work with, making your own crate is relatively easy. All you need is some wood, wire mesh, and a few nails or screws - how difficult could it be?
Wooden crates are often used by specialist pet travel agencies for transporting pets abroad.


Fabric Dog Crates

Fabric crates often look better in the home than those made out of wire or plastic. They have a 'softer' look and make ideal indoor kennels or beds, especially if the material cover can be removed and machine washed!
However, if you're planning to do a lot of travel with your adult Spaniel, a fabric crate isn't for you as it's unlikely to take his weight and won't offer much protection against knocks.
They're best used an indoor bed or to transport smaller dogs or very young puppies.


Practical Uses For Dog Crates

Crate training your puppy can be very useful as his cage can be used for many occasions.
They can be used for transporting your pet from one place to another by car, and in some cases, by air.


Plastic cages come in handy if you need to take your pet to the vet. Vets use wire crates for those who need to stay overnight whilst being treated so if your Cocker Spaniel is not used to a crate, a stay at the vets could cause him a great deal of unnecessary stress.


If you need to put your dog in kennels, your puppy will be much happier if he's already familiar with a crate.


Not all hotels will accept dogs, but those that do will be more relaxed about leaving your dog in the room if they know your puppy is crated.


More Titles In The Crate Training Your Puppy Series
Because puppies and dogs love to curl up in a quiet corner or under a table, your puppy will love his crate because it will make him feel safe - learn more here.
Essential rules of crate training - stick to these and your Cocker Spaniel puppy will be strolling in and out of his crate and enjoying its sanctuary in no time at all!
Crating your puppy - now it's time to get down to the nitty gritty of learning how to teach your puppy to use his crate, but more importantly, to love his crate from the start.
Crating a dog - if you're training an older, adult dog this is the page for you. The training is similar to that for puppies, but it's more focused towards the older dog who's never been in a crate before, or where he's had previous negative experiences in crate.
Choosing a dog crate will help you to make sure you get the perfect fit for your pet.

Enjoyed this page? Click 'Like'!

If you enjoyed this page, please click on the 'Like' button below and tell your friends about us. Thank you.

Top of Page
Top of Page